Nerium International launched in 2011 and operate in the anti-ageing MLM niche. The company is is based out of the US state of Texas and is headed up by Founder and CEO, Jeff Olson.
Olson's MLM career appears to have started in the late eighties, with Olson starting out in National Safety Associates (also known as "NSA") and then Qurom.
A problematic characteristic shared by both these companies appears to be affiliates being required to purchase stock they don't need and/or can't sell (front-loading).
According to the Wikipedia entry for NSA;
NSA had some legal troubles in 1993, as the Attorney General's office followed up on complaints that the company was deceptively requiring new distributors to make large upfront purchases of air and water filters.

Each of the 32,000 distributors in Florida purchased an average of $7,000 worth of water filters, and many of these distributors were unable to sell all of them.
And on Quorom, Rod Cook over at MLM Watchdog writes;
The little hand held alarms at $25 sold like hot cakes (to quote Raymond Hung) but they were easy to copy and sell in discount stores.

Meantime most distributors were looking at that pile of $450 house alarms gathering dust in the garage! They were looking at top dogs making $1-$2 million and saying "I think I have been had!"

Consumer electronic companies never spun off the main item, the house alarm! Period zip zero, just the hand held and "bike" alarms. So quit the B.s.

Now, another unique front end load with a $450 dust collector?

The WatchDog helped people file complaints to get some of the piles of dust collectors out of people's garages.
NSA are still in business today (although they no longer market water filters), with Quorom filing for bankruptcy in 1996.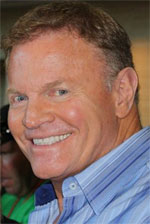 In a fluff piece on Olson (right), Marketing Merge credits him with having 'one of the largest organizations in the history of' NSA and a 'gigantic organization' in Quorum (which is for some reason incorrectly referenced as "Coram" on the site). In Quorum, Olsen is specifically referred to as
the #1 money earner in the company. He was so successful; he was eventually made the Chief Executive Officer of the company.
After the Quorum bankruptcy Olson then went on to launch The People's Network, which later merged with Prepaid Legal. After the merger Olson stayed on as a trainer and consultant for the company, eventually leaving around the time PrePaid Legal was sold to MidOcean Partners (who then changed the company's name to "Legal Shield").
I couldn't find out exactly why Olson left PrePaid legal, but he did so at a time when a whole bunch of top-affiliates also left the company – so I'm assuming it has something to do with the sell off to Mid Ocean.
This was in 2011, with Olson then going on to form a "partnership" with Nerium Biotechnology later that year. That partnership culminated with the launch of Nerium International.
Since then I believe it's been smooth sailing for the company, with the exception of a lawsuit filed against them by actor Ray Liotta last month.
Around Oct. 13, 2013, Liotta claims in his complaint that as part of a marketing campaign, Nerium, "by and through its agents, distributed photographs and related materials that identify, name, and/or describe, and purport to show [Liotta] 'before-and-after' using Nerium AD skin cream."

In the before photo, Liotta's skin is blotchy while in the "after" photos his skin appears to be smoother.

Several exhibits in the court filing are photos of the same "before-and-after" photo shared by individuals on social media site Facebook, Twitter, Google+ and Pinterest.
Nerium are claiming ignorance, indicating that this might be a rogue affiliate advertising campaign issue:
In a statement provided to ABCNews.com, a spokeswoman for the company said, "Nerium was surprised to learn through the media about a lawsuit filed by Mr. Ray Liotta. We take claims against our company seriously and we are committed to investigating this matter promptly."
In the lawsuit, Liotta claims Nerium is "a product-based pyramid scheme".
Nerium sells its products to "Nerium Partners," sales agents who recruit new partners "in an ever-growing pyramid."
To the best of my knowledge, as at the time of publication the lawsuit remains unresolved.
Read on for a full review of the Nerium International MLM business opportunity. [Continue reading...]