 Gold Crowdfunding launched in mid 2014 and is headed up by President and Founder, James C. Hill.
No corporate address is provided on the Gold Crowdfunding website, however the company's website domain provides an address in the US state of Utah.
Listed as the owner of the Gold Crowdfunding domain is Lynford Theobald of AutoTelNET, Inc.
The exact nature of the relationship between Theobald and Gold Crowdfunding is not clarified anywhere on the company website. Theobald's name only appears as the creator of a "project" on the site, requesting members give him $150,000 to purportedly put towards gold mining operations in Tanzania (Africa).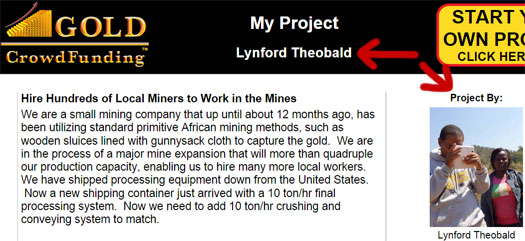 As for James C. Hill (right), according to his Gold Crowdfunding corporate bio,
When he joined the workforce, he started in the psychiatric department with a hospital and worked directly with doctors and nurses in a new field research called "behavior modification".

In the early 2000s he created an e-commerce program that was very popular in the United States. This was during the very early stages of the Internet. Since then he has created five e-commerce Internet-based marketing programs which have been widely accepted worldwide.

JC learned how to work with teams of developers and programmers and website designers around the world to expedite the development of e-commerce systems.
One of the "e-commerce programs" Hill refers to above is OneX. Under the pseudonym "J.C.", Hill regularly hosted OneX affiliate calls during which he claimed to be part of a group of OneX admins.
OneX itself was a $5 entry recruitment-driven matrix-based scheme that paid affiliates to recruit new affiliates into the scheme. OneX acted as a cheaper feeder program for the shady investment scheme QLXchange.
One of OneX affiliates was notorious AdSurfDaily Ponzi kingpin Andy Bowdoin. Following the shutdown of AdSurdDaily, Bowdoin sought to recommend his investors join OneX under him in order to raise funds for his legal defense.
Public prosecutors quickly put a stop to that, with Hill named as one of the "principals" of OneX in a 2012 court filing:
In what is believed to be the first public filing that includes specific details about OneX, prosecutors produced an exhibit that identified one of the principals of OneX as James C. Hill, who allegedly also is known by the initials J.C.

The introduction of the document ends one of the long-standing OneX mysteries: the identity of "J.C.," who once assured conference-call listeners that "God" was aboard the OneX train.
In mid 2012 Andy Bowdoin was sentenced to a maximum 78 month prison term. James C. Hill escaped prosecution.
Hill remained at large but appears to have been relatively quiet in the MLM arena these past few years… until now.
Read on for a full review of the Gold Crowdfunding MLM business opportunity. [Continue reading...]