 There is no information on the Integrity Assets Group website indicating who owns or runs the business.
The company does have an "About US" page on their website, however only the following vague marketing copy is provided:
We are a group with a vision, with major projects, and founded in the land of opportunity, "The United States of America". We truly believe in making a difference in the world.
The company mentions South America frequently on the same page, indicating possible ownership from within:
Integrity Assets Group, Inc. was founded in 2012 in California. We now hold Multi-million contracts by supplying and distributing products and services worldwide. We are associated with well-known partners and companies from Latin America and Japan.

Our distribution to Latin America is about 350,000 tires for automobiles and large trucks. In addition, Home Appliances are also distributed to our partners in Latin America.

We also count on Strategic Divisions for the exploration and extraction of precious metals like Gold and Silver.

Our Business Warranties are completely solid and secure. We have contracts with companies who buy our products and will continue doing it for the decades to come. Such contracts are secured by a in $300 million bond.
Make of that what you will, keeping in mind that no further specifics are provided on any claims made by the company.
Meanwhile the Integrity Assets Group website domain ("integrityassetsgroup.us") was registered on January 14th 2014. This throws into question the company's claims they were founded in 2012, and naturally casts a shadow of doubt over the rest of the company's claims.
The domain registration itself reveals little about company ownership, simply listing "Integrity Assets Group, Inc" as the owner with an address in California.
The mention of California matches the company's claim they were founded there, however the specific address provided, 1901 Avenue of the Stars in Los Angeles, is owned by Regus.
The lack of a specific office number would indicate Integrity Assets Group are simply buying virtual office space (a mailing address) from Regus at $139 a month.
Two additional addresses appear on the Integrity Assets website, one in New York (14 Wall St New York, NY 10005) and one in California (100 N Barranca St #870 West Covina, CA 91791).
The New York address is yet another virtual mailbox service provided by Regus. The California address is a building owned by Wells Fargo. It might be legit but given the other two addresses are virtual, I'm not about to give Integrity Assets Group the benefit of the doubt.
As such, whether or not Integrity Assets Group has a physical presence in California or elsewhere in the US remains unclear.
I did note the mention of an "A. Al-Ajluni." as the CEO of Intergrity Assets Group on a press-release covering a purported sponsorship deal between the company and Bryan Herta Autosport.
Indianapolis, IN – May 9, 2014 – Indianapolis 500 winning team Bryan Herta Autosport announced today that Integrity Energee Drink will be the primary sponsor of the No. 98 BHA/BBM w/ Curb Agajanian entry driven by Jack Hawksworth in the 2014 Verizon IndyCar Series.

"Integrity Assets Group was founded with a vision to supply and distribute products and services that make a real difference in the communities we serve," said Integrity Assets Group, Inc. CEO A. Al-Ajluni.
Back in 2010, Alexander Al-Ajluni worked for Autobahn Motors in Belmont, CA as an "e-commerce sales associate":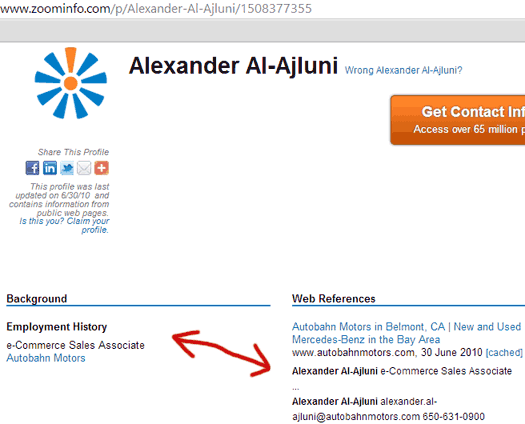 A cached capture of the AutoBahn Motors website at the time reveals Al-Ajluni listed as one of the dealership's sales staff:
Today Al-Ajluni's name does not appear on the AutoBahn Motors website, indicating he's since stopped working there.
This would go some way to explain the seemingly random sponsorship of an Indianapolis 500 racing team (auto industry contacts), however Al-Ajluni's MLM history remains a mystery. Ditto why no information about him is publicly disclosed on the Integrity Assets Group website.
As always, if a MLM company is not openly upfront about who is running or owns it, think long and hard about joining and/or handing over any money. [Continue reading...]