There is no information on the BrandOnline365 website indicating who owns or runs the business.
The company does have an "about" section on their website, however it only provides a short marketing spiel. No information about the company itself or its management is provided.
The company's website domain, over at "brandonline360.com" was registered on the 30th of January 2014, however the domain registration is set to private.
Further research reveals that in the BrandOnline365 compensation plan video embedded into the company website, J. Joshua Beistle introduces himself as the President of the company.
Why Beistle's name does not appear anywhere on the BrandOnline365 website is unclear.
Long-time readers of BehindMLM will immediately recognize Beistle as the (former?) CEO of JubiRev. JubiRev launched in launched in early 2013 as a Zeek Rewards Ponzi reload scheme.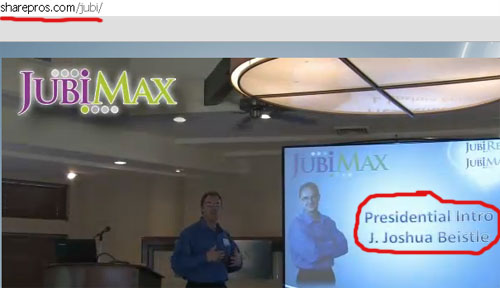 The idea behind JubiRev was to meld Zeek's Ponzi points business model together with a mishmash range of cheaply produced products under the brand "JubiMax".
The company launched in March but, as most reload scams do, failed to attract the momentum of the company it was modeled on. By June 2013 JubiMax had all but run out of funds to pay investors with, and consequently announced they were abandoning their passive revenue-sharing model.
A new compensation was launched shortly after that, however the attempt to push a retail customer focused business model onto an affiliate-base who were initially attracted to passive investment failed.
The details of how JubiRev collapsed remain sketchy, with J. Joshua Beistle going into hiding shortly after the compensation plan change. I myself don't recall ever seeing any clarification on the status of the company in the months that followed their comp plan change.
Today the JubiMax website is still live, however if one tries to visit JubiRev the account comes up suspended: As I understand it, affiliates who invested in JubiRev were simply left in limbo.
Prior to JubiRev, Beistle launched Dream Style Vacations Club with Randal Williams in 2009. Providing access to third-party travel discounts, Dream Style Vacations was a recruitment driven scheme that paid affiliates based on how many new members they brought into the scheme.
Beistle also markets lead generation services through his company MyPhoneRoom, which he launched in 2009 (non-MLM).
Read on for a full review of the BrandOnline365 MLM business opportunity. [Continue reading...]