 There is no information on the 8Elos website indicating who owns or runs the business.
The 8Elos website domain ("8elos.com") was registered on the 4th of July 2014 and names "8 Elos Finest Jewelry Limited" as the owner. An address in the British Virgin Islands (a known tax-haven) is also provided.
In 8Elos' Terms and Conditions a different address for 8 Elos Finest Jewelry Limited is provided:
Any written communication provided on this Agreement, should be made to the following address:

8 ELOS FINEST JEWELRY LIMITED 20, Rue Adrien Lachenal 1207 Geneva – Switzerland
Research reveals that this address belongs to SFM Corporate Services, who offer offshore "company formation with bank account".
Rates provided on SFM's website reveal a company can be set up in Switzerland with a bank account starting at 3320 EUR.
The British Virgin Islands meanwhile is a common place of registration for MLM company owners looking to dodge regulatory agencies.
From 8Elos' Terms and Conditions:
Any controversy or claim arising out of or relating to the Agreement, or the breach thereof, shall be settled by arbitration administered by British Virgin Islands Arbitration Center under its Arbitration Rules.

Jurisdiction and venue of any matter not subject to arbitration shall reside exclusively in British Virgin island District Court.

The law applicable to this contract is the British Virgin Island Law.
8Elos would appear to exist in both the British Virgin Islands and Switzerland in name only.
The 8Elos compensation plan suggests the company is likely owned by an individual or group of people with ties to Brazil and the US:
The 8Elos belongs to a holding company controlled for investors Brazilians and North Americans that act in the sectors of fuel, fashion, transport, vehicles and financials.
The only trace of executive structure I was able to find was this slide from an 8Elos affiliate presentation: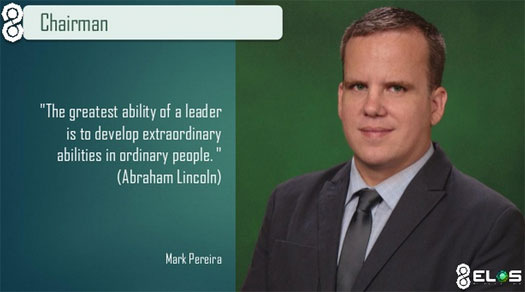 It names "Mark Pereira" as Chairman of the company.
Somewhat curiously, in place of information about Pereira instead a quote from Abraham Lincoln is present.
One reason for that might be because Pereira's actual name is "Marcello Pereira": Pictured above with TelexFree top investor Sannderly Rodrigues, Pereira (full name "Marcello Fornelos Jose Pereira") is based out of the US state of Florida.
In addition to fraternizing with known Ponzi underworld figures, Pereira himself appears to have had run ins with the law (example 2).
If any Portuguese readers are able to summarize what those charges are about it will be greatly appreciated, auto-translate isn't making much sense.
Why the ownership and management details of executives are not provided on the 8Elos website is a mystery.
Read on for a full review of the 8Elos MLM business opportunity.
[Continue reading...]