Levarti Review: MLM travel opp with "Levarti Coins"
Levarti fails to provide ownership or executive information on its website.
Levarti's website domain ("golevarti.com"), was privately registered on July 18th, 2023.
Further research reveals David Barton (aka DJ Barton) being cited as a Levarti co-founder: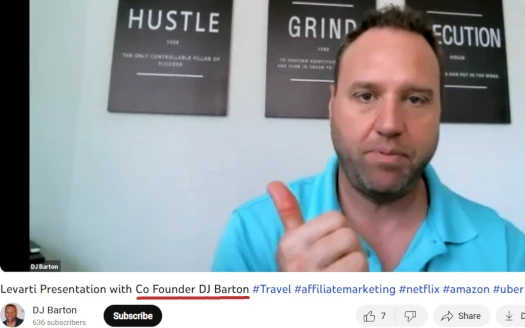 Barton seems to be the face of Levarti for now. For some reason Levarti's other co-founders are laying low.
Circa November 2022 Barton was involved in Hapi Travel.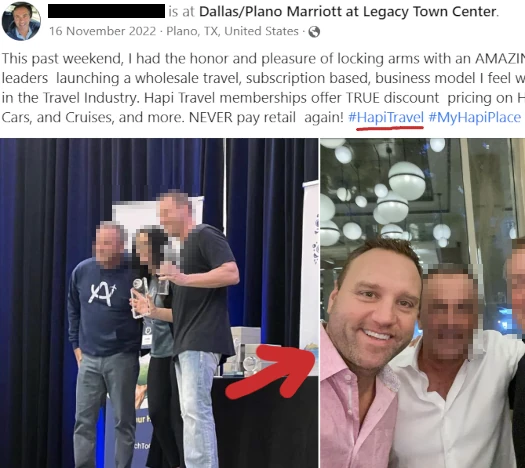 In December 2022 Barton was promoting My Travel Ventures: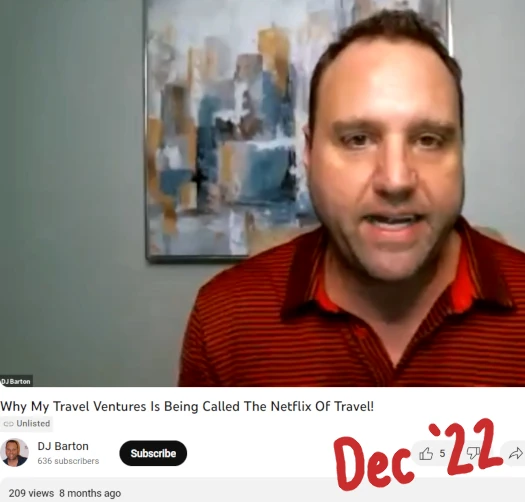 Barton was still promoting My Travel Ventures as late as June 2023.
My Travel Ventures is owned by Global Travel Destinations LLC.
Global Travel Destinations LLC is a Texas company. Corporate records reveal its tied to Hapi Travel, suggesting it's a reboot.
Other MLM opportunities that have recently featured on Barton's YouTube channel include Youngevity's 8 Minute Trader and some solar power opportunity.
According to his LinkedIn profile Barton is based out of Texas. Presumably this is also where Levarti is being operated from.
That said, it should be noted that Levarti's Policies and Procedures state;
These Policies and Procedures shall be governed by and construed in accordance with the Laws of the
State of Florida.
I'm not reading too much into that because elsewhere in Levarti's Policies and Procedures it states:
Any Dispute not resolved in writing by negotiation or mediation shall be subject to and shall be settled exclusively by final, binding arbitration before … a panel of three arbitrators, in the City of Atascadero in the State of Floridania. [sic]
There are multiple references to "Floridania" in the document. Atascadero is in California, so it seems Levarti might have copy and pasted someone else's Policies and Procedures.
As always, if an MLM company is not openly upfront about who is running or owns it, think long and hard about joining and/or handing over any money.
Levarti's Products
Levarti markets two membership tiers that provide access to discounted hotels, rental cars and cruises, "vacation rentals", "acitivities" and tours.
Coach – $100 activation fee and then $50 a month
Premium – $100 and then $100 a month (adds telehealth, "daily discounts and $200,000 coverage flight insurance)
Levarti bundles restraunt credit equal to the payments made by members on both membership tiers. E.g. the Premium tier has a $100 credit each month.
Levarti also offers a 10% cashback on booked travel. The cashback is paid in "Levarti Coins", which can be used to book additional travel.
I haven't seen anything suggesting Levarti Coins can be cashed out.
Levarti Compensation Plan
Levarti's compensation plan pays on membership sales to retail customers and recruited affiliates.
Levarti Affiliate Ranks
There are ten ranks within Levarti's compensation plan.
Along with their respective qualification criteria, they are as follows:
Rank 1 – sign up as a Levarti affiliate and generate 3 Personally Enrolled Points and 5 Qualification Points
Rank 2 – generate 6 Personally Enrolled Points and 15 Company Qualification Points
Rank 3 – generate 10 Personally Enrolled Points and 80 Company Qualification Points
Rank 4 – generate 15 Personally Enrolled Points and 250 Company Qualification Points
Rank 5 – generate 20 Personally Enrolled Points and 500 Company Qualification Points
Rank 6 – generate 30 Personally Enrolled Points and 1000 Company Qualification Points
Rank 7 – generate 40 Personally Enrolled Points, 2500 Company Qualification Points and 1200 Team Qualification Points
Rank 8 – generate 50 Personally Enrolled Points, 5000 Company Qualification Points and 3000 Team Qualification Points
Rank 9 – generate 60 Personally Enrolled Points, 10,000 Company Qualification Points and 8000 Team Qualification Points
Rank 10 – generate 100 Personally Enrolled Points, 25,000 Company Qualification Points and 20,000 Team Qualification Points
Points are generated when Levarti members pay their monthly membership fees:
$50 Coach membership fee payment generates 1 point
$100 Premium membership fee payment generates 2 points
Personally Enrolled Points are points generated by sales of memberships to personally referred retail customers and personally recruited affiliates.
Company Qualification Points are generated by everyone who purchases a Levarti membership after you join the company.
Team  Qualification Points are generated by you and your downline selling memberships.
Note that no more than 80% of required Team Qualification points can come from any one recruitment leg.
Referral Commissions
Levarti affiliates earn 48% of the $100 signup fee charged to retail and recruited affiliate members ($48).
An ongoing 10% referral commission is paid on the monthly membership fee (10% of either $50 or $100 each month).
Residual Commissions
Levarti takes 33% of company-wide revenue and places it into ten bonus pools.
Affiliates earn a share in one of eleven smaller 3% bonus pools based on rank.
Rank 1 affiliates earn a share in a 3% Rank 1 pool
Rank 2 affiliates earn in the Rank 1 pool as well as a 3% Rank 2 pool
Rank 2 can qualify for an additional "Rank 2+" pool if they qualify at Rank 2 within 30 days of signing up
Rank 3 affiliates earn in the Rank 1 and 2 pools as well as a 3% Rank 3 pool
Rank 4 affiliates earn in the Rank 1 to 3 pools as well as a 3% Rank 4 pool
Rank 5 affiliates earn in the Rank 1 to 4 pools as well as a 3% Rank 5 pool
Rank 6 affiliates earn in the Rank 1 to 5 pools as well as a 3% Rank 6 pool
Rank 7 affiliates earn in the Rank 1 to 6 pools as well as a 3% Rank 7 pool
Rank 8 affiliates earn in the Rank 1 to 7 pools as well as a 3% Rank 8 pool
Rank 9 affiliates earn in the Rank 1 to 8 pools as well as a 3% Rank 9 pool
Rank 10 affiliates earn in the Rank 1 to 9 pools as well as a 3% Rank 10 pool
Check Match Bonus
Levarti affiliates earn a Check Match Bonus on residual commissions paid to personally recruited affiliates.
Rank 7 affiliates earn a 1% Check Match Bonus
Rank 8 affiliates earn a 2% Check Match Bonus
Rank 9 affiliates earn a 3% Check Match Bonus
Rank 10 affiliates earn a 5% Check Match Bonus
Joining Levarti
Levarti affiliate membership is $50 annually plus an active Coach or Premium membership.
Levarti Conclusion
It's pretty obvious the realization by DJ Barton and his partners that running a travel themed MLM company is more profitable than promoting one.
Barton promoted Hapi Travels and My Travel Ventures as "the Netflix of travel". He's using the same pitch for Levarti: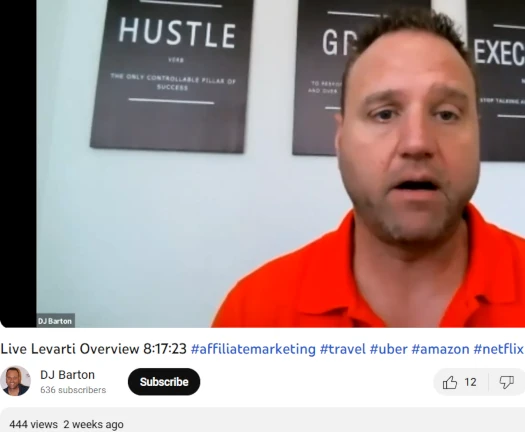 In reviewing Hapi Travels, Behind raised pyramid scheme concerns. The same is true for most travel themed MLM companies, including Levarti.
In Levarti compliance issues begin with affiliates being forced to purchase a membership. This is "pay to play" and in MLM is a strong indicator of a pyramid scheme.
Levarti's legitimacy hinges on there being more non-affiliate members (retail) than affiliates. Given every affiliate has to have a membership, this means the company needs more retail members than affiliates.
Historically with travel themed MLM companies this hasn't been the case. And I'm not seeing anything in Levarti to suggest it'll be an exception.
Levarti's travel offering is the usual discounted travel and other stuff routine. Nothing you haven't seen before.
The compensation plan is a bit different in that affiliates are paid on personal sales, but then residuals are paid out through bonus pools.
Typically in an MLM company the vast majority of affiliates populate the lower ranks. I can't say for sure but Rank 3 is probably going to be difficult for most Levarti affiliates to clear.
This will see the bulk of Levarti's residual commissions paid to top membership referrers/recruiters who populate the higher pools.
This happens in every MLM company but given the only other commissions paid are direct and a residual matching bonus, this could wind up paying less at the lower ranks than a traditional direct/residual style compensation plan.
The good news is ascertaining whether your potential Levarti upline is running a pyramid scheme is simple: Just ask them if they have more active retail memberships sold over recruited affiliate memberships.
Another red flag is Levarti's other co-founders being incognito. There's probably something to it but without knowing who they are I can't say for sure (heavy baggage?).
SimilarWeb is tracking a few thousands visits a month to My Travel Ventures' website. While not dead, for what is likely to be operating as a pyramid scheme most of the company has probably collapsed.
Without retail volume requirements, Levarti is likely to follow a similar trajectory. The only difference is this time around, DJ Barton and friends will get a bigger slice of the revenue pie.
Approach with caution.