SEC sues Eric J. Dalius over Saivian Ponzi fraud ($165+ million)

Three years.
If you're wondering how long it might take the SEC to catch up with your multi-million dollar MLM Ponzi scheme… three years.
Eric J. Dalius launched the Saivian Ponzi scheme in 2015.
Likely due to his past indictment and conviction for wire and mail fraud, for the first year of Saivian's operation Dalius hid in the background.
John Sheehan, who had no actual control over Saivian or management involvement, was presented to investors as the company's President.
Without explanation, Dalius came out of the shadows to replace Sheehan as Saivian's President in October 2016.
Despite mostly flopping in the US, Saivian picked up steam in China.
In mid 2017 Chinese authorities cracked down on Saivian and made several arrests.
Dalius and other key Saivian executives escaped arrest as they only traveled to China to promote the company.
After the Chinese crackdown Dalius stayed put in the US.
Having lost its primary source of new investment, in October 2017 Saivian officially collapsed.
Having extracted tens of millions of dollars from gullible Chinese investors, life was good for Dalius.
In an extraordinary showing of his new-found wealth, Dalius used stolen Saivian investor funds to purchase a $16.5 million dollar mansion in Miami earlier this year.
On October 3rd the law finally caught up with Dalius, following the filing of a civil complaint by the SEC.
The SEC describes Saivian as a "multi-million dollar Ponzi and pyramid scheme".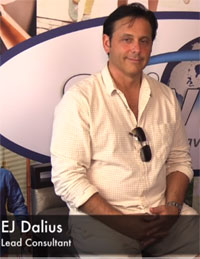 Named defendants in the SEC's lawsuit are
Eric J. Dalius (right), owner of Saivian and related businesses
Professional Realty Enterprises, INC., a Pennsylvania corporation, of which Dalius was the authorized signatory and through which the Saivian website was registered
 Saivian LLC, a Delaware LLC owned by Professional Realty Enterprises used to open bank accounts to launder money through
Savings Network APP LLC, a Delaware LLC owned by Professional Realty Enterprises used to open bank accounts to launder money through
Savings Network APP Limited, a Hong Kong company used to contract out the Saivian Cashback app
Saivian International Limited, a Hong Kong LLC owned by Dalius and used to manage Saivian's investor database
Saivian INT Limited, a UK corporation owned by Dalius
Realty Share Network LLC, a Delaware LLC used to open a bank account Dalius was the authorized signatory for, to launder investor funds through
Relief defendants named are Kimberly A. Dalius (Eric Dalius' wife) and a series of LLCs Dalius created to purchase real estate with stolen Saivian investor funds through.
The ruse behind Saivian saw investors deposit $125 a month and send the company receipts.
Saivian offered 20% cashback on receipts sent to it through a mobile app (the Map Program), as well as a return of up to $3000 a day based on investor recruitment.
Following an investigation into Saivian, the SEC concluded Saivian's marketing claims were entirely false.
Contrary to their claims, Saivian did not generate any revenue from the sale of POS receipts.

In fact, Saivian never had any marketing partners (or advertising partners) and never made any serious efforts to sell or otherwise monetize the data in its Cashback Members' POS receipts.

Moreover, while membership payments from the MAP Program contributed some revenue to the enterprise — less than a hundred thousand dollars, it was nowhere near sufficient to fund the cashback payments that Saivian promised or made to its Cashback Members.

Instead, Saivian's revenue was generated almost exclusively from membership sales to Cashback Members themselves.

Like a classic Ponzi scheme, Saivian satisfied promised returns to some investors — in the form of 20% cashback on shopping purchases — through the investments of other investors rather than any underlying, legitimate, commercial activity.
BehindMLM reviewed Saivian in November 2015. Not surprisingly, we concluded much the same as the SEC and were among the first to sound the Ponzi alarm bell.
Having laid out the Ponzi nature of Saivian, the SEC then explain the pyramid component.
Saivian was also a pyramid scheme that required the constant influx of new investors to remain solvent.

To keep the scheme afloat, Saivian urged members to become "Affiliates" and sell Cashback Memberships to others, which Saivian claim would provide the Affiliates with substantial financial benefits.
But while Saivian did pay out some investors, as with most MLM Ponzi schemes the majority of invested funds went to those running it.
In the case of Saivian, the buck stopped with Eric J. Dalius.
Between October 26, 2015 and September 1, 2017, Saivian raised millions of dollars from Cashback Members in the United States and abroad.

Most of this was misappropriated by Dalius to support a lavish lifestyle for himself and his family.
When exactly the SEC began investigating Saivian and Dalius is unclear. Court filings reveal the SEC first deposed former Saivian employees in December 2016.
What we do know however is that, upon being made aware he was under investigation, Dalius seemingly believed he was above the law.
In investigative testimony before the SEC, Dalius refused to answer any substantive questions about the Saivian scheme on the grounds that his answers may incriminate him.

Significantly, he refused to answer whether he has spoken to witnesses that testified before the SEC in its investigation and refused to answer whether he had destroyed any documents that the SEC subpoenaed from him.

Dalius refused to produce records subpoenaed from him and Saivian LLC that reflect the magnitude of his fraud, particularly documents related to Saivian's sales to persons outside the United States, and documents related to Dalius' receipt and disposition of digital assets (primarily Bitcoin) through which he received a significant portion of Members' investment.
Like pretty much every other MLM underbelly scammer these days, Dalius was elbows deep in the cryptocurrency niche.
Dalius also fought to block the SEC's access to relevant records, including records that reflect the nature of the scheme and his role in it.

For example, Dalius attempted to pressure a third-party vendor who maintained the database of Saivian's transactions from producing the database to the SEC.

Ultimately, the effort to prevent the vendor from producing the database failed.
Although an exact figure will likely be made official at some point, I believe at present we don't know how big the Saivian Ponzi scheme actually was.
On the money side of things though, here's what we do know;
Dalius used most of the Saivian's victim's money to fund a lavish and luxurious lifestyle for himself and his family.

Dalius used approximately 70% of the $10.7 million in revenue deposited in Saivian's domestic bank accounts for his own benefit.

In addition to the $10.7 million … Dalius converted enough Bitcoin received from investors to realize … deposits of more than $165 million, most of which went to his personal benefit.

For example, Dalius converted over $36 million of Bitcoin that he collected from the scheme to purchase properties in California, New York and Florida.

These purchases included a $16.5 million mansion in Miami Beach, and a $10.3 million townhouse in the Upper East Side of Manhattan.

Dalius also converted $31.1 million of Bitcoin that he collected from the Saivian scheme and transferred it to brokerage trading accounts he controlled to funds stock purchases.

And Dalius converted millions of dollars of Bitcoin that he collected from the scheme to fund private jet travel, luxury vacations, sporting and entertainment event tickets, and the purchase of an exotic sports car.

Examples of these purchases include a new Lamborghini for almost half a million dollars, and more than $181,000 for a five night vacation to the Bahamas to celebrate his daughter's 21st birthday – including premium hotel accommodations, poolside cabanas, and charter jet transportation for seven passengers from Los Angeles.
With neither Saivian, Dalius or any of his shell companies registered to offer securities, the SEC are alleging securities fraud.
All up the SEC have sued Dalius and the Saivian defendants for violations of the Securities Act and Securities and Exchange Act, over seven causes of action.
An eight cause of action seeks disgorgement, from both Dalius, the named Saivian defendants and relief defendants.
The SEC's lawsuit was filed under seal in California on October 3rd.
A requested ex-parte Temporary Restraining Order and asset freeze against Dalius was denied on October 11th.
The primary reason for the denial was a lack of provided evidence showing that, without a granted TRO and asset freeze, there would be '"immediate and irreparable injury, loss, or damage" before Defendants can be heard in opposition.'
Reading between the lines, had the SEC of acted sooner (say for example well before Saivian collapsed)they might have got their ex-parte TRO and freeze.
Now, almost a year after the fact they've been denied. A request for expedited discovery, pertaining to subpoenaed Saivian records, was also denied.
I don't know who's responsible but it seems, at least as far their Saivian investigation goes, someone over at the SEC dropped the ball on this one.
If depositions began in late 2016, the investigation had to of commenced prior.
Saivian collapsed almost a year ago, not withstanding the Chinese arrests that occurred six months prior.
Why has it taken so long for the SEC to file suit?
As it stands a summons was issued against Saivian, Dalius and the rest of the defendants on October 23rd.
While it's likely the SEC will be granted a preliminary injunction later down the road, it's a bit of a shame they botched the ex-parte TRO by taking so long to file suit.
I've added the SEC's Saivian lawsuit to our list of tracked cases, so stay tuned for updates as we receive them.
Update 16th October 2019 – Ryan Evans has been added as a defendant to the SEC's lawsuit.
Update 8th February 2023 – The SEC sued Eric Dalius in 2018, alleging Saivian was a $165 million dollar plus Ponzi scheme.
Dalius settled the SEC's fraud allegations in February 2023. As part of the settlement, Dalius and Saivian LLC were ordered to pay $24 million.