Ryan Evans added to SEC's Saivian Ponzi lawsuit

An filed amended complaint has added Ryan Morgan Evans to the SEC's Saivian Ponzi lawsuit.
According to the SEC's amended complaint, Evans
played a significant role in promoting the scheme while serving as Saivian's Director of Operations and Vice President of Marketing.
The SEC sued Saivian and owner Eric J. Dalius last year. According to the regulator, Saivian was a $165+ million dollar Ponzi pyramid hybrid.
Following Saivian's collapse, Evans doubled down on Ponzi fraud with Elamant.
In our 2018 Elamant review we revealed the company's business model is near-identical to Saivian's.
Since being added as a defendant to the SEC's Saivian lawsuit on October 3rd, Evans appears to have pulled the plug on Elamant.
Visitors to Elamant's website are now shown the following notice:
A NEWER and BETTER Experience is Coming SOON!

We are undergoing a complete system rebuild and will be back shortly!
Elamant's official Facebook page has been deleted, but Ryan Evans was still promoting Elamant on its YouTube channel as of late last month: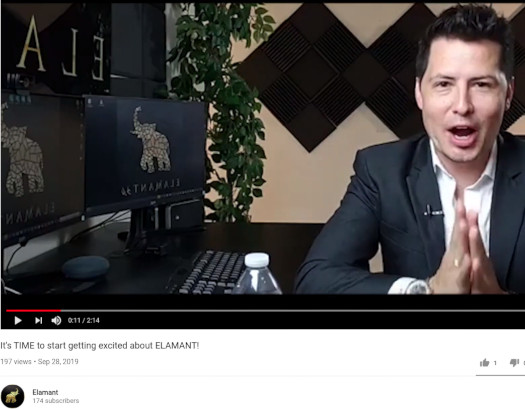 As with Saivian, Elamant primarily directs its marketing efforts across south-east Asia.
Based on his various social media profiles, Ryan Evans has fled the US for Singapore following Saivian's collapse. He's now supposedly residing in California.
Update 8th March 2023 – Following Eric Dalius' Saivian settlement last August, the SEC has now filed for summary judgment against Ryan Evans.
The SEC's summary judgment motion was filed on February 9th. Evans filed his response in opposition on February 23rd.
The court has scheduled a hearing on the matter for March 23rd. Given that's only a fortnight away, I'll hold off on reporting anything till we get an order.
Update 24th March 2023 – The motion for summary judgement hearing went ahead as scheduled on March 23rd.
The court has taken the matter under advisement. I'll continue to check the docket periodically for an order.