GSPartners securities fraud D&R order from California

GSPartners has received a securities fraud desist and refrain order from California.
The Department of Financial Protection and Innovation's November 16th order names GSPartners, owner Josip Heit and executives Bruce Innes Wylde Hughes and Dirc Zahlmann as respondents.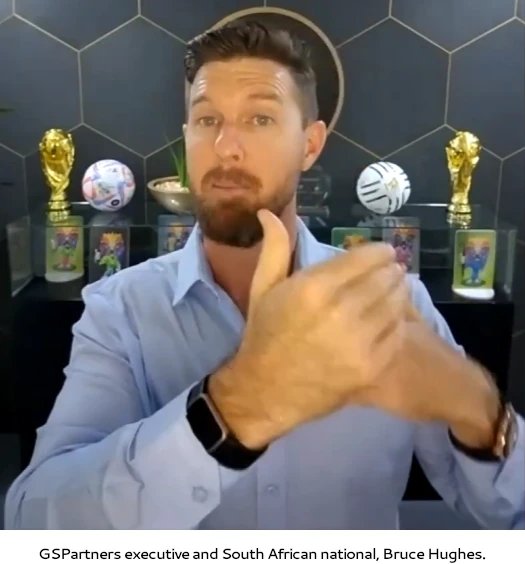 As per DFPI's order;
Beginning at least as early as 2023, GSPartners offered and sold securities in the form of investment contracts in California through general solicitations on its website.

GSPartners referred to these investment contracts as "Certificates," "MetaCertificates," "Elemental Certificates," and "Success Certificates" (collectively, Certificates).
Under Swiss Valorem Bank branding, BehindMLM reviewed the then latest iteration of GSPartners' MetaCertificates back in May.
GSPartners held itself out as an investment platform.

The purported purpose of the securities offerings was for GSPartners to use investor funds to trade in the forex market and to invest in a diverse collection of real-world industry sectors, including real estate, fintech, payments systems, renewable energy, supplements, and gaming, which in turn would generate returns for investors who purchased Certificates.
As part of their investigation, DFPI honed in on GSPartners' representation it had "partnered with a specific forex broker". The unnamed broker is believed to be BDSwiss.
According to GSPartners, this broker would provide services to GSPartners' investors, including trading and managing investor funds deposited into GSPartners via Certificates.

Investors were told that this broker was one of the largest in the world, was licensed, regulated, and had a trustworthy reputation, and that purchasing GSPartners' Certificates would give investors exclusive access to this broker's experience and knowledge.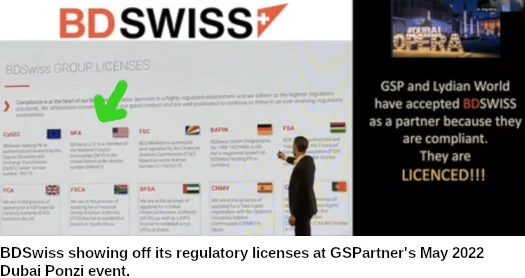 GSPartners was purportedly able to pay such high returns on the Certificates in a sustainable manner because of the profitable
trades conducted by this broker's expert traders. However, GSPartners' representations were false.

In reality, no such partnership existed, and the purported returns were not being generated by the broker managing and trading GSPartners' investors' funds.
DFPI confirming GSPartners is not generating external revenue as represented, blows a wide open hole in its Ponzi ruse.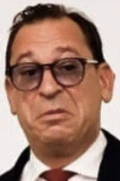 Also a violation of California law is GSPartners and Heit (right), representing it to be a bank.
GSPartners, through its website and marketing, represented that it was a regulated bank.

For example, in addition to using the term "bank" in the name Swiss Valorem Bank, GSPartners also represented that it was a "licensed bank with a solid balance sheet and digital custody insurance."

GSPartners also represented that it was "revolutionising the banking industry," that its "innovative approach to banking combines the best of both worlds, offering cutting-edge digital solutions alongside the stability and security of traditional banking," and that it could be "trusted" because it was a "fully regulated bank."

GSPartners also claimed to "deliver attractive returns in digital assets markets in a safe and fully regulated way," and touted its "strict adherence to regulatory framework as is required of a licensed banking and securities dealer."
And finally we have securities fraud, by way of GSPartners not being registered to offer securities in California.
The Certificates offered by GSPartners were securities that were neither qualified nor exempt from the qualification requirement under the CSL. The Department has not issued a permit or other form of qualification authorizing GSPartners to sell these securities in California.
Albeit indirectly, DFPI also references retaliatory litigation filed by GSPartners targeting BehindMLM.
GSPartners made efforts to prevent the dissemination of any negative information about GSPartners and its investments.

GSPartners initiated litigation in the United States and Europe to suppress criticism of its investments, particularly against websites and social media content that described GSPartners as a Ponzi scheme or a fraud.

GSPartners branded the creators of these websites as "criminals" and threatened to take action against anyone "found to be spreading this illegal content."
Summing up GSPartners' violations of Californian law, DFPI writes;
In connection with the offer or sale of these securities, GSPartners, Heit, Hughes, and Zahlmann made, or caused to be made, untrue statements of material fact and material omissions to investors and potential investors, including but not limited to the following:

a. falsely representing that GSPartners was partnered with a particular forex broker to provide services to GSPartners' investors, including trading and managing investors' funds deposited into GSPartners;

b. representing that GSPartners was a licensed bank while omitting the fact that its "license" was granted by a fictitious regulator (Comoros);

c. using the terms "bank" and "banking" while omitting the fact that GSPartners was not licensed to engage in the business of banking in California and that investor funds were not FDIC-insured;

d. misrepresenting the expected profits and risk of loss; and

e. failing to disclose that the offer or sale of GSPartners' securities was not qualified in California.
As a result of committing securities fraud and operating illegally, DFPI has ordered
GSB Gold Standard Bank Ltd. d/b/a GSPartners, GSP, and Gold Standard Partners, Swiss Valorem Bank Ltd., GSB Gold Standard Corporation AG, Josip Heit, Bruce Innes Wylde Hughes, and Dirc Zahlmann … to desist and refrain from the further offer or sale of securities in California, including but not limited to investment contracts known as Certificates, unless and until the qualification requirements of the CSL have been met.
GSPartners is currently gearing up to hold a marketing event on November 18th in Cape Town, South Africa.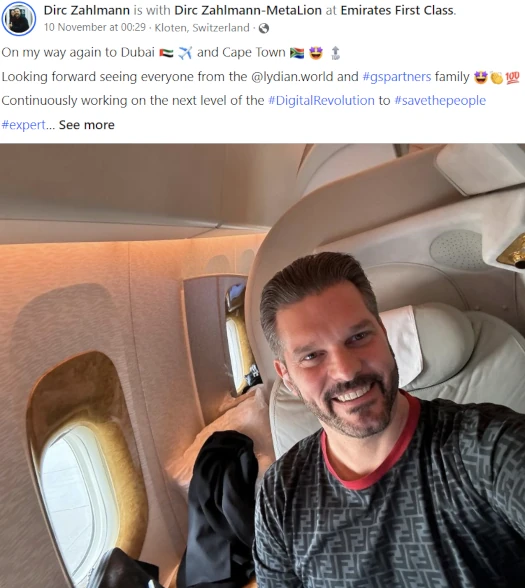 It's expected, in violation of multiple state-level desist orders issued today, that at the event GSPartners will further violate US securities law.
In addition to California, Washington, Alabama and Texas have all taken regulatory action. BehindMLM also recently confirmed ongoing CFTC and SEC investigations into GSPartners.