GSB Gold Standard Bank, Dafri Bank fraud warnings issued
The Central Bank of the Comoros has issued a multi-scam fraud warning for Gold Standard Bank and Dafri Bank.
As per the BCC's 15th June warning;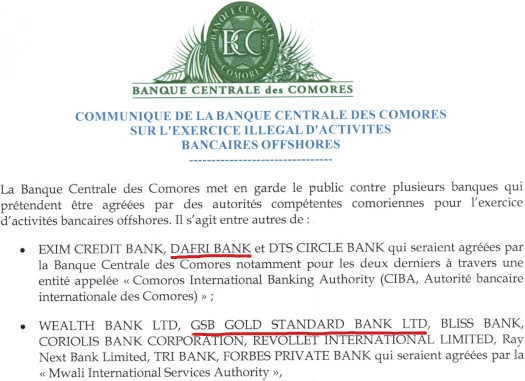 The Central Bank of the COmoros warns the public against several banks that claim to be approved by competent Comorian authorities for the exercise of offshore banking activities.

These include, among others:

Exim Credit Bank, Dafri Bank and DTS Circle Bank which would be approved by the Central Bank of the Comoros, in particular for the last two through an entity called "Comoros International Banking Authority (CIBA).
Wealth Bank LTD, GSB Gold Standard Bank LTD, Bliss Bank, Coriolis Bank Corporation, Revollet International Limited, Ray Next Bank Limited, Tri Bank, Forbes Private Bank, which would be approved by the "Mwali International Services Authority".
The BCC's Dafri Bank warning pertains to Coenie Botha's CBI Global Ponzi scheme.
Following a regulatory crackdown in Namibia, which saw the Bank of Namibia freeze CBI Global's assets, Botha continued to solicit investment through Dafri Bank.
Dafri Bank represents itself to be the "Digital Bank of Africa". It is run by founder and CEO Xolane Ndhlovu, a South African convicted felon.
In the footer section of its website, Dafri Bank provides a corporate address in Fomboi, Comoros Island.
Furthermore, Dafri Bank represents it is licensed by the BCC;
DafriBank Digital LTD is a bank duly licensed by the Central Bank of Comoros with banking License B2019005.
This appears to be the basis of some or all of Dafri Bank's offered financial services.
As per the BCC's warning above however, Dafri Bank representing it is licensed in the Comoros is a fraudulent representation.
GSB Gold Standard Bank is the parent shell company of Josip Heit's GSPartners Ponzi scheme.
The Central Bank of the Comoros confirmed last year that GSB Gold Standard Bank's representation it was "registered in the autonomous island of Mwali" was a sham.
GSB Gold Standard Bank's website now represents the company goes by GSB Gold Standard Corporation, a German shell company.
Some GSPartners related websites however still falsely claim ties to Mwali: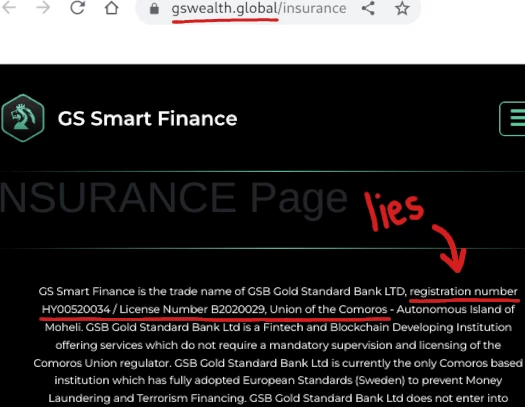 Prompting manual renewal, GSB Gold Standard Bank's incorporation, obtained through Moheli Corporate Services Ltd and tied to a New York address, will remain active till August 8th, 2022.