GSPartners & Michael Dalcoe fraud C&D from Alabama

GSPartners, owner Josip Heit, executive Bruce Hughes and several promoters have received a securities fraud cease and desist order from Alabama.
Named respondents in the Alabama Securities Commission's November 16th order include:
GSPartners
Josip Heit – right, owner and Chairman of GSPartners
Wealthbuilders Worldwide – US downline of GSPartners investors headed up by Nathaniel Hines
Nathaniel Hines (aka Nate Hines) – top GSPartners promoter, also cited as an Alabama resident and former Federal Bureau of Prisons employee
Jeanette Morgan Hines – wife of Nathaniel Hines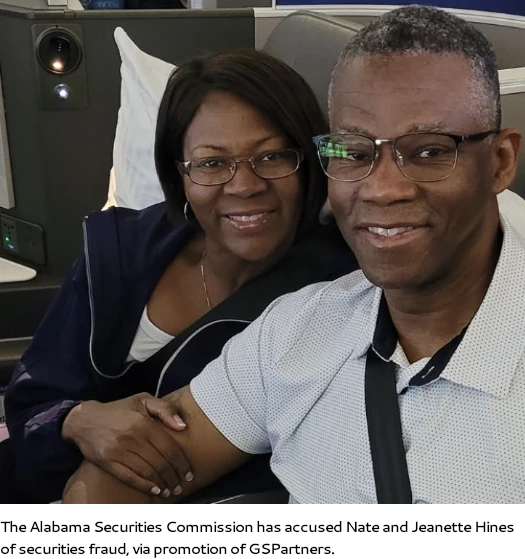 Del Frank Lewis – Alabama resident, GSPartners promoter and Wealthbuilders Worldwide member
Diana L. Lewis – wife of Del Frank Lewis
Referenced entities and individuals include:
Bruce Innes Wylde Hughes – South African national and GSPartners' Corporate Trainer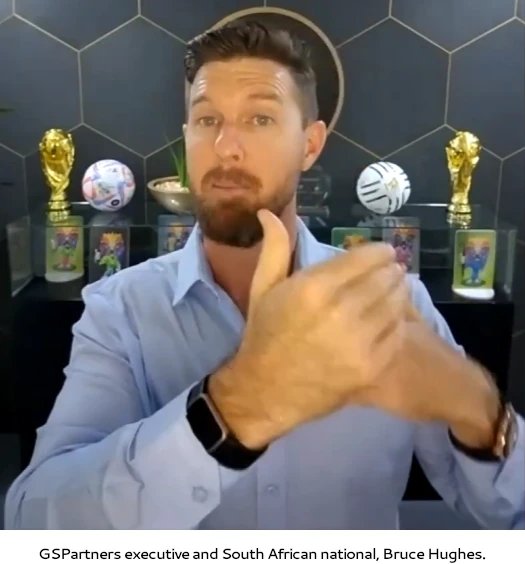 Michael Lynn "El" Dalcoe – top GSPartners promoter, also cited as a Georgia resident and member of GSPartners' "executive council"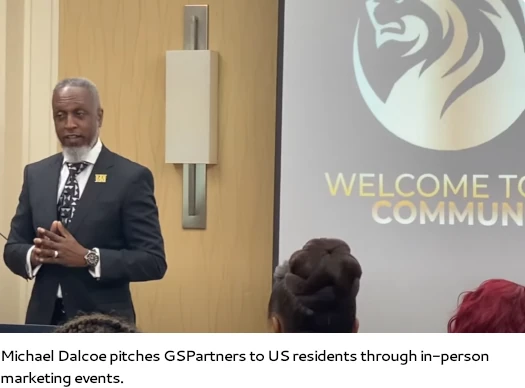 Dirc Zahlmann – recently appointed GSPartners CEO, also cited as "Head of M&A and Marketing Advisor"
Swiss Valorem Bank – issuer of GSPartners' "metacertificates"
Following an internal investigation, the ASC concluded
respondents are conducting ongoing, unregistered investment advisory activity and the offer and sale of unregistered securities in Alabama.
This is based on GSPartners' "metacertificates" scheme, which pitches weekly passive returns of up to 5%.
Heit and GSPartners have implemented a business plan in which securities called MetaCertificates are sold to investors with the promise of guaranteed, lucrative returns.

MetaCertificates are not registered in Alabama.
ASC goes on to cite one WealthBuilders' marketing event, held in Alabama on October 7th, 2023.
On October 7, 2023, N. Hines, J. Hines, Lewis and D. Lewis representing Respondents GS Partners and WealthBuilders, held an investment seminar at a national chain hotel in Montgomery, Alabama.

A Commission employee attended the seminar.

This event was advertised on Facebook by N. Hines. In the advertising flyer, N. Hines, J. Hines, Lewis and D. Lewis were pictures, and N. Hines was identified as the speaker.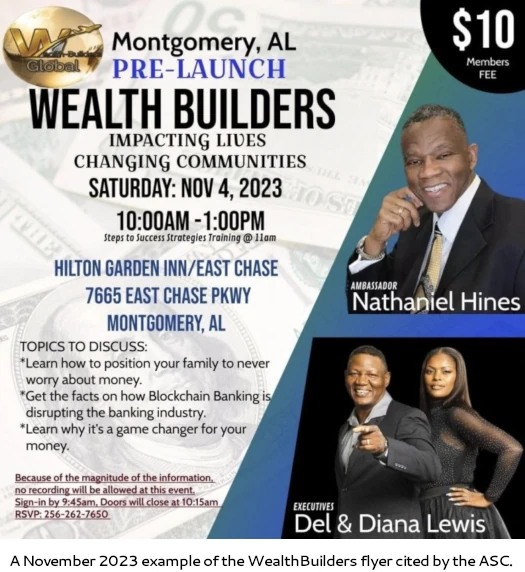 When asked by a Commission employee who attended the seminar how GS Partners made money to pay the Customers and Members the high returns on investment, N. Hines explained that GS Partners takes the Customers' and Members' funds and invests them in companies to earn returns.

GS Partners pays the Customers and Members from the returns generated by GS Partners' investments.
In addition to personally attending WealthBuilders' GSPartners events, ASC employees also reference accessed online marketing materials.
One amusing part of ASC's order is the dismantling of Hines' "this is not financial advice" pseudo-compliance.
N. Hines then showed a disclaimer that read:

This presentation is for the exclusive purpose of educating the community, members users of products, services and potential rewards programs, found on the GSPartners global platform.

Every effort has been made to accurately represent the GSPartners Rewards Plan and its income potential.

All earnings or income examples will depend solely on the idea, techniques, knowledge, skills and time vested, into your independent business.

GSPartners does not guarantee any results for any decisions you make in relation to promoting our products or your business.

All income examples used by GSPartners are not to be considered average earnings.

We are not financial advisors and we are not offering financial advice.

In saying that he is not a financial advisor, N. Hines stated that he was sharing what is called a much better way.

However, the purpose of the seminar was to advise attendees to purchase MetaCertificates by showing the impressive returns as compared to other avenues of investing.

N. Hines said that his family purchased the Hera MetaCertificate and converted $60,000 to $300,000 in 18 months.

A video was played, apparently voices by Dalcoe, that scrolled down accounts emphasizing triple digit returns.
In addition to committing securities fraud via GSPartners promotion, Hines and his wife appear to be directly involved in money laundering.
According to bank records, N. Hines and J. Hines are co-owners of an account in which Alabama investors' funds are received by way of wire transfer and personal checks.

N. Hines and J. Hines appear to facilitate the transfer of funds to GS Partners by way of a third party that converts the investor funds into cryptocurrency.
Del and Dana Lewis are also purportedly laundering money for GSPartners.
According to bank records, Lewis and D. Lewis are co-owners of an account in which Alabama investors' funds are received by way of wire transfer and personal checks.

Lewis and D. Lewis appear to facilitate the transfer of funds to GS Partners by way of a third party that converts the investor funds into cryptocurrency.
Ted Nuyten's Business For Home also gets a mention in ASC's order;
In an announcement that appeared on (the) Business For Home website on September 21, 2022, Heit is pictured with a headline announcing that GS Partners teamed up with a forex and CFD investment provider.
Nuyten appears to have since deleted the referenced article. That said, BusinessForHome recommends GSPartners with an "AAA+" rating.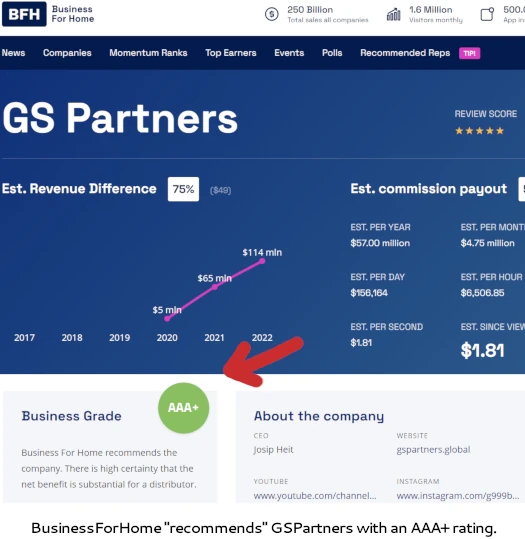 GSPartners is also currently in the running to win BusinessForHome's "top direct selling companies" award for 2024.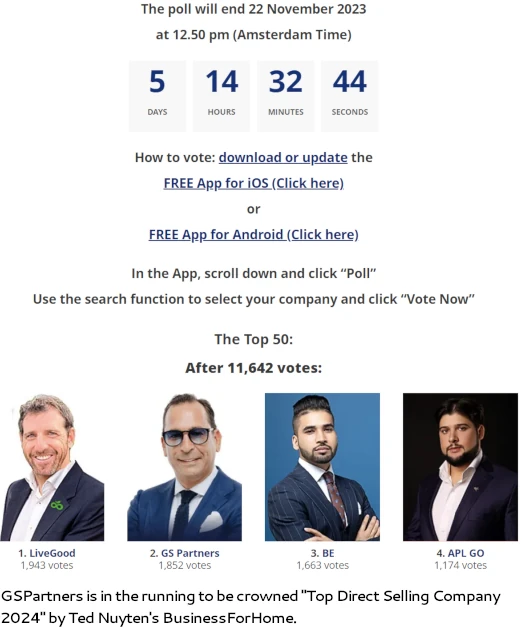 Getting back to ASC's order, in light of GSPartners and Heit committing securities fraud, ASC concludes
it is unlawful for any person to offer or sell any security in this state unless it is registered.

MetaCertificates are not registered securities, no[r] exempt, and the transaction is not exempt in Alabama.

Heit, GSPartners, Wealthbuilders, N. Hines, J. Hines, Lewis, and D. Lewis all offered and/or sold unregistered securities in Alabama in violation the Act.

The Commission is authorized to issue a cease and desist order, without a prior hearing, against any person engage[d] in any act or practice constituting a violation fo the Act.

This order does not prevent the Commission from seeking such other civil or criminal remedies that may be available to it under the Alabama Securities Act.

Accordingly, it is hereby ordered that respondents cease and desist from further offers or sales of any unregistered security, and/or acting as unregistered investment advisors/investment advisor representatives, into, within or from the State of Alabama.
Looking forward, if GSPartners and the respondents don't defend ASC's findings,
it is the intention of the Commission to impose sanctions upon the Respondents.

Such sanctions may include, inter alia, an administrative assessment imposed on Respondents, an additional administrative assessment for investigative costs arising from the investigation of the violations described herein against Respondents, and a permanent order to bar Respondents from participation in any securities-related industry in the state of Alabama.
In addition to Alabama, Texas, Washington and California have also taken against against GSPartners and Josip Heit.
BehindMLM has previously confirmed CFTC and SEC GSPartners investigations at the federal level.