BDSwiss issues GSPartners GSBDSwiss scam abuse warning

BDSwiss has listed GSPartners' shell company GSBDSwiss in a published abuse warning.
BDSwiss warns that GSBDSwiss is a "scam company … that you should avoid".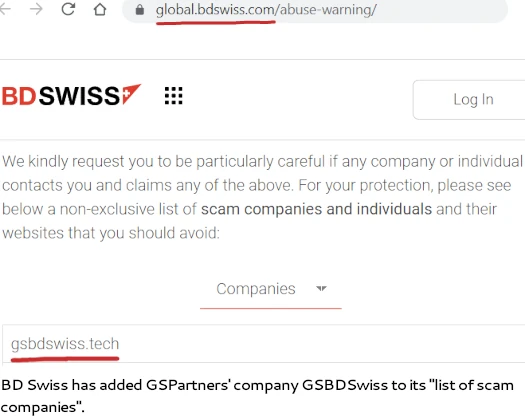 BDSwiss goes on to state;
Moreover, please be aware that it has recently come to our attention that various scam companies contact our clients misleadingly and falsely claiming that either:

a) they are part of our Group, or

b) they are our business partners or in any other ways affiliated with us, or

c) clone companies, trying to use our company information, licenses etc. with another brand name or changing any important contact information in order to obtain any client or personal information;

d) they claim to be regulated by Fictitious Regulators, or

e) they claim to be regulated but are not, with the purpose of luring our clients into starting a business relationship and/or depositing money and/or trying to obtain valuable sensitive information of clients in order to hack their accounts or otherwise harm them.

We would like to underline that BDS Ltd has no affiliation whatsoever with the above mentioned companies and individuals.
The website domain ("gsbdswiss.tech"), was privately registered on May 17th, 2023.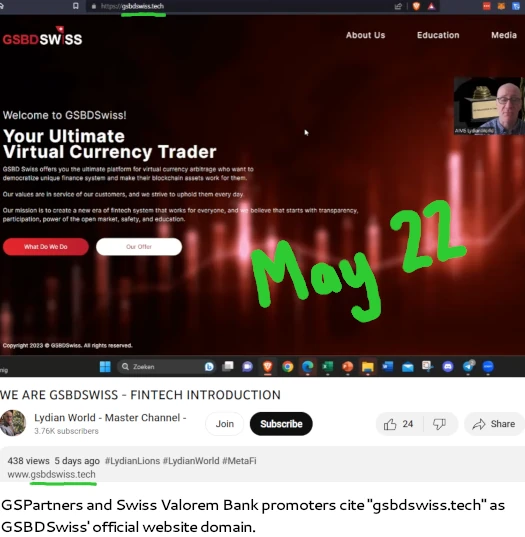 There is no mention of GSPartners, parent company GSB Gold Standard Bank or owner Josip Heit on GSBDSwiss' website.
In the footer of GSBDSwiss' website, in barely legible dark grey text, the company discloses GSBD Swiss LTD is a shell company incorporated in Kazakhstan. Crypto services are provided by CoinX24 AG, a shell company incorporated in Switzerland.
If visitors to GSBDSwiss' website click on the "sign up" button, they are redirected to GSPartners' website domain: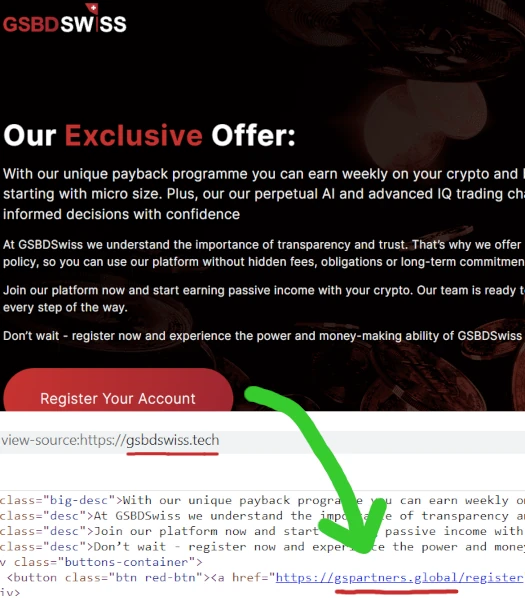 Starting mid 2022, GSPartners represented it had a partnership with BDSwiss to market its "metaverse certificates" investment scheme.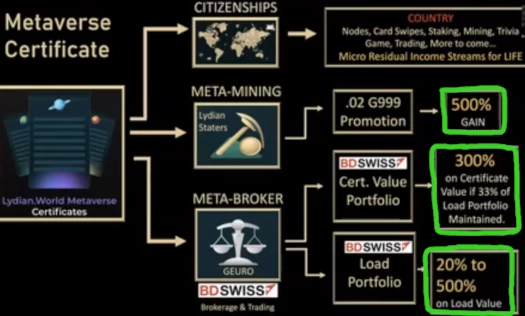 This extended to including BDSwiss' trademark on its website and marketing material.
The ruse behind GSPartners' "metaverse certificates" was BDSwiss was trading to provide investors a 300% ROI over 18 months (click to enlarge below):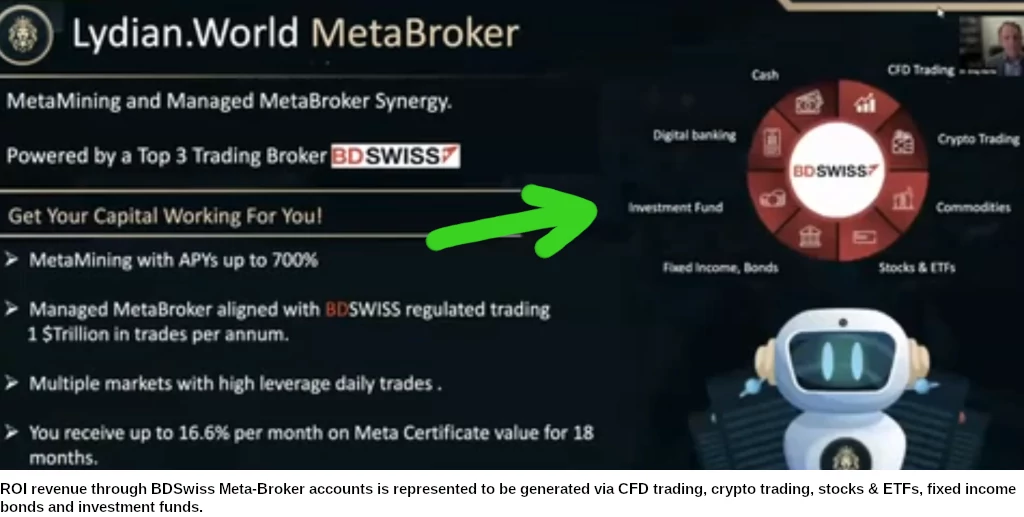 In January 2023, BDSwiss confirmed it never had a partnership with GSPartners or any of its associated companies.
It has come to our attention that for quite some time now, GSPartners Team, Lydian.world, Gold Standard Bank, and/or their associates have been on a publishing expedition of content explicitly featuring our brand and registered trademarks, suggesting an affiliation and/or cooperation with us.

We hereby wish to set the record straight by informing you that we have never started any kind of cooperation or affiliation with GSPartners Team, Lydian.world or Gold Standard Bank.
This confirmation saw GSPartners switch to claiming its partnership was with Skyground Group in February 2023. That lasted a month, before Skyground Group was replaced with GSBDSwiss.
Around March 2023, GSPartners replaced BDSwiss' logo in the affiliate backoffice with GSBDSwiss.

In March and April 2023, Canadian regulators issued multiple GSPartners securities fraud warnings.
In May 2023, GSPartners rebranded as Swiss Valorem Bank. This appears to be a direct response to regulatory warnings against the company.
As of May 2023, Swiss Valorem Bank continues to use GSBDSwiss branding in the affiliate backoffice: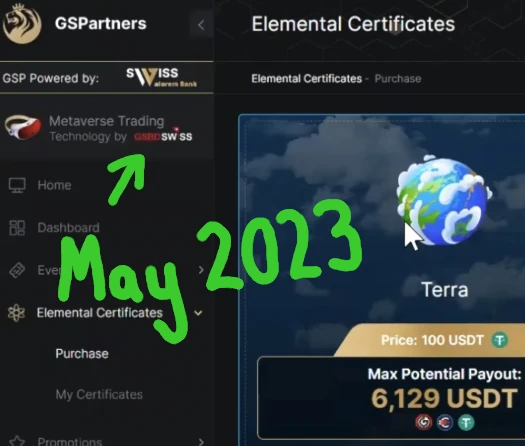 As noted by BDSwiss, GSBDSwiss is not registered to offer securities in any jurisdiction. This extends to GSPartners, Swiss Valorem Bank and Josip Heit.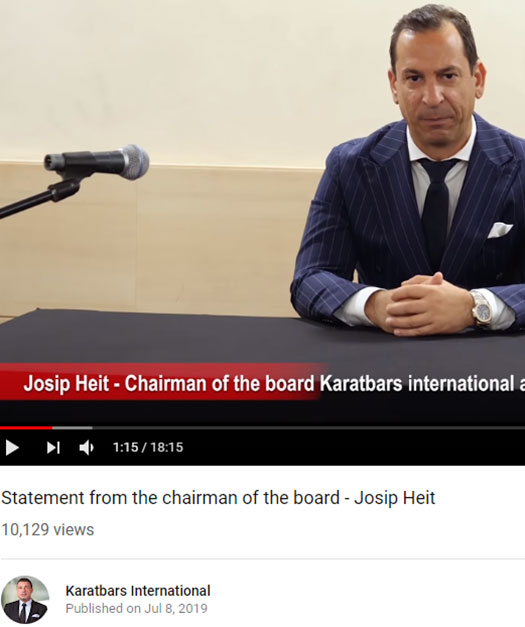 BDSwiss directs GSPartners and Swiss Valorem Bank investors with further enquiries to contact their support;
We will be grateful for any information about misuse or attempt of misuse of our brand names, websites, licences or services and will take any appropriate steps to protect our clients and our business.
Alternatively, BDSwiss suggests investors contact financial regulators in Cyprus (CySEC), the UK (FCA), Germany (BaFin) and the US (SEC).