WinWheel Review: Algotech rebooted with OneCoin scammers

Algotech was a Ponzi scheme that surfaced a few months ago.
The scam didn't last long before it collapsed. At time of publication Algotech's website has been disabled.
Before it was pulled, here's what the footer of Algotech's website looked like: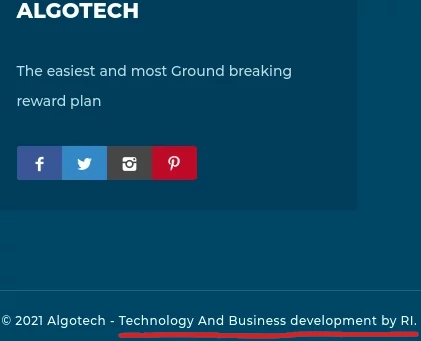 Here's what the footer of WinWheel's website looks like today:
Presumably former Algotech affiliates are also promoting WinWheel as a reboot of the company:

WinWheel provides no information about who owns or runs the company on its website.
WinWheel's website domain ("winwheel.com"), was first registered in 2013.
The private registration was last updated on November 10th, 2021. This is the assumed date the current owner(s) took possession of the domain.
As revealed in BehindMLM's Algotech review, the company was owned by Klas Magnus Nilsson.
Nilsson likely owns or at least part owns the WinWheel reboot.
If Algotech's Master Distributor Daniel Grenon is still on board, that's being kept under wraps.
In Grenon's place we now have Staffan Liback fronting WinWheel.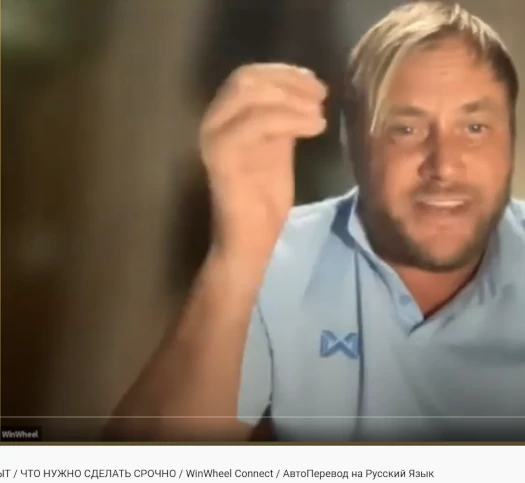 Liback is working with the Steinkeller brothers and Simon Le.
Liback, the Steinkeller brothers and Le are all notorious OneCoin Ponzi scammers.
A few months before Ruja Ignatova disappeared, the Steinkeller brothers abandoned their 2.5 million euro a month OneCoin position.
They left the position in the hands of Staffan Liback, who promptly tanked it (OneCoin collapsing in January 2018 didn't help).
Having fled to Dubai, the MLM scam capital of the world, the Steinkellers maintained a low profile for a few years.
In mid 2019 they resurfaced with Planet Impact. Today Planet Impact is no more.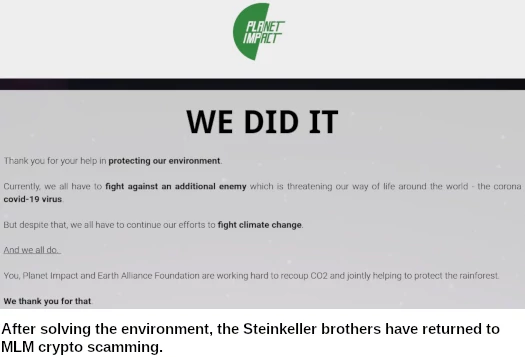 Staffan Liback's departure was in stark contrast to the Steinkeller brothers. Liback slunk away and lay low in Thailand.
In 2019 Liback resurfaced alongside OneCoin money launderer Frank Ricketts, to front the Cloud Horizon Ponzi scheme.
Liback is believed to have cashed out and ditched Cloud Horizon in late 2020.
In December 2020 Liback was promoting OmegaPro, another MLM Ponzi scheme. He was also an original Algotech promoter.
Simon Le, one of OneCoin's top earners (he pillaged south-east Asia), also quietly slunk away to Vietnam after the Ponzi collapsed.
In early 2020 Le launched his own OneCoin clone, OneLink.
OneLink lasted a few months before Le rebooted it as Global Sponsorship Network.
Le has rebooted Global Sponsorship Network three or four times now. It seems he's finally given up and is now looking to funnel what's left of his SEA following into WinWheel.
Overseeing Liback, the Steinkeller brothers and Le is Nigel Allan.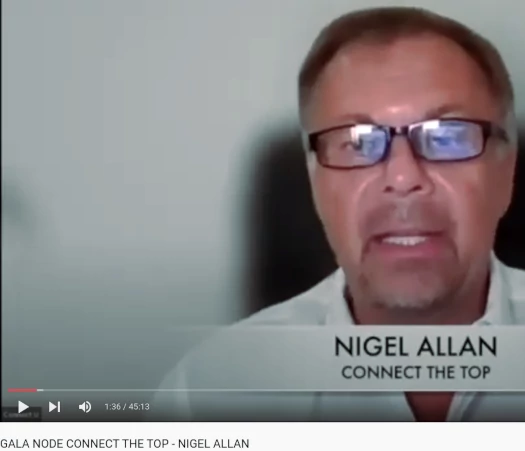 In one WinWheel marketing video, Liback states;
Today I will introduce to you one of the absolute reasons for us being on this call.

I know that this gentleman … Mr. Nigel Allan, has been introducing Connect to us.

Without him and his connection to it, we would not get this opportunity.
We'll get into Connect in the conclusion of this review.
Nigel Allan served as President of OneCoin very early on.
Before OneCoin Allan fronted the Brilliant Carbon scheme. Allan either cashed out or was fired from OneCoin, it depends who you ask.
After OneCoin Allan positioned himself as Master Distributor for the Crypto888 Club Ponzi scheme.
In our published Crypto888 Club review, we suspected Allan was behind the scam.
After Crypto888 Club collapsed in early 2016, later that same year he launched Power On Network.
Power On Network saw Allan return to the "environmental" scam model pre OneCoin, this time with cryptocurrency.
Power On Network collapsed in mid 2017.
As always, if an MLM company is not openly upfront about who is running or owns it, think long and hard about joining and/or handing over any money.
WinWheel's Products
WinWheel has no retailable products or services.
Affiliates are only able to market WinWheel affiliate membership itself.
WinWheel's Compensation Plan
WinWheel's compensation plan is a confusing mess.
You have three basic components:
investment and investment commissions
an app you run to generate cryptocurrency returns
bonuses based on use of the app
I've done my best to breakdown these components below.
WinWheel Investment Commissions
WinWheel affiliates invest 100 to 1000 USDT:
Access Pack – invest 100 USDT
Standard Pack – invest 500 USDT and get a 500 USDT Connect investment contract
Expert Pack – invest 1000 USDT and get a 1000 USDT Connect investment
This is done on the promise of a 400% ROI.
WinWheel pays out the return via a binary style straight line compensation structure.
When an affiliate is recruited into WinWheel, they are placed on the end of either the left or right side of WinWheel's company-wide genealogy.
Here's the company's official diagram:
In the center you have WinWheel's corporate admin position. The first affiliate position ("A") is placed on the right of these position.
The next position filled, regardless of whether recruitment is attributed to the corporate or affiliate position, is placed on the right ("B").
This continues for every affiliate recruited. WinWheel's system places them either at the end of the left or right line, whichever is behind a position.
The 400% ROI is funded via WIN Points, generated when affiliates recruited into WinWheel invest.
recruitment of an Access Pack affiliate generates 25 WIN Points
recruitment of a Standard Pack affiliate generates 250 WIN Points
recruitment of an Expert Pack affiliate generates 500 WIN Points
What a WinWheel affiliate gets paid on is generated WIN Points on their weaker straight-line side.
That is either to the left or right of their position, whichever side generates less WIN Points for the day.
WinWheel's compensation documentation states the company pays out "up to 10%" on generated WIN Point volume.
This continues until a 400% ROI is realized, at which point reinvestment is required to continue earning.
Note that how the 400% is calculated is determined by personal recruitment efforts:
recruit and maintain two Standard or Expert tier affiliates and the 400% cap is made up of up to 10% of group WIN Point volume and 90% of personal volume
recruit and maintain four Standard or Expert tier affiliates and the 400% cap is made up of 15% of group WIN Point volume and 85% of personal volume
recruit and maintain six Standard or Expert tier affiliates and the 400% cap is made up of 20% of group WIN Point volume and 80% of personal volume
recruit and maintain ten Standard or Expert tier affiliates and the 400% cap is made up of 25% of group WIN Point volume and 75% of personal volume
recruit and maintain fifteen Standard or Expert tier affiliates and the 400% cap is made up of 30% of group WIN Point volume and 70% of personal volume
recruit and maintain twenty Standard or Expert tier affiliates and the 400% cap is made up of 40% of group WIN Point volume and 60% of personal volume
In a nutshell, the more a WinWheel affiliate recruits the more their 400% is paid passively from the recruitment efforts of others.
WinWheel's compensation documentation suggests that in the event a 400% ROI is not realized within 90 days, affiliates are forced to reinvest anyway.
WIN Blockchain Investment Scheme
To qualify for the WIN Blockchain Investment scheme, a WinWheel affiliate must
have invested at least $2000 USDT into Access, Standard and/or Expert Packs;
recruited five affiliates who have also invested at least $2000 USDT; and
run Connect app software for at least 6 hours a day.
Qualified WIN Blockchain Investment scheme affiliates
receive an additional 10% of funds invested by personally recruited affiliates; and
receive 10% on returns received by level 2 and level 3 affiliates.
There are also five bonus pools, funded by 30% of company-wide investment.
LaunchPad Block – 5% of set aside funds, paid to all WIN Blockchain Investment Scheme qualified affiliates
JetPack Block – 20% of set aside funds, paid to top 50,000 WIN Blockchain Investment Scheme qualified affiliates
Rocket Block – 25% of set aside funds, paid to top 5000 WIN Blockchain Investment Scheme qualified affiliates
StarFighter Block – 25% of set aside funds, paid to top 500 WIN Blockchain Investment Scheme qualified affiliates
BlockchainJedi Block – 25% of set aside funds, paid to top 50 WIN Blockchain Investment Scheme qualified affiliates
How does WinWheel rank affiliates in the company?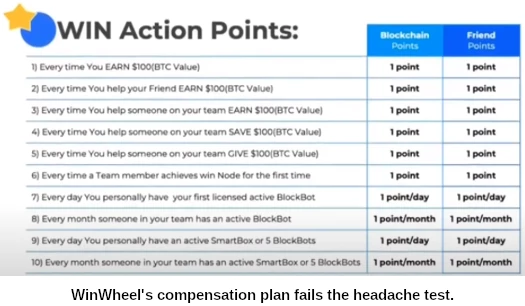 I'm not even going to bother explaining all that. The long and the short of it is the more you and your WinWheel team steal from others, the more points you get and the higher ranked you are.
WinWheel affiliates receive their bonus pool amounts as:
25% equally among every WIN Blockchain Investment scheme qualified affiliate; and
75% pro-rata based on WIN Action Points generation.
Joining WinWheel
WinWheel affiliate membership is tied to a $100 to $1000 investment in USDT (tether).
Upon reaching a 400% ROI, reinvestment is required to continue earnings.
WinWheel Conclusion
WinWheel is quite possibly the most convoluted crypto bro scheme I've come across yet.
There are so many hoops to jump through and so many layers of nonsense, all to hide the fundamental flow of money from new investors to those who've already invested.
Then there's the scammers behind it, each with their long history of Ponzi and pyramid schemes.
The sole interesting component of WinWheel is its connection to Connect.
WinWheel's cryptocurrency component, including its WIN Points, runs through Connect.
Hold BTC, ETH, GREEN, GALA, and WIN in one place! (More soon!)
As you can see, Connect is pretty much a shitcoin factory in its own right. Green is some shitcoin the Steinkeller brothers are pusing.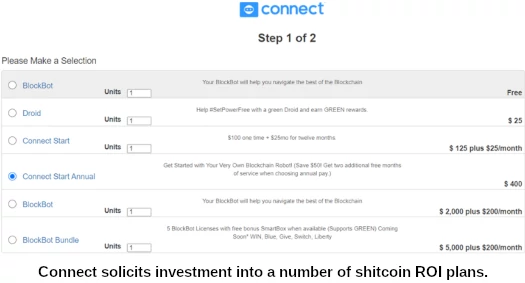 WinWheel's website terms and conditions represents the company is integrated into Connect.
These Terms and Conditions constitute the Use Agreement and Terms of Service between connectblockchain.net (referred to as "CONNECT") and any person, affiliate, win Node, customer, or entity (referred as the "User") utilizing CONNECT, its brands, software, products, features and services.

The WIN Blockchain is used within the CONNECT Community to maintain a record of actions by its members and affiliates.

Defined actions by an affiliate within the community's Share program are awarded points and ranking within the community.

Top ranking members and affiliates may be rewarded with WIN, the WIN Blockchain's native reward, for their contribution to the CONNECT Community.
Almost sounds like they're one and the same company.
So who's running Connect? Yeah, that's not disclosed.
What we do get are two Connect corporate addresses. One in Utah, shared with a bunch of law firms, and a PO Box in Wyoming.
Although its domain registration was last updated in 2019, traffic to Connect's website was dead until a few months ago:
This coincides with WinWheel, Green and the other shitcoin launches.
Further research reveals Stephen Michael Miller citing himself as President of Connect on LinkedIn.
Miller appears in WinWheel/Connect marketing videos and appears to be the face of the company.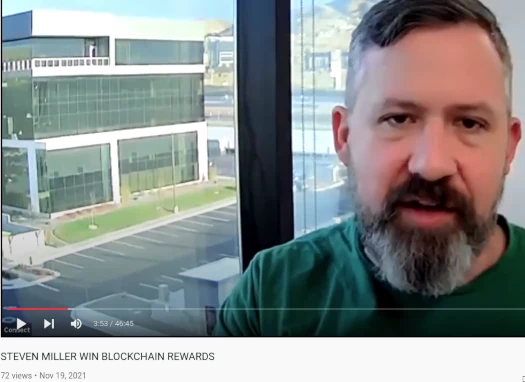 As per his LinkedIn profile, Miller is based out of Utah in the US.
With respect to regulation, Alexa pegs 87% of Connect's website traffic as originating from the US.
Winwheel appears to have thus far only caught on in Kazakhstan, bringing in just over half of its website traffic (52%).
Neither Connect, WinWheel, the Steinkeller brothers, Staffan Liback, Simon Le or Stephen Miller are registered with the SEC.
As top promoters of OneCoin, there's also the possibility the Steinkellers, Liback and Le are persons of interest in the DOJ's ongoing OneCoin criminal investigation.
To summarize, WinWheel is a Ponzi scheme with ties to Connect, an unknown blockchain company representing it is based out of the US.
Both companies are run by and/or promoted by serial-scammers, with business models appearing to be intentionally convoluted so as to confuse people.
Money doesn't last forever and so they've teamed up to launch yet another MLM crypto scam.
The math behind Ponzi schemes guarantees that when they collapse, the majority of participants lose money.
Look no further than any Ponzi scheme the Steinkeller brothers, Liback or Le have promoted for evidence of this.
Update 12th March 2022 – WinWheel appears to have already collapsed.
At time of publication WinWheel's website domain has been abandoned.
Connect's "Connect Blockchain" branding has also been abandoned. Connect now goes by "Connect United".
Connect United is running its own investment scheme:
Purchase BlockBot and start earning rewards by contributing power, connectivity and processing power to the blockchain.

Sit Back and Earn. BlockBot does all the work. You just sit back and watch the rewards come in.
Connect United isn't registered with the SEC so this constitutes securities fraud.
Alexa currently ranks the US as the top source of traffic to Connect United's website (74%).