Profit Connect Review: Wealth Builder securities fraud

Profit Connect provides no information on its website about who owns or runs the company.
On its website, Profit Connect markets itself as 'a leading Supercomputer – Artificial Intelligence Software company with headquarters located in Las Vegas, Nevada.'
Further research reveals Profit Connect marketing videos narrated by Eddie Kona. According to Kona, he's a co-founder and owner of Profit Connect.
Who Profit Connect's other co-founders are is not disclosed.
On LinkedIn Eddie Kona lists his location as Las Vegas, Nevada. On Twitter Kona cites himself as the founder and owner of Profit Connect.
For all intents and purposes, Kona is the face of Profit Connect.
Prior to launching Profit Connect as a standalone MLM company, Kona appears to have been marketing iMarketsLive with Profit Connect branding.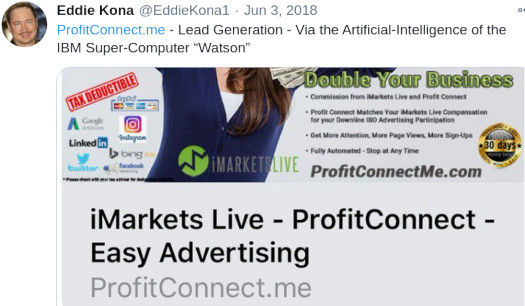 Following a run in with the CFTC, iMarketsLive rebooted itself as IM Mastery in late 2019.
Read on for a full review of the Profit Connect MLM opportunity.
Profit Connect's Products
Profit Connect markets "Wealth Builder" investment plans with "locked in" annual percentage rates (APR):
Wealth Builder (investment amount not disclosed) – 15% APR
Wealth Builder Youth (invest $500 to $30,000) – 20% APR
Wealth Builder Unlimited (invest $1000 to $1,000,000) – 20% APR
Wealth Builder Home Equity (invest $30,000 to $1,000,000, 50% USD and 50% home equity lien) – 20% APR
Wealth Builder VIP (invest $250,000) – 30% APR
Profit Connect solicits investment through bank wire, check, cash and bitcoin.
Profit Connect's Compensation Plan
Profit Connect pays a 20% commission on funds invested by retail investors and recruited affiliates.
Profit Connect pays residual commissions via a unilevel compensation structure.
A unilevel compensation structure places an affiliate at the top of a unilevel team, with every personally recruited affiliate placed directly under them (level 1):

If any level 1 affiliates recruit new affiliates, they are placed on level 2 of the original affiliate's unilevel team.
If any level 2 affiliates recruit new affiliates, they are placed on level 3 and so on and so forth down a theoretical infinite number of levels.
Note that retail investors count as level 1 commissionable volume, however retail investors themselves don't earn commissions (the affiliate who referred them does).
Commissions are paid by halving the 20% commission paid out as a recruitment commission, paid up a theoretical infinite number of levels.
E.g. You recruit someone who invests and earn your 20% commission. 50% of your 20% commission is paid to the affiliate who recruited you.
50% of the 50% you received (25% of your commission amount) is paid to the affiliate who recruited them. 50% of that (12.5% of your commission) is paid to the affiliate who recruited them, and so on and so forth.
In turn if someone below you in your unilevel team receives a 20% commission, if you fall within their direct line of sponsorship (within the unilevel team), you'll receive a percentage of the 20% they earn.
How much of a percentage (what degree of halving) depends on how far up the unilevel team you are from them.
Joining Profit Connect
Profit Connect affiliate membership is available at three price-points:
Bronze – $49 a month
Silver – $259 a month
Gold – $499 a month
The primary difference between the memberships is bundled marketing materials. Silver and Gold tiers also receive $50 and  $200 into Wealth Builder accounts each month respectively.
There is also a free affiliate option, however free affiliates don't qualify for MLM commissions.
Conclusion
The core of Profit Connect's business is the offering of passive annual returns between 15% and 30%.
This is a securities offering, and neither Profit Connect or Eddie Kona are registered with the SEC.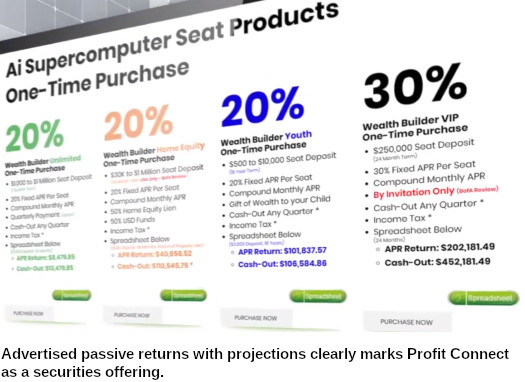 This means that at a minimum, Profit Connect and Eddie Kona are committing securities fraud.
Curiously, in one Profit Connect marketing video Kona states "we do report federally". I've already noted neither Profit Connect or Kona are registered with the SEC.
The supposed source of Profit Connect's returns is, well it's a whole bunch of stuff;
Profit Connect is a privately held, supercomputer Ai (Artificial Intelligence) software company (NAICS: 541511) with a Wealth Services subsidiary focusing the proprietary Ai on finance and internal currency / stock trading along with ICO/STO (Initial Coin Offering / Security Token Offering) Venture Capital.

Profit Connect Wealth Services is a disruptive technology using our proprietary Ai and Machine Learning Algorithms to change the world of finance and the mindset of compound interest.
Following on from the CFTC cracking down on iMarketsLive, the regulator advises;
Before working with any person or firm to trade in commodity futures, commodity pools, options, forex, or other derivatives, verify that the entity is properly registered with the CFTC.

Registration and examination of intermediaries is conducted on behalf of the CFTC by the National Futures Association (NFA) under the supervision of the CFTC.
Neither Profit Connect or Kona are registered with the NFA either.
As for NAICS mentioned above;
The North American Industry Classification System (NAICS) is the standard used by Federal statistical agencies in classifying business establishments for the purpose of collecting, analyzing, and publishing statistical data related to the U.S. business economy.
That has nothing to do with securities regulation or registration with the CFTC.
Who exactly Profit Connect and Kona are reporting to on a federal level and what they're reporting remains unclear. It certainly isn't the SEC or CFTC though, which is legally required.
Rather than address Profit Connect's securities fraud, Kona professes Profit Connect isn't an investment opportunity.
From the same marketing video, here's Kona denying Profit Connect is an investment opportunity and then tripping up on his own pseudo-compliance;
[2:14] First of all our Wealth Builder products, it's not a purchase. We call it a purchase just for the ease of talking about it.

But it really is by definition a deposit, because the return comes back to you in its entirety – whatever you deposited. But um also with your returns.

We call it a purchase because what you're doing with this is not a bank, this is not an account, it's not an investment.

What it is is you are purchasing time on our artificial intelligence super computer.

So that's what you're actually purchasing to get the returns that we're gonna talk about.

[4:50] So when we start talking to you about the fact that we will provide a fixed return, that is compounded monthly, from fifteen percent to thirty percent monthly, I know the eyebrows get raised.
Yeah, totally not an investment.
As far as pseudo-compliance goes, even if Kona was more careful with his wording, that wouldn't change what Profit Connect is.
You sign up, you invest funds and collect passive returns – that's the business model. The MLM side of the business pays commissions on those investments.
One final thing I'll touch on in Kona's claim that Profit Connect is affiliated with several banks. This begins with the claim that funds invested with Profit Connect are held in FDIC insured accounts.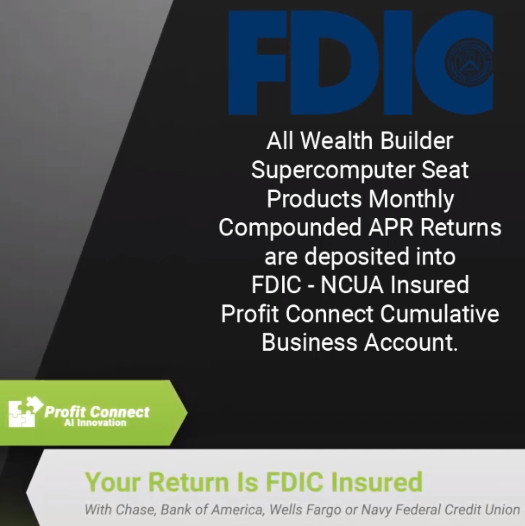 This of course doesn't negate securities fraud. I'm bringing it up because supposedly Profit Connect's accounts are held with "affiliated banks".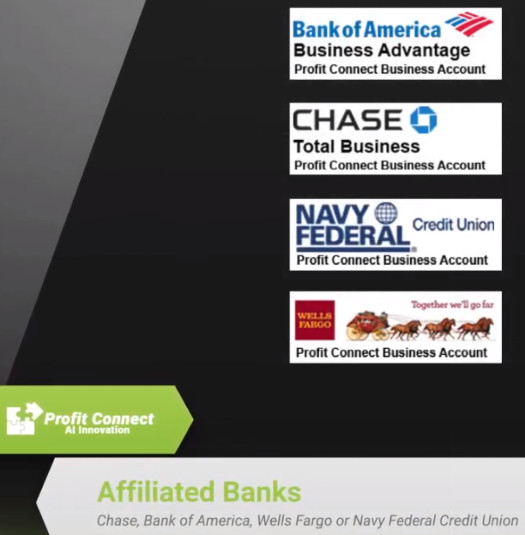 Where things get interesting is Profit Connect using US banks to launder funds into a fraudulent investment scheme.
[23:21] If you have a large amount of money you want to move it from overseas, you know we've moved uh, a couple of examples, say China for example.

We've you know sent over $150,000 no problem. Where they can't seem to move money to America (laughs).

But it's not a movement, it's a purchase. So it comes over without and problems.

We have the wire instructions that we send to them and it says right on there "Just make sure on your wire that you note this is a purchase of super computer C time", it goes through no problem.

Of course our contacts at the banks help us do this.
Although you can supposedly withdraw invested funds prior to the pitched annual return maturity date, Kona stresses this is the preferred length of investment Profit Connect expects.
Between banks filing SFAR reports and the SEC or CFTC investigating Profit Connect for securities fraud, there's a lot of legal liability across those twelve months.
Within the US it should be noted that in addition to offering unregistered securities being illegal, so is promoting unregistered securities.
This puts every Profit Connect affiliate at risk should the SEC or CFTC investigate.
At the end of the day if Eddie Kona was using supercomputers to generate a fixed 30% monthly return he was able to compound, what on Earth does he need your money for?

And if everything was above board as claimed, why not register with the SEC/CFTC and operate legally.
Time and time again we've seen MLM companies commit securities fraud for one reason and one reason only: they aren't doing what they claim to be.
That lends itself to Profit Connect running a Ponzi scheme.
Unfortunately in the absence of Profit Connect filing financial reports as is legally required, only a regulatory investigation will confirm this. Either that or Profit Connect collapses.
Take your pick, both scenarios result in lost money.
Update 20th July 2021 – Profit Connect has been shut down by the SEC.
The regulator alleges it was a $12 million dollar Ponzi scheme.
Update 20th October 2021 – As at the time of this update, the marketing video cited in this article has been removed from YouTube.
As such I've removed the previously accessible link to the video.