Algotech Review: Daniel Grenon back fronting Ponzi schemes
Algotech provides no information on its website about who owns or runs the company.
In fact as I write this, Algotech's website is nothing more than an affiliate login/registration form.
Algotech's website domain ("algotech.to") was privately registered on August 17th.
.TO domains correspond to Tonga and by default are private. This is likely an intentional choice by Algotech's owner(s).
In Algotech's terms and conditions the shell company "Leiwus AB" is referenced:
This agreement applies as between you, the User of this Web Site, and Leiwus AB 559062-2451 the owner(s) of this Web Site.

These terms and conditions and the relationship between you and Leiwus AB shall be governed by and construed in accordance with the laws of Sweden
As above, Leiwus AB appears to be a Swedish shell company. Corporate records reveal Leiwus AB was set up in 2016 by Klas Magnus Nilsson.
Possibly due to language-barriers, I wasn't able to pull anything up further on Nilsson.
In the absense of any named executives, it is assumed Nilsson owns or is part owner of Algotech.
Further research reveals marketing material citing Daniel Grenon as Algotech's Master Distributor.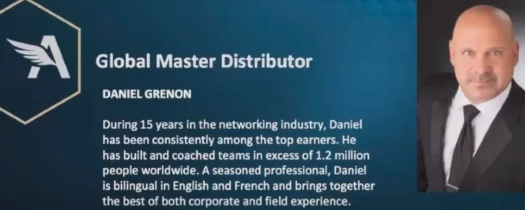 Daniel Grenon has a long history of promoting MLM Ponzi schemes.
Grenon was last named in a May 2020 review of BetPlay365. As per BetPlay365, the company was operated by Global Game Arena, a Ponzi scheme Grenon co-founded in early 2019.
Global Game Arena collapsed in two weeks, prompting Grenon to cash out and do a runner.
Prior to Global Game Arena, Grenon co-founded the FXTV Global Ponzi scheme in September 2019.
Other Ponzi schemes Grenon has promoted include Worldwide Cryptocurrency Investment, CGI Limited and OneCoin.
Grenon's social media suggests he was at the very least promoting Global Game Arena's fourth reboot, Daxio.
That was in June 2020. Four months earlier Grenon signed on as an International Ambassador for Ascira.
For Grenon this was an evidently rare but brief departure from Ponzi schemes.
Daxio flopped and Grenon began promoting OmegaPro on or around October 2020.
Grenon was still promoting OmegaPro as of February 2021. Sometime after he cashed out, and here we are with Algotech.
I'd be surprised if Grenon didn't own or, at the very least, wasn't involved in the running of Algotech.
Read on for a full review of Algotech's MLM opportunity.
Algotech's Products
Algotech has no retailable products or services.
Affiliates are only able to market Algotech affiliate membership itself.
Algotech's Compensation Plan
Algotech affiliates invest tether (USDT) on the promise of "up to 20%" monthly returns.
Starter Package – invest 100 USDT and receive up to 10 a month
Builder Package – invest 500 USDT and receive up to 11 a month
Classic Package – invest 1000 USDT and receive up to 12% a month
Executive Package – invest 2500 USDT and receive up to 13% a month
Premium Package – invest 5000 USDT and receive up to 15% a month
Limited Founder – invest 25,000 USDT and receive up to 20% a month
Note that Limited Founder positions can invest an additional 500,000 USDT over the initial 25,000 USDT buy-in.
Returns are paid for one year, after which reinvestment is required to continue earning.
Referral Commissions
Algotech affiliates earn 5% of tether invested by personally recruited affiliates.
Residual Commissions
Algotech pays residual commissions via a binary compensation structure.
A binary compensation structure places an affiliate at the top of a binary team, split into two sides (left and right):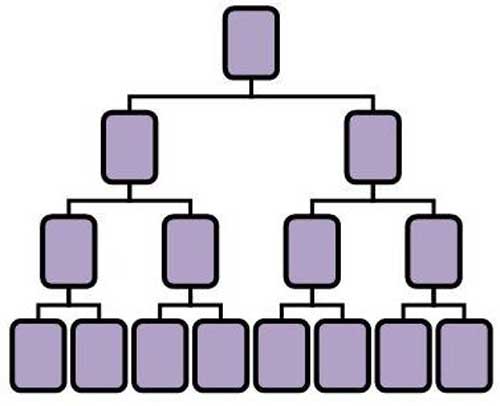 The first level of the binary team houses two positions. The second level of the binary team is generated by splitting these first two positions into another two positions each (4 positions).
Subsequent levels of the binary team are generated as required, with each new level housing twice as many positions as the previous level.
Positions in the binary team are filled via direct and indirect recruitment of affiliates. Note there is no limit to how deep a binary team can grow.
Algotech populate the binary team based on company-wide recruitment as opposed to individual recruitment efforts.
That is to say when you sign up, everyone recruited company-wide after you is placed into your binary team.
Filling the binary team occurs one left, one right, one left, one right etc. as company-wide recruitment occurs
Residual commissions are paid as a percentage of tether invested across an affiliate's binary team.
Residual commissions are tracked based on business volume (GV):
Starter Package – 25 GV
Builder Package – 250 GV
Classic Package – 500 GV
Executive Package – 1250 GV
Premium Package – 2500 GV
Limited Founder – 5000 GV
At the end of each week Algotech tallies up new investment volume on both sides of the binary team.
Residual commissions are calculated on the basis that 1 GV = 0.1 USDT, paid on weaker binary team side volume.
Note that to qualify for residual commissions, an Algotech affiliate must invested themselves.
How much they've invested determines residual commission qualification and how much they can earn.
Starter Package – recruit two investing affiliates, generate $500 in downline investment volume and earn up to $25 a week
Builder Package – recruit six investing affiliates, generate $1000 in downline investment volume and earn up to $250 a week
Classic Package – recruit eight investing affiliates, generate $2000 in downline investment volume and earn up to $500 a week
Executive Package – recruit ten investing affiliates, generate $5000 in downline investment volume and earn up to $1000 a week
Premium Package – recruit fifteen investing affiliates, generate $10,000 in downline investment volume and earn up to $5000 a week
Limited Founder –  recruit twenty-five investing affiliates, generate $50,000 in downline investment volume and earn up to $25,000 a week
Once paid out on, volume is matched against the stronger binary team side and flushed.
Any leftover volume on the stronger side carries over.
Joining Algotech
Algotech affiliate membership costs 100 to
Starter Package – 100 USDT
Builder Package – 500 USDT
Classic Package – 1000 USDT
Executive Package – 2500 USDT
Premium Package – 5000 USDT
Limited Founder – 25,000 USDT
Algotech Conclusion
Algotech is yet another Ponzi scheme from serial scammer Daniel Grenon.
Affiliates sign up, invest tether, earn the usual pyramid recruitment commissions, and on top of that you have the "up to 20%" monthly returns.
Don't worry though, unlike all the other Ponzi schemes Grenon has been involved in, Algotech is totally not a Ponzi scheme.

It should be obvious that representations from serial scammers are not a substitute for registration with financial regulators and audited financial reports.
The ROI ruse behind Algotech is the typical "AI trading bot" story every MLM crypto Ponzi uses.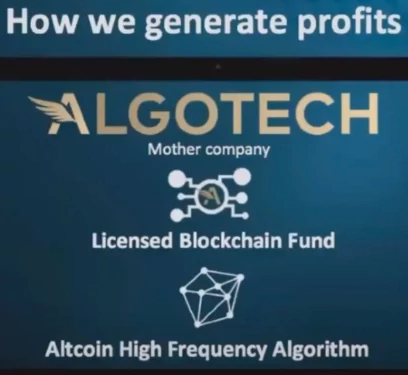 We employ a proprietary low risk and non leveraged, AI algorithmic investment strategy with automated execution of crypto exchanges.

Trading in up-and-coming altcoins has generated over 160% YTD return (July 2021).

Our licensed AI algorithmic altcoin fund has been running for FOUR years allocating the majority of the funds to high yielding digital assets other than Bitcoin, to maximize returns.
Four years of verifiable results you say? Cool. Where are the audited financial reports then?
I'm not even going to waste time breaking down Algotech's NFT nonsense.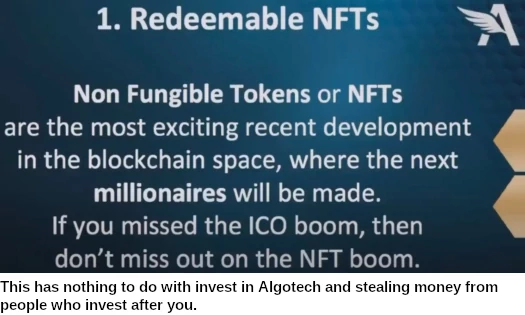 The whole "sell us back NFTs" side to Algotech is meaningless buzzwords pseudo-compliance.
The long and the short of it is unless Algotech is registered with financial regulators and providing audited financial reports, it's operating illegally.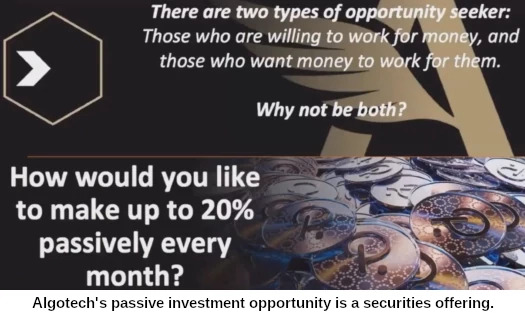 The only reason an MLM chooses to commit securities fraud, is because it's not doing what it claims to be.
With Algotech, that would be using external trading revenue to pay monthly returns.
Referral and residual commissions are paid out of invested funds, adding a pyramid layer to Algotech's already fraudulent business model.
You don't need audited financial reports to confirm that much.
As it stands the only verifiable source of revenue entering Algotech is new investment.
Using new investment to pay affiliates monthly returns of up to 20% makes Algotech a Ponzi scheme.
As with all MLM Ponzi schemes, once affiliate recruitment dries up so too will new investment.
This will starve Algotech of ROI revenue, eventually prompting a collapse.
The math behind Ponzi schemes guarantees that when they collapse, the majority of participants lose money.
Update 14th December 2021 – Algotech has collapsed and been rebooted as WinWheel.