Reach Society Review: Achieve Community with $600 ROI

There is no information on the Reach Society website indicating who owns or runs the business.
The Reach Society website does have an "about us" page, but only the following vague marketing copy is provided:
We are a group of entrepreneurs, networkers, and independent thinkers who believe that the path to true success can be found by striving to reach our goals by creating and offering opportunity to help others reach their goals.

We are founded on the principle that transparency and honesty, in the grand scheme of things, are more valuable and meaningful than hype and empty promises.
At the bottom of Reach Society's "about us" page there's an image of a woman: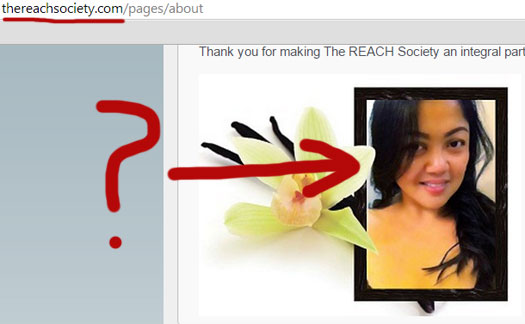 No mention is made on the page explaining who this person is, but the filename for the image is "jhen_image_trs.jpg".
Further research reveals that the woman in the image is Jhen Tripp.
The Reach Society website domain was registered on the 19th of November 2014, and lists Tripp (credited as Jenalyn Cabanag Tripp) as the owner of the domain.
On one of her Facebook profiles, Tripp lists her location as the US state of South Dakota.
Another Facebook profile bearing Tripp's likeness is registered under the name "Myjhen Cabanag":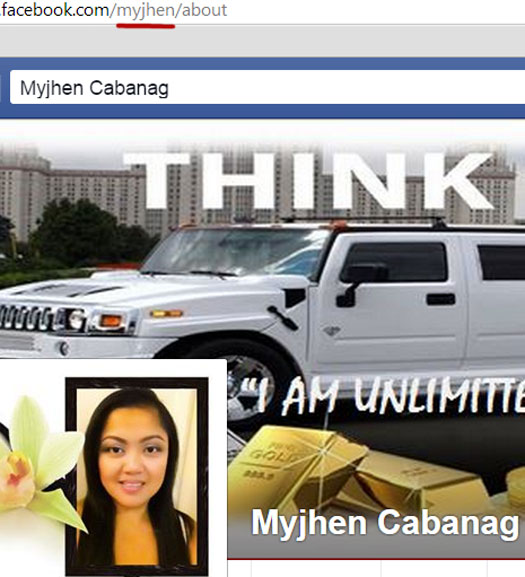 There's no mention of Reach Society on either of Tripp's Facebook profiles, however her picture appearing on Reach Society's "about us" page and name on the domain registration all but confirms she owns the company.
Read on for a full review of the Reach Society MLM business opportunity.
The Reach Society Product Line
Reach Society has no retailable products or services, with affiliates only able to market affiliate membership with the company itself.
The Reach Society Compensation Plan
The Reach Society compensation plan revolves around affiliates signing up and then purchasing $50 matrix positions.
Although the company bills itself as a straight-line cycler, the reality is Reach Society uses a 2×3 matrix system.
A 2×3 matrix places an affiliate at the top of a matrix, with two positions directly under them (level 1):

These two positions in turn branch out into another two positions each (level 2) and again to make up the third level of the matrix.
The give away that Reach Society use matrices is the mention of spillover in their compensation plan documentation:
You also get spillover from your uplines and downlines. You earn a huge payout on completing each cycle.
Straight-line cyclers don't have spillover and spillunder, as they are company-wide queues.
In any event, commissions in Reach Society are paid when an affiliate's 2×3 matrix is filled. Positions in the matrix are filled via investment in matrix positions, with an $600 commission paid out once all fourteen matrix positions are filled.
This represents an effective 1200% ROI.
Joining The Reach Society
Affiliate membership with Reach Society is free, however an affiliate must invest in at least one matrix position in order to participate in the company's compensation plan.
This pegs the defacto affiliate cost with Achieve Community at $50.
Investment in multiple matrix positions at the time of signing up will add to this cost ($50 per position).
Conclusion
The first thing that struck me about the name "Reach Society" was the similarity to that of "Achieve Community". Same concept of a group of people sandwiched with a positive buzzword.
Co-incidence?
Hardly.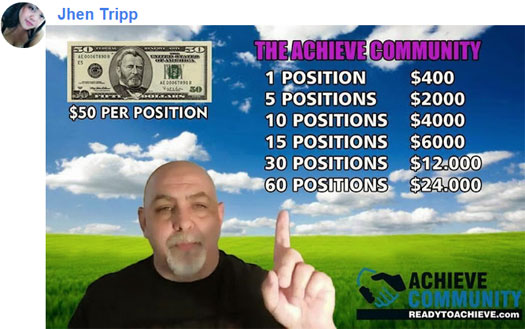 Although she's been busy deleting all her Google Plus profile posts mentioning Achieve, luckily Google still has them cached.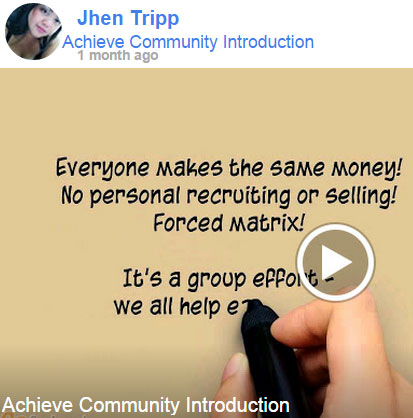 For those unfamiliar with the opportunity, Achieve Community is a Ponzi scheme that also charges affiliates $50 for investment positions.
Where Tripp got the inspiration to launch Reach Society from should be painfully obvious.
The datestamps of Tripp's Achieve Community spam places her joining the scheme a month ago. This was the same month that Payoneer terminated Achieve's payment processor services.
Since then, withdrawals in Achieve have ground to a halt. Putting two and two together, Tripp likely joined Achieve, invested funds and like everybody else, is now stuck wondering whether she'll ever see her money again.
And so we have the launch of Reach Society. Same $50 investment concept, only Tripp has bumped the ROI to $600 over Achieve's $400.
Somewhat amusingly, Tripp claims on the Reach Society website FAQ that
Is this an investment opportunity?

NO!  Customers/paying members are paying for and receiving value from the ad/promotional services we offer through this site.  This can be most accurately considered as an expense for promoting whatever it is you choose to promote or advertise through our services.

We strongly caution potential customers to please understand this, and abstain from risking any funds in hopes of "getting rich quick".

Though we DO allow paying members to participate in a unique profit sharing plan as incentive to incorporate our services as a promotional tool, and invite others to become customers, also, we do not offer or imply any guarantee in regards to income that may be generated from their participation.
Aside from the obvious "Reach Society simply recycle newly invested funds to pay off existing investors", here's how Reach Society is marketed on their own company website:

And Tripp herself is no better on her Google Plus profile:

Behind the usual Ponzi "we sell a product" smoke and mirrors, Reach Society is yet another simple $50 in, wait for new investors, $600 ROI out scam.
It probably shouldn't come as a surprise then to learn that Tripp has somewhat of a history in this arena.
Other deleted posts from her Google Plus profile reveal affiliate involvement with Cash InfFusion Express and The Express Lane. Both of which are matrix cycler Ponzi schemes similar to Reach Society and Achieve Community.
Going even further back, Tripp was involved in Pinoy Recruiters, the brainchild of former Zeek Rewards investor Tracy Davison.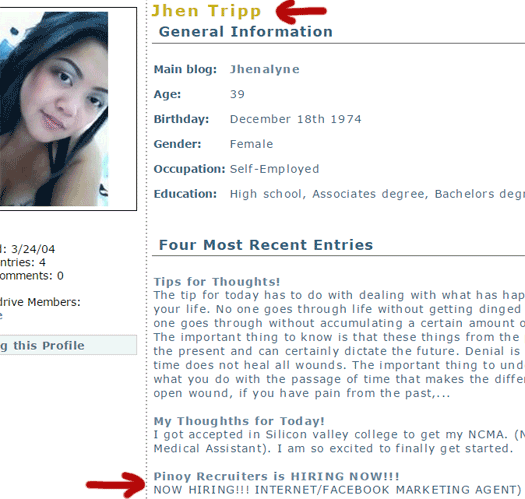 Whether Tripp herself was an investor in Zeek Rewards, an $850 billion Ponzi scheme shut down in 2012, is unclear.
Either way we've clearly got a serial scammer here… and with Tripp offering an even higher ROI than Achieve Community, one can expect Reach Society to collapse even faster than its predecessor.