My Resultz Review: Weight loss and energy patches
There is no information on the My Resultz website indicating who owns or runs the business.
The My Resultz website domain ("myresultz.com") was registered on the 28th of August 2014, however the registration is set to private.
Further research reveals thee people credited as co-founders of My Resultz in official corporate presentations: Scott Nelson, J.J. Meier and Tripp Mehew.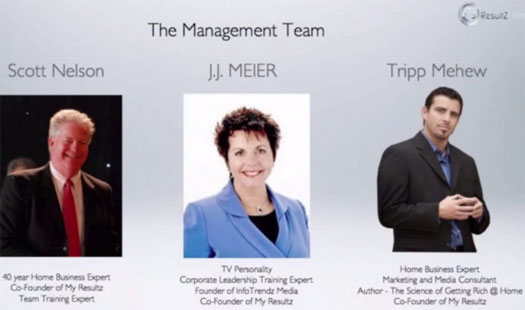 Scott Nelson credits himself with "40 years" experience in the MLM industry.
On his LinkedIn profile, Nelson credits himself as a Solvaei affiliate (cell service MLM company launched in 2012, went bankrupt in 2014). He also lists himself as an International Silver Network (ISN) affiliate as of early 2013.
With the launch of My Resultz, whether or not Nelson will maintain his affiliate memberships with these companies is unclear.
On her LinkedIn profile, Meier credits herself as the President of FemOne from between 2001 and 2004.
FemOne (launched 2002, now defunct) marketed a range of nutritional and personal care products specifically targeting women.
Between 2005 and 2008 Meier was the Executive Vice-President of Business Development for ITV Ventures.
ITV Ventures was owned by Donald Barrett and marketed health and nutrition products tied to Barrett's infomercial business.
In 2008 the FTC fined Barrett $55 million for false advertising. ITV Ventures was shut down as a result.
Following ITV Direct, Meier has engaged in several non-MLM specific spokesperson and marketing roles.
Tripp Mehew was also involved in ITV Ventures (I later learned that Scott Nelson is ex-ITV too). After ITV was shut down, Mehew went on to brand himself as a self-styled "online marketing coach" under the brand Ten99. Mehew also joined Solavei with Nelson in 2012.
Below you can see the logo for Ten99, which has been repurposed and colored orange for My Resultz: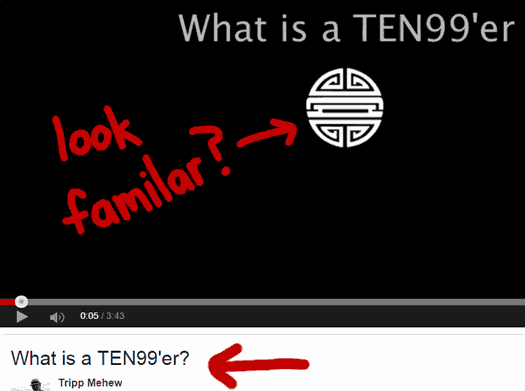 J.J. Meier and Tripp Mehew have also previously appeared together in an infomercial hocking Mehew's book, "The Science of Getting Rich @ Home":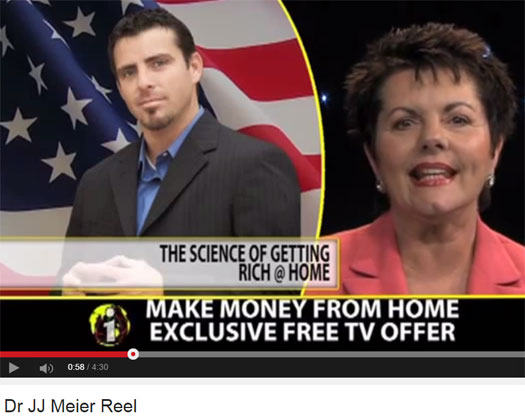 Why no information about Nelson, Meier or Tripp exists on the My Resultz website is a mystery.
Read on for a full review of the My Resultz MLM business opportunity.
The My Resultz Product Line
My Resultz list two patches on their website; "weight release" and "mega energy booster".
The company claims the weight release patch
suppresses appetite
burns more fat day and night
accelerates weight release and
had "premium quality ingredients"
Meanwhile the mega energy booster patch
increases energy and mood naturally
requires no expensive shots or injections
utilizes  a highly effective delivery system
contains "proprietary vitamin infusion"
No retail pricing for either patch is provided.
The My Resultz Compensation Plan
The My Resultz compensation plan revolves around the recruitment of affiliates and their spending of at least $35 a month to purchase products.
Recruitment Commissions
Referred to as a "Fast Start Bonus", if a My Resultz affiliate recruits four affiliates who recruit four affiliates who recruit four affiliates, all of which order at least $35 worth of product for two months and all within 90 days from the date the original affiliate joined the company, My Resultz pays out a $1000 bonus.
A $500 bonus is paid to the immediate upline of any affiliate who receives a Fast Start Bonus payout.
Matrix Commissions
Residual commissions in My Resultz are paid out via a 4×7 matrix.
A 4×7 matrix places an affiliate at the top of the matrix with four positions directly under them (level 1):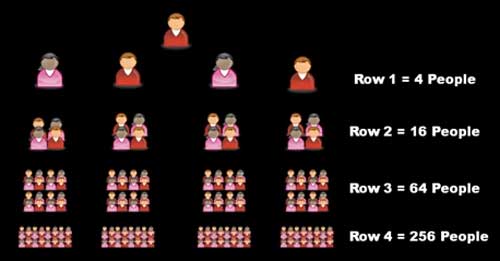 In turn, these four positions branch out into another four positions each (level 2) and so on and so forth down a total of seven levels (21,844 positions).
Positions in the matrix are filled via the recruitment of affiliates (direct or indirect recruitment), with commissions paid out based on a minimum $35 a month spend on My Resultz products.
How much of a commission is paid out depends on what level of the matrix are filled:
level 1 – 20%
level 2 – 10%
levels 3 to 5 – 5%
levels 6 and 7 – 10%
Note that affiliates in the matrix are able to purchase more than $35 a month worth of products.
In My Resultz marketing presentations $35 is the amount quoted as the cost of one month's supple of one patch. It is also referred to as "the minimum" an affiliate can purchase each month.
2% Global Bonus
The My Resultz Global Bonus is made up of 2% of sales company-wide.
Affiliates earn shares in the Global Bonus pool by maintaining an active (min $35 a month spend) downline of four personally recruited affiliates who have recruited 4 affiliates who have recruited 4 affiliates.
3% Global Leadership Bonus
The My Resultz compensation plan mentions a 3% Global Leadership Bonus pool.
Unfortunately no specific information was available at the time of publication, with the company only stating that the bonus is "designed for our selective leaders".
This is a unique bonus pool that will also come with perks. Details to come.
Joining My Resultz
Affiliate membership to My Resultz is $49.90 and $14.95 a month thereafter.
Conclusion
There's a big question mark over retail focus with My Resultz.
At the time of publication no retail pricing is provided on the My Resultz website, nor were they mentioned on official My Resultz corporate marketing material.
"Customers" were mentioned in the presentations I watched, but whether or not these were actual retail customers, and what they can expect to pay for My Resultz products is entirely unclear.
The danger with My Resultz is that the company will wind up being full of affiliates, with little to no retail activity taking place.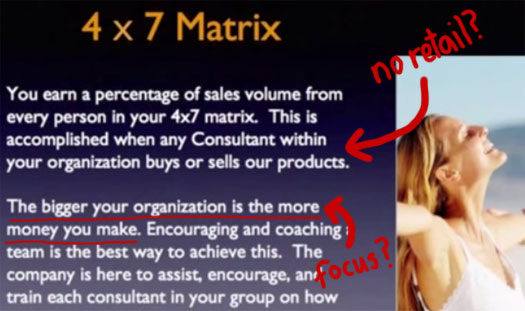 As it stands there are no retail qualifiers to earn commissions, nor is there any incentive to acquire retail customers.
A My Resultz affiliate can join the company focus solely on the recruitment of new affiliates, and so long as everyone pays their $35 monthly minimum, earn commissions.
The 2% Global Bonus in that scenario becomes particularly concerning, as it's basically a recurring recruitment commission, funded by affiliates and paid out to those who recruit and encourage those below them to recruit.
Whether or not affiliates are required to spend a minimum $35 to qualify for commissions is also unclear. The presentations I watched indicated that a monthly minimum $35 spend on My Resultz products was required.
If this is the case, then an additional pay to play layer is added to what is already a questionable business model.
That affiliates are spending $35 on product isn't the issue but rather, if they're required to do so to qualify for commissions, then the motive behind the purchase is called into question.
One indication as to what My Resultz affiliates are likely to focus on is a screenshot from a corporate marketing presentation by Scott Nelson: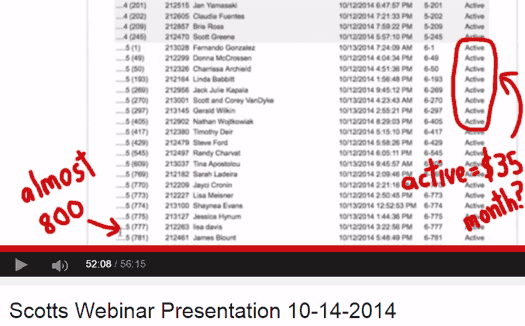 What you're looking at there is a downline list on a corporate account Nelson is demonstrating with. The data on the screen indicates affiliates filled positions carrying down at least five levels of the matrix and numbering into the 700s.
The total downline size is not revealed.
In any event, these affiliates are marked "active' and are therefore presumed to be spending at least $35 a month on My Resultz products.
Two things come to mind, the first being that Nelson mentioned earlier in the presentation that My Resultz aren't as of yet shipping any products (so what are affiliates spending money on), and that without products being shipped it's unlikely that retail forms and significant ratio of the company-wide revenue flowing in.
Should this continue when the company begins shipping products, it is unlikely that retail will ever be a focus within the company, much the less generate any significant revenue versus that incoming via affiliates.
Approach with caution.