Plutus Society Review: $10 ten-tier matrix Ponzi cycler

Plutus Society was founded in June 2015 and claim to be based out of Quezon City in the Philippines.
Cited as founder of the company on the Plutus Society website is Rolan Garcia.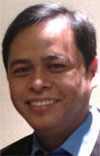 Garcia (right) appears fond of the Plutus brand, having previously launched Plutus Marketing in late 2014.
The mission is so simple to alleviate poverty by empowering people with dynamic and stable opportunity through entrepreneurship.
On the Plutus Marketing website, Garcia credits himself as President and Medical Director of the company.
The original concept of Plutus, as per a marketing video dated September 2014, appears to have been the offering of discounts and medical consultations (billed as "Plutus Wellness"), integrated into an MLM business opportunity.
That opportunity saw affiliates pay 1500 PHP ($33 USD) and get paid to recruit others who did the same: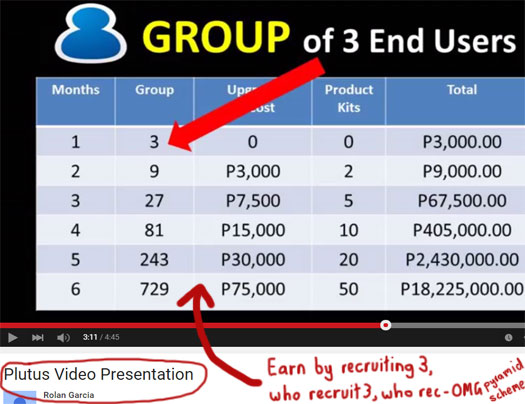 Before Plutus Marketing, Garcia launched "The Exodus Society". The company's website is no longer offline, but Exodus Society Marketing material suggests it too was a recruitment scheme: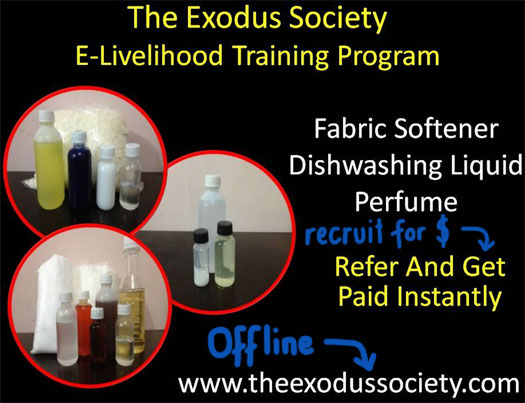 Alexa traffic estimates to the Plutus Marketing website suggest the opportunity never really took off, which has likely prompted the launch of Plutus Society.
Read on for a full review of the Plutus Society MLM business opportunity.
The Plutus Society Product Line
Plutus Society has no retailable products or services, with affiliates only able to market affiliate membership with the company itself.
Once signed up, Plutus Society affiliates are then able to purchase $10 matrix positions. Bundled with the purchase of a matrix position is access to an ebook library.
The Plutus Society Compensation Plan
The Plutus Society compensation plan sees affiliates purchase $10 positions in a ten-tier matrix cycler.
Each matrix in the cycler is that of a 2×2, requiring six positions to be filled: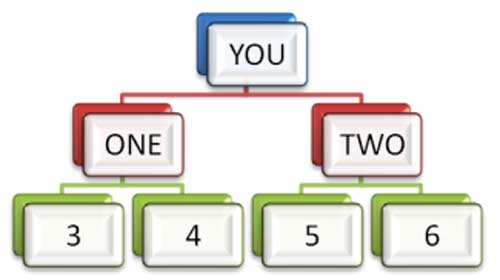 Commissions are paid out once all six positions in the matrix are filled, with how much of a commission is paid out determined by what tier matrix is filled:
Stage 1 (positions cost $10) – pays out $10 and cycles an affiliate into Stage 2
Stage 2 – pays $25 and cycles an affiliate into Stage 3
Stage 3 – pays $50 and cycles an affiliate into Stage 4
Stage 4 – pays $250 and cycles an affiliate into Stage 5
Stage 5 – pays $750 and cycles an affiliate into Stage 6
Stage 6 – pays $7500 and cycles an affiliate into Stage 7
Stage 7 – pays $1500 and cycles an affiliate into Stage 8
Stage 8 – pays $3000 and cycles an affiliate into Stage 9
Stage 9 – pays $45,000 and cycles an affiliate into Stage 10
Stage 10 – pays $36,000 and cycles an affiliate into a new Stage 10 matrix
Joining Plutus Society
Affiliate membership with Plutus Society is tied to the purchase of a $10 matrix position.
Conclusion
With The Exodus Society and Plutus Marketing not working out, unfortunately Rolan Garcia has dug himself deeper into the MLM underbelly.
Plutus Society functions as a ten-tier Ponzi scheme, with an initial $10 investment paying out an eventual $94,050.
Nothing is marketed or sold to retail customers, with 100% of the ROI paid out sourced from subsequent affiliate investment in matrix positions.
And the maths behind this one are particularly disheartening, with a whopping 9407 $10 positions required to be purchased before just one position realizes the full advertised $94,050 ROI.
Given those figures I doubt it's even likely Garcia's own position(s) in the cycler are going to get far, with Plutus Society likely to follow the same path as Plutus Marketing and The Exodus Society before it.