60 Second Millionaire: ex-Zeek pimp flees to Philippines

The 60 Second Millionaire Secrets launched in the first quarter of 2014 and provides a PO Box in Antigua and Barbuda as a contact address.
The company website domain however ("60secondmillionairesecrets.com") is registered to a Tracy Davison, who provides an address in Makiti City in the Philippines.
On The 60 Second Millionaire Secrets website, Davison is identified as the Founder of the company. This indicates that in reality it is being run out of the Philippines and not the West Indies.
Prior to his launching of 60 Second Millionaire Secrets this year, Davison was an affiliate in Penny Matrix.
Penny Matrix launched in early 2011 and using a 2×14 matrix compensation structure, pay affiliates to recruit new affiliates. As long as everybody paid their $7 a month fee, commissions are paid out.
Prior to Penny Matrix Davison was involved in Zeek Rewards.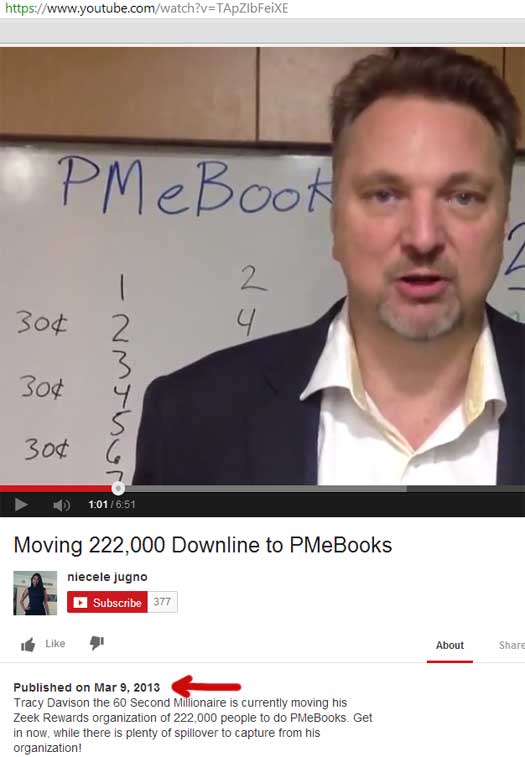 Tracy Davison the 60 Second Millionaire is currently moving his Zeek Rewards organization of 222,000 people to do PMeBooks. Get in now, while there is plenty of spillover to capture from his organization!
It would appear Davison was using the "60 Second Millionaire" moniker long before he decided to turn it into an MLM opportunity.
In the video itself, Davison reveals
Hello my name is Tracy Davison, I am a millionaire.

I'm a seven-figure income earner in network marketing and in a recent opportunity I was able to build, organically from the ground up, I put in uh fifty eight people personally into this opportunity over the course of about fifteen months.

And then I worked with those people very closely (and) we were able to build an organization of 222,000 people over the course of just fifteen months. Our first fifteen months. That was completely, completely organic growth.

So, I 've come across something recently that I'm very excited about, the company that I did that with went out of business unfortunately. It had nothing to do with me. There were circumstances beyond my control.

But I've got this massive organisation of 220,000 people that I've got to do something with, and I've chosen an opportunity that I think will fit my organization.
Whereas Davison claims Zeek Rewards "went out of business", the reality is that they were shut down by the SEC for being an $850M Ponzi scheme.
Davison, as a resident of Pleasant Grove in Utah, appears on a list of net-winners in the Zeek Rewards scam who the Receivership is going after: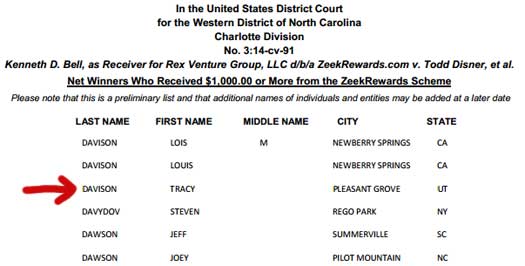 One can confirm the above Tracy Davison and the 60 Second Millionaire Secrets Davison are one and the same, with this Meetup profile of Davison's from 2011: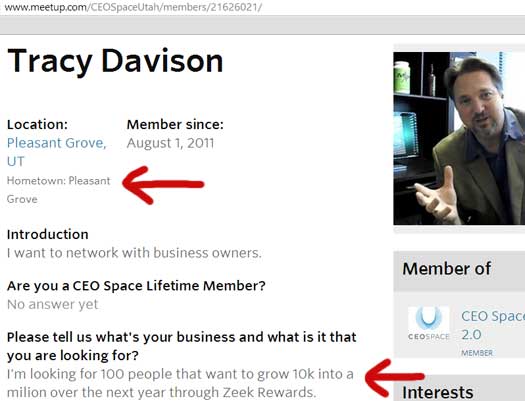 I'm looking for 100 people that want to grow 10k into a milion (sic) over the next year through Zeek Rewards.
Now residing in Makiti City, it would appear Davison fled the US for the Philippines upon learning the Zeek Rewards Receivership intends to sue him and reclaim the money he stole from victims of the scam.
Read on for a full review of the 60 Second Millionaire Secrets MLM business opportunity.
The 60 Second Millionaire Secrets Product Line
60 Second Millionaire Secrets markets two training products, a video and audiobook training Davison promises will teach buyers how to "think like a millionaire".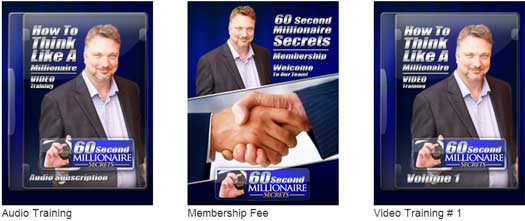 Both the audio and video training products are priced at $7 a month.
The 60 Second Millionaire Compensation Plan
The 60 Second Millionaire revolves around acquiring customers and the recruitment of affiliates, both of which pay a $7 a month minimum monthly subscription fee.
Commissions are paid out on this fee via a 2×20 matrix, with a 100% matching bonus also on offer.
Commission Qualification
All 60 Second Millionaire affiliates must qualify for commissions each month.
This can be done via payment of $7 or the making of a single $7 retail sale.
Matrix Commissions
Residual commissions in the 60 Second Millionaire are paid out via a 2×20 matrix compensation structure.
A 2×20 compensation structure places an affiliate at the top of a 2×20 matrix, with two positions directly under them: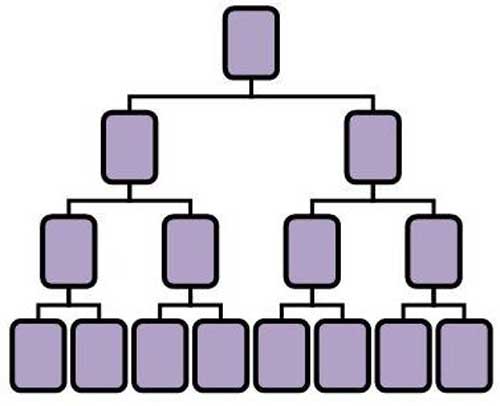 These two positions represent level 1 of the matrix, with the two positions under each of these positions representing level 2. In this manner, a 2×20 matrix extends down a total of twenty levels.
Each position in the matrix represents a fee-paying retail customer or affiliate, with commissions paid out based on the total number of filled positions in an affiliate's matrix.
Each filled position on an even level of the matrix pays out 25 cents a month.
Matrix Commissions Matching Bonus
A 100% matching bonus on matrix commissions is also paid out on all personally recruited affiliates.
Joining The 60 Second Millionaire Secrets
Affiliate membership to The 60 Second Millionaire Secrets is $3.
An ongoing $7 a month minimum spend (can be a customer purchase) is required to earn commissions via The 60 Second Millionaire Secrets compensation plan.
Conclusion
The 60 Second Millionaire Secrets name itself should set off (laughable) red-flags. Is Tracy Davison really trading on the concept of creating millionaires in sixty seconds? Is he claiming to have become a millionaire in sixty seconds through his investment in the Zeek Rewards Ponzi scheme?
What a joke.
If the "secrets" he reveals in his audio and video product are personal, then we can discount that anyone not interested in joining his latest scheme is going to purchase it. That kills retail, leaving affiliates themselves paying a minimum $7 a month to qualify to earn commissions on those they and their up and downlines recruit.
At its core, The 60 Second Millionaire Secrets is a simply $3 buy-in pyramid scheme. Once they've paid their entrance fee, affiliates hand over $7 a month which is used to pay commissions through the matrix.
The more affiliates recruited, either directly or indirectly, the higher a 60 Second Millionaire Secrets affiliate's commission payout.
And even then, with the matrix only paying on even levels, the model is pretty unattractive. Affiliates fill one level they get paid on and then have to fill another in its entirety before they can grow their monthly income.
In the deeper levels where matrix levels hold thousands of positions, that's a pretty big kick in the nuts incentive wise.
As with all pyramid schemes, once the recrutiment of affiliates at the bottom of the scheme slows down, those above them will stop paying their $7 a month fee. When that happens those above them stop earning a commission and in turn stop paying their fees too.
This effect slowly trickles up the company until the inevitable pyramid scheme collapse occurs.
To help combat this, it appears Tracy Davison is double-dipping by selling leads to participants of his scheme. A practice he no doubt learnt from Zeek Rewards (who also initially sold leads (fake email addresses) to their customers), Davison runs his lead generating business under the brand "Pinoy Recruiters".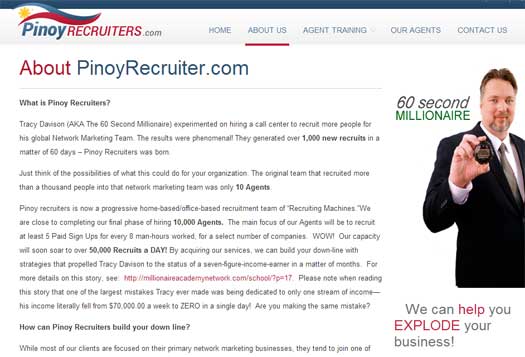 I couldn't find any hard prices on the Pinoy Recruiters website, but Davison frequently mentions it in his 60 Seconds Millionaire Secrets compensation plan presentation. At any given opportunity, Davison is quick to slip in that 60 Second Millionaire Secrets affiliates are able to purchase leads through Pinoy Recruiters.
Looking at the bigger picture, if Davison's claims about his success in Zeek Rewards are true, it's scant wonder the Receivership is going after him. Having fled to the Philippines, Davison appears to now be trying to salvage whatever remains of his 220,000 Zeek downline – and milk them for all they're worth.
Well, what's left of them anyway:

That first saw him pump them into Penny Matrix, and when that didn't go anywhere he figured he'd put what he learnt during his time in Zeek to use, and go at it alone with 60 Second Millionaire Secrets.
One would hope Davison has set aside enough to pay back the Receivership when they finally catch up with him.
YouTube in the meantime would appear to have recently had enough of Davison's scam spam:

Fellow Zeek Rewards Ponzi pimp T LeMont Silver figured he'd up and flee to the Dominican Republic when the Receivership came after him. A few months later the Receivership confirmed that regardless, he had been served.
As a top-earner in the scam, T LeMont Silver is now fighting the Receivership in court to keep what's left of his ill-gotten Zeek gains.
And after the Receivership's done with Zeek's top pimps, net-winners like Tracy Davison are next.