John Barksdale indicted on Ormeus Global criminal charges

John Barksdale has been indicted on securities and wire fraud charges.
Barksdale stands accused of running Oremus Global, a $70 million dollar Ponzi scheme.
Barksdale's indictment recognizes Ormeus Global fraud occurring between 2017 and October 2021.
For reference, BehindMLM reviewed and identified Ormeus Global's securities fraud in June 2017.
Ormeus Global's original Ponzi ruse was a trading bot. This then changed to mining profits, which is the subject of Barksdale's indictment.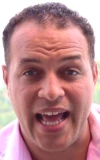 Barksdale (right) set up Ormeus Global as a Panamanian shell company operated out of Hong Kong.
The DOJ alleges Barksdale, identified as John Albert Loar Barksdale;
perpetrated a scheme to sell a new cryptocurrency token named Ormeus Coin (ORME) through false representations.

Through a series of white papers, in- person roadshows, online webinars and videos , social media platforms, and other marketing materials approved by Barksdale … Barksdale falsely represented, among other things, that Ormeus Coin was a digital money system secured by a $250 million cryptocurrency mining operation, which was one of the biggest such operations in the world.
To perpetuate the Ormeus Global false representations, Barksdale pushed out marketing materials depicting
photos of a purported Ormeus Coin mining facility , deceptively referenced an "Ormeus Reserve Vault" ("ORV" ) that stored over 3,000 Bitcoin purportedly derived from Ormeus Coin ' s mining operations that was represented as securing the value of Ormeus Coin, and falsely stated that Ormeus Coin ' s mining revenues exceeded $5 million on a monthly basis.
Ormeus Global's fraudulent marketing claims featured on Ted Nuyten's BusinessForHome;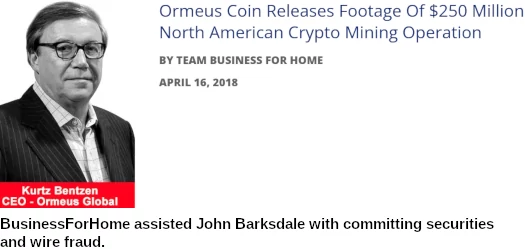 Whether money changed hands between Barksdale and BusinessForHome is unclear.
In truth, Ormeus' s mining operations never approached a value close to $250 million and never produced revenues exceeding one million dollars in any month, and the Bitcoin stored in the "Ormeus Reserve Vault " belonged to a third party.
Specifically detailing Ormeus Global's fraudulent mining representations, Barksdale's indictment states;
In or about December 2017, BARKSDALE directed the transfer of approximately $10 million in Bitcoin for the purchase of mining equipment for Ormeus to the Mining Supplier, but no mining equipment procured with that payment was put into operation until at least in or about March 2018.
In February 2018, Barksdale published Ormeus Global's whitepaper, in which he claimed Ormeus Global had
already commenced its cryptocurrency mining operation through private investment and is not seeking public money through an ICO.
Featured in the whitepaper was an "actual photo of Ormeus Coin('s) Mining Facility".
This same photograph was used multiple times in marketing materials throughout early 2018 to create the false impression that it was a photo of an Ormeus mining facility.
That photo however was a data center in Montana, owned by a third-party.
Ormeus Global represented it owned the facility. In reality they owned "no more than two rows of miners".
After the release of the White Paper … Barksdale continued to represent that Ormeus Coin was backed by a $250 million cryptocurrency mining operation through at least in or about April 2018.
Like MLM crypto Ponzis splash promos on Dubai's Burj Khalifa today, in 2018 Ormeus Global perpetuated its fraudulent mining claims through Times Square ads.
On or about February 9, 2018, Ormeus Coin ran an advertisement on a jumbotron in Times Square in Manhattan, New York, which proclaimed, in a caption above a giant ORME symbol , "$250 Million Cryptocurrency Mining Farm Revealed in Legal Audit by Ormeus Coin."

In truth, Ormeus Coin's cryptocurrency mining operations never approached a value close to $250 million.
To mask his Ponzi scheme, Barksdale represented Ormeus Global's mining operations were generating "over $5 million in currently monthly revenue".
Contrary to these public claims, Ormeus' s mining operations did not produce revenues exceeding one million dollars in any month.
In order to continue marketing Ormeus Global's Ponzi scheme, Barksdale represented ORME was backed by ORV, an internal shitcoin, which in turn was backed by "revenue from Ormeus's mining operations".
This was represented by a bitcoin balance, featured on ORV's standalone website.
From at least in or about January 2019 through at least in or about October 2021, the ORV website displayed that the ORV consistently contained approximately 3,081 Bitcoin in purported mining revenue, which was valued at between approximately $10 million and $188 million, depending on the value of Bitcoin during the period.
The problem is the bitcoin balance was owned by someone else. It had nothing to do with Ormeus Global.
Contrary to the marketing materials … the Bitcoin assets in the ORV were owned and controlled by Individual- 1, and were not generated by Ormeus's mining operations and did not belong to
Ormeus (or) Barksdale.

Those Bitcoin assets therefore did not secure the value of Ormeus Coin.
Barksdale maintained the bitcoin mining ruse until at least October 2021.
What's particularly interesting about Barksdale's indictment is it hones in on Barksdale's fraudulent representations.
Other than acknowledging Ormeus Global solicited $70 million from 12,000 investors, financial damage to consumers isn't factored in.
I'm aware the SEC have filed parallel civil proceedings against Barksdale, I figure consumer harm will be the focus of those proceedings.
Barksdale indictment details one count each of
conspiracy to commit securities fraud;
securities fraud;
conspiracy to commit wire fraud; and
wire fraud
Barksdale's sealed indictment was filed under seal on November 9th, 2021.
If convicted, Barksdale is facing up to 65 years in prison.
In a press-release issued on March 8th, the DOJ request
any individuals who believe they may have been the victim of the alleged crimes perpetrated in connection with Ormeus Global or Ormeus Coin can contact HSI at ice.gov/webform/ice-tip-form or ormeus@ice.dhs.gov.
According to the DOJ's press-release, Barksdale "was arrested abroad". We're presuming he's in the process or has been extradited back to the US.
This will be Barksdale's second arrest abroad. In 2019 Barksdale was arrested in Thailand as part of an Ormeus Global fraud investigation.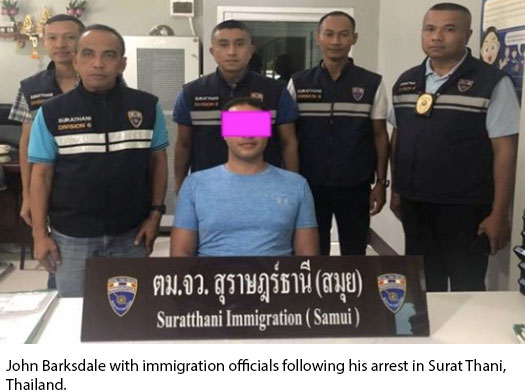 At time of publication Barksdale's criminal case has yet to appear on Pacer. I'll check back tomorrow and publish any updates from the case docket below.
Update 9th March 2022 – As suspected, the SEC's complaint focuses much more on consumer harm.
The SEC alleges John and Tina Barksdale solicited $124 million from over 20,000 Ormeus Global investors.
BehindMLM has covered the SEC's case agains the Barksdales separately.
Update #2 9th March 2022 – John Barksdale's criminal case hasn't appeared on Pacer.
I'm taking this as we won't see anything pop up till he's extradited to the US. I'll continue to check for a case entry periodically.
Update 17th March 2022 – John Barksdale's case has appeared on Pacer. As of yet there's no filings indicating his current status.
There have been no further updates since the DOJ disclosed Barksdale was arrested abroad.
Update 1st September 2022 – John Barksdale, still wanted by US authorities, has turned up in Dubai.