Lucky Dozens Review: OneCoin scammers front illegal lottery

Lucky Dozens provides no information on its website about who owns or runs the company.
According to Lucky Dozens' website Terms and Conditions;
The Website is owned and operated by Launch Day S.R.L., a duly registered Costa Rican corporation with corporate id. Number 3-102-810200.
Lucky Draws' website domain ("12022021.live") was registered on September 18th, 2020. The private registration was last updated on June 10th, 2021.
Further research reveals Jan-Eric Nyman hosting official Lucky Draws marketing presentations.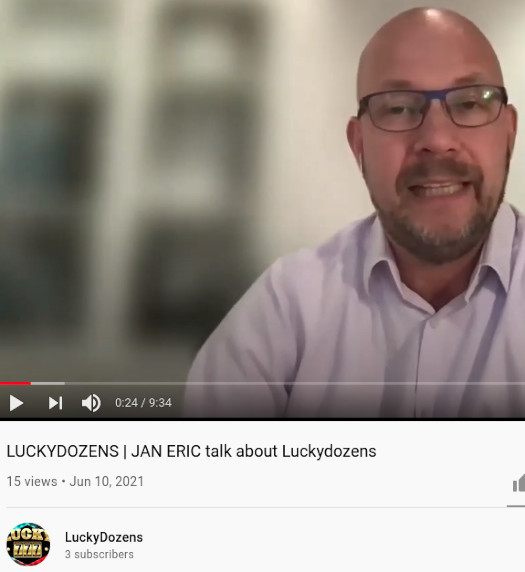 Nyman refers to Lucky Draws in the possessive, suggesting he is an executive and/or company owner.
Jan-Eric Nyman is best known in the MLM industry for being part of Duncan Arthur's OneCoin dev team.
OneCoin is one of the largest MLM cryptocurrency Ponzi schemes to date. It was founded by Ruja Ignatova and Sebastian Greenwood in 2014.
Both Ignatova and Greenwood have since been indicted. Thus far Nyman has faced no legal repercussions for his role in the multi-billion dollar scam.
Nyman's MLM roots date back to the Unaico SiteTalk pyramid scheme.
After OneCoin collapsed, Duncan Arthur rebranded his work there and continued to develop it as Bycoi.
Arthur retained his OneCoin development team, including Jan-Eric Nyman, to work on Bycoi.
In early 2020 Nyman attempted to seize control of Bycoi. Nyman would eventually go on to launch eComelize.
BehindMLM reviewed eComelize in March 2020. Based on its business model, we concluded eComelize was a pyramid scheme.
eComelize's website is still up, however Alexa website traffic estimates reveal the site is dead.
Putting two and two together, eComelize collapsed shortly after launch. Fast forward roughly a year later, and that brings us to Lucky Dozens.
It's worth noting that Lucky Dozens appears to have gone through a few iterations, possible before Jan-Eric Nyman got involved. Lucky Dozens' official Facebook page was created in June 2018.
A Lucky Dozens "version 2.0" reboot was announced last month:

When eComelize launched Nyman was based out of Malaga, Spain. Presumably he's still there but I couldn't find any updates to confirm.
Update 15th June 2021 – I have it on good authority that Jan-Eric Nyman
is back in Sweden.

He had to flee Malaga. He faces some pretty serious charges.
That would mean Lucky Dozens is being run out of Sweden. /end update
In any event Lucky Dozens' ties to Costa Rica are superficial.
Lucky Dozens has no business operations in Costa Rica. Basic incorporation is meaningless.
As always, if an MLM company is not openly upfront about who is running or owns it, think long and hard about joining and/or handing over any money.
Lucky Dozens' Products
Lucky Dozens has no retailable products or services, with affiliates only able to market Lucky Dozens affiliate membership itself.
Lucky Dozens' Compensation Plan
Lucky Dozens affiliates sign up with either a Lite or Mega subscription.
€50 EUR Lite affiliate membership provides access to a €240,000 EUR Lite Jackpot for 52 weeks
€250 EUR Mega affiliate membership provides access to a €2.4 million EUR Mega Jackpot for 52 weeks
Both jackpots are seven number lotteries drawn daily.

Affiliates pick numbers and can win throughout the week. If they match all seven numbers at the end of the week the jackpot is paid out.
Each time a Lucky Dozens affiliate wins (either the daily draw or weekly jackpot), a 100% matching amount is put up and distributed to twelve randomly selected affiliates.
The MLM side of Lucky Dozens' pays on recruitment of affiliates who sign up with lottery subscriptions.
Referral Commissions
Lucky Dozens affiliates earn 5% of funds spent by personally recruited affiliates.
Residual Commissions
Lucky Dozens pays residual commissions via a unilevel compensation structure.
A unilevel compensation structure places an affiliate at the top of a unilevel team, with every personally recruited affiliate placed directly under them (level 1):

If any level 1 affiliates recruit new affiliates, they are placed on level 2 of the original affiliate's unilevel team.
If any level 2 affiliates recruit new affiliates, they are placed on level 3 and so on and so forth down a theoretical infinite number of levels.
Residual commissions are paid at 5% of sales volume generated across seven unilevel team levels.
Note that recruitment is required to unlock unilevel team levels:
recruit one affiliate to earn residual commissions on one unilevel team level
recruit two affiliates to earn residual commissions on two unilevel team levels
recruit three affiliates to earn residual commissions on three unilevel team levels
recruit four affiliates to earn residual commissions on four unilevel team levels
recruit five affiliates to earn residual commissions on five unilevel team levels
recruit six affiliates to earn residual commissions on six unilevel team levels
recruit seven affiliates to earn residual commissions on all available seven unilevel team levels
Team Win
If a Lucky Dozens affiliate has a thousand affiliates in their downline, they qualify for the Team Win bonus.
The Team Win bonus pays a 5% match on downline affiliate lottery draw winnings.
Matched winnings can be a direct win or lucky draw win.
Virtual Shares Trading Scheme
Lucky Dozens affiliates are able to invest in "Pool Participating Certificates" (PPCs).
PPCs function as virtual shares. Each month Lucky Dozens takes 75% of company-wide net-profit and pays returns to each virtual shareholder.
Lucky Dozens virtual shares can also be traded within an internal exchange, set up as "Dosx".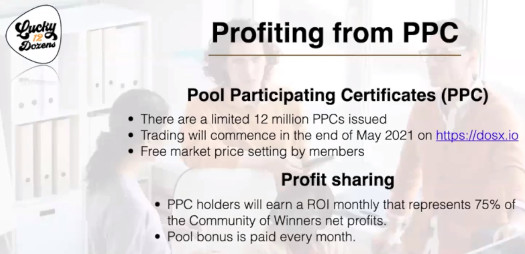 Note that a certain percentage of "cashback" paid out has to be put towards virtual shares.
"Cashback" is how Lucky Dozens refers to commissions:
Team Cashback – means certain amount of money that Account Holder is eligible to receive from incoming payments of usage the services of the Account Holders in his/her Team.
Based on this:
50% of commissions paid to Lite subscription affiliates has to be put towards virtual shares
25% of commissions paid to Mega subscription affiliates has to be put towards virtual shares
Joining Lucky Dozens
Lucky Dozens affiliate membership is tied to the purchase of an annual lottery subscription:
€50 EUR Lite affiliate membership
€250 EUR Mega affiliate membership
Both memberships are annual subscriptions. The difference between the two is higher income potential via the attached lotteries.
Note that there is also a €3000 EUR affiliate membership option which, according to Kari Wahlroos. "gives you a lot of PPCs (virtual shares) and a lot of (lottery) tickets".
Conclusion
Lucky Dozens' front-end is a weekly lottery but it's actually a fraudulent investment scheme.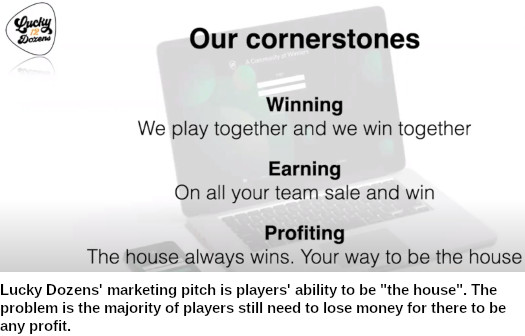 Affiliates invest in virtual shares, either directly or they earn commissions and are forced to. Lucky Dozens pays a return on those shares, funded by lottery tickets and share investment – both of which are paid for by new and existing Lucky Dozens affiliates.
All that's happening is funds deposited into Lucky Dozens are being shuffled around to pay those who invest the most into shares directly, and those who recruit the most (larger withheld commissions they have to invest in shares).
On top of that Ponzi scheme you have an additional layer of investment fraud, by way of shares being tradeable.
Lucky Dozens virtual share trading is pitched on projections of future virtual share value: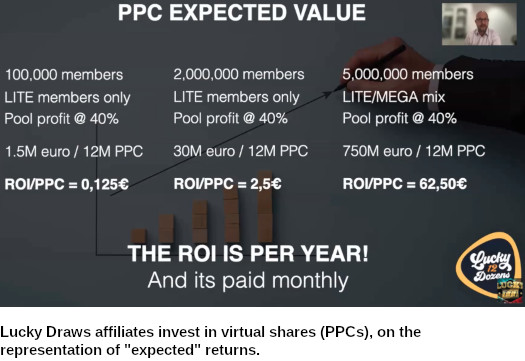 Both returns paid to Lucky Dozens virtual shareholders and the share trading scheme based on projected share value are securities offerings.
Neither Lucky Dozens or Jan-Eric Nyman are registered to offer securities in any jurisdiction.
Offering unregistered securities is illegal all over the world. So is promoting them.
As for Lucky Dozens' lottery ruse, gaming is heavily regulated. You need licenses to operate lotteries and Lucky Dozen provides no indication relevant licenses have been acquired.
Again, shell company incorporation in Costa Rica is meaningless.
In summary Lucky Dozens is an illegal lottery offering, combined with an illegal investment scheme, combined with an illegal pyramid scheme.
One of Lucky Dozens' top promoters is Kari Wahlroos: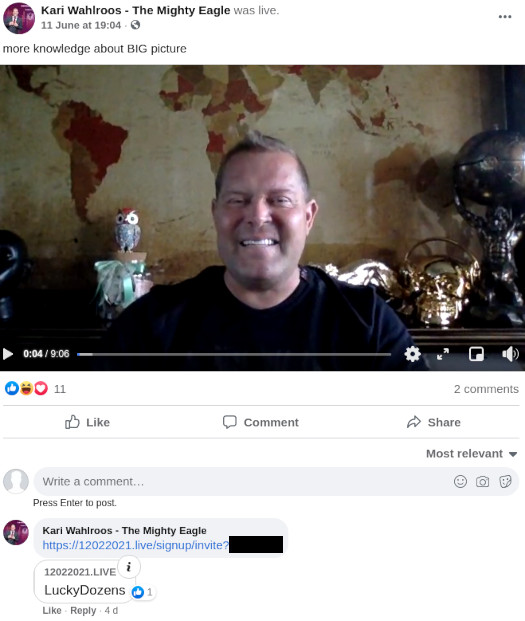 As former OneLife European Ambassador, Wahlroos is believed to have been one of OneCoin's top net-winners.
Like Nyman, Wahlroos has faced no legal consequences for his participation in OneCoin.
Last we checked in Wahlroos was hiding out in Dubai. At present Wahlroos official Facebook page is primarily managed from Latvia and Ireland.
In any event like OneCoin, Nyman's eComelize and the many Ponzi schemes Wahlroos promoted after OneCoin, the majority of Lucky Dozens affiliates will lose money.
Lucky Dozens is the same old Ponzi story; a small minority of executives and affiliates make money at the expense of everyone else.