WellStar accuse former affiliate of "criminal behaviour"

Founded in 2004, WellStar is based out of Germany and headed up by Founder and CEO, Christian Weisner.
Utilizing his vast specific expertise, Christian founded WellStar in 2004 and has been heading the company since then as CEO and Chief Strategist.
Kari Wahlroos joined WellStar in 2014. Rising to the rank of Crown Ambassador and frequently cited as a "top leader" of WellStar, Wahlroos recently departed the company.
That prompted Weisner to turn around and accused Wahlroos of "criminal behaviour".
At the time of publication we only have Kari Wahlroos' statements to go on. Nonetheless, his claims paint a pretty bleak picture of WellStar's current state of affairs;
In an open letter to Weisner published on September 11th,  Wahlroos wrote:
Dear Christian,

I am in receipt of your letter 10.9.2015, send by Martin Bylsma. I find the claims and demands ridiculous.

The real issue here is that, as Wellstars No1 and the most successful leader, I have decided that this company will never deliver on the promises you make.

I have had countless discussions with you to fix the endless problems and you never deliver. All we have been told by you, for over 18 months, is 'recruit more' and 'sell more tickets'.
What "tickets" Wahlroos is referring to is unclear. The only products listed on the WellStar website are a face, eye and body lifter.
The administration of Wellstar remains a disgrace.

Products flaws. A product returns system that does not work. Non-existent of customer support, terrible partner support.

How many times did my team have to show the problems with you trying to claim that we were at fault?

I loved the product concept and I like you personally yet professionally as a CEO you do not deliver so the company is a mess.

We both know that so many leaders have quit because they don't earn any money so you have to launch a new country every 3 months.

Italy is the new one. Portugal is dead already, as so many other country.

ONLY place you really have turnover is My countries, where you have NOT been active…and why is that?
The focus of affiliate recruitment in WellStar is a recurring theme in Wahlroos' letter, with the former top-affiliate complaining bitterly about not getting paid.
The worst issue with Wellstar is the financial matters, especially delayed commission payments.

Countless leaders, and especially me, have suffered from delayed and incorrect commission payments. I think it really died for me when you tried to pay us part of the Pool money in products!,

And the false claim that f.ex RVP would get 10.000€, Fact was 3000€. In Network Marketing, the delayed payments of commissions are the most fundamental confidence killer.

The car program does not work. Where are the 100 cars you supposedly gave out last year?

And because the Wellstar model is only about recruiting 'in the fast start', the plan does not work so no-one earns any money.

Who would believe, that my 'residual' income from Wellstar is less than 500€ per week with over 5,000 people. You told you would fix it. And Now you of course are holding my well earned commissions, that I have truly worked countless hours for!

Be a Man and pay! And please correct the rest of weeks since the compensation plan changed 1st of April, Totally 6 months. We both know, that the calculations are incorrect.

I will so far satisfy to you to pay in full amount until end this month, after all, I did the work!

Additionally, I have lost the tolerance how you treat people. I choose not to be part of this mayhem anymore.

You have insulted so badly many of friends, not to mention the countless people that had to fight for their miss payment, false deliveries, lost qualifications etc…

The endless plan and incentive changes is a total mess. We have said this for 10 months and still you just promise and try to push us to 'recruit more, sell more tickets'.

I wish you all the best as you are going to need it. I was prepared to quietly move to another company. You have decided to openly attack me doing 'criminal behavior'.

Your greatest problem is that I know the facts about how Wellstar does not work, does not pay and you continually exaggerate as you think people don't remember [probably because no-one ever stays].
As it turns out, Wahlroos appears to have attempted to resolve whatever issues remained between himself and Wiesner, with the publication of the letter only coming about after those negotiations fell through:
For the sake of the people we serve, how about we do a deal where we leave each other alone. We promote our opportunities and don't mention each other.

The alternative is ugly and it will start with my releasing this letter, and opening discussing with everyone the truth of Wellstar.

I am not interested in doing this and hope you can finally fix all those problems, its just I don't believe you will.

What saddens me the most is that you try to tell people that I have done something wrong, fighting for their rights!

You had so many changes to make it right! I have cannot promote such entity anymore, as everybody knows that I do not tolerate negativity!
Why Weisner and Wahlroos couldn't resolve their issues is unclear.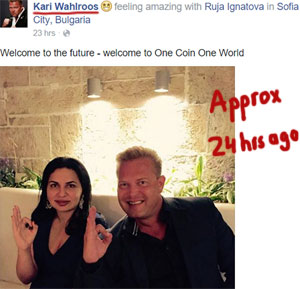 The assertions of Wahlroos engaging in criminal behaviour however, appear to stem from his recent enrollment as a OneCoin affiliate.
I have passed on this letter to my lawyers and of course to the lawyers of Onecoin to take action over your claim that they are an illegal operation and thus involvement is criminal behavior.
If cross-recruitment of Wahlroos' WellStar downline into OneCoin is an issue, that would certainly go some way to explain Weisner's apparent animosity.
As to Weisner's claims that OneCoin  is an "illegal operation", that's hardly surprising given OneCoin's Ponzi points business model.
Despite OneCoin's glaring compliance issues and the question of an unregistered securities offering, Wahlroos asserts Weisner's claims are "slander".
They (OneCoin) will not allow this slander of their business, as you would not. It is out of my hands and I am sure you will hear from them.

I suspect they will be referring what you have said to German authorities and perhaps also to the UK & Ireland where it is claimed that Wellstar is under investigation under Pyramid Selling regulations.
Reactions to Wahlroos' publication of his letter are thus far mostly supportive, and seem to confirm his claims about WellStar:
Tanya Thiel: You are right… Totally right…
Aine Tobin: It's about time someone posted something I'm here in ireland.

I didn't get involved I sat back for a few months and watched carefully but unfortunately so many here lost money etc.

He's a cheat and he's still active in so many countries getting away with it too, fair play Kari Wahlroos.
Wojciech Tomasz Piwowarczyk: Well written. Everything is correct 100%. In Poland I and leaders are waiting for honestly earned money in April to today!
Lidwien Jansen: Very clear. Thanks for telling what everybody feels and has experienced.
Gerry van Zantvoort: I had the same issues with CW and also received the letter with demands and claims and decided NOT to sign and return.

Same day ID was closed and not receiving any commissions anymore starting that day. CW's thank you for building a huge team.

Blaming everyone else but not himself will not bring him the success he claims to have. What success?

He just has 1 success: successfully breaking down all what we have build for him!

Enjoy your new life Kari.
Karolien Remy: Go Go Go Kari !!! I've worked 2 months for this fake company, we've made 75000 euro in 12 days, didn't Pay out….

Christian Wiesner is Fake , even his "company ". Good luck Kari.
Heleen de Kreek: Your so true….CW THE man with THE promesses, THE man with THE 2 faces…..

Did YOU know that one of my RVPs never got an invitation for THE holliday? Never got her car or THE bonus? IT was all fake….

So..Good luck with your new plans xx …i was already out of This company in november…when i got a fake pin status…just for THE show…
Marleen Verschueren: I am happy that what I already was telling 4 months ago people start seeing now.

Christian is a fake and corrupt person and he only can tell lies. He is collecting everybody's money and will disappear to an island and live from it.

So I hope everybody will start getting it now and stop giving money to him. Succes Kari Wahlroos and choose wise for your team!
Szalontai Teréz: Kari Wahlroos you are totally honest and everything you wrote is correct. I support all your words. This is the truth.

You are brave to tell it to the world. I respect you for it. Now everybody knows the reality about this company. (Budapest, Hungary)
Dara Byrne: Thank you Kari Wahlroos for realising the fake that is Christian Wiesner.

He has no shame and preys on honest decent people. He needs to be stopped.

Italy and other countries need to be informed before more get fooled.

I look forward to the day that he is in jail for the deception and lies. I'm sure his bullshit won't fool his cell mates.

Best of luck with your future Kari.
There are those though who also disagree with Wahlroos' evaluation of WellStar:
Attila Kovács: I work for more than 8 years for WellStar. I am not a super MLM hero, and I do not want to be.

I make trainings every week to my leaders online (webinar) and live too. Near every day! I work in 5 countries and I am very glad to see the huge potential we have!

But I also see, that Leaders who know the marketing plan, know what they have to do, they earn money, others do not!

I experienced many time, that Leaders who are successful, never complain. The oposit always…

I have never seen even one Leader, who left WellStar saing that "it was me, who made something wrong"… And I have never seen any Leader who left WellStar to be successful in any other Network Company (on long term).

I am very sorry about Kari, really and not just saing. I whish him to be an exception and be successful even after 5 years where ever He goes.

And just a short remark at the end: if I look back in time in our area for 25 Years, I see only 7 MLM companies, who are over 5 years without living the country.

WellStar with his 9 Years history in our are is among them. This will happen all over Europe.
Whether anything comes of Wahlroos' threats of legal action against Weisner remains to be seen. Ditto the allegations that WellStar itself is under investigation in Europe.
WellStar affiliates meanwhile appear to be stuck in the crossfire of Wahlroos and Weisner's fallout…
Update 12th September 2015 – Christian Weisner has responded to Wahlroos' letter on Facebook.
In a post published a few hours ago Weisner wrote:
Dear Leaders,

This is the final Note to The Termination of the Distributorship of Kari Wahlroos.

IT is answering the lies and False & Cheap accusations of the distributor Kari Wahlroos that have only one Goal:

To justify his greedy Bad Choice for quick" Money Scam " and insecure you with your Choice to stay with honest and longterm Wellstar Company!

All Active and Honest Leaders of the Nordics Know the truth Thats Why they Stay with Wellstar!

For you as new partner still we want to clear all wrong and cheap accusations of KW so you know you are 100% safe with us !

Facts about WELLSTAR:

1. In 12 years since start there has never been any legal threat from any authority in any country what so ever.

We focus on customers since the beginning and can proove hundreds of thousands customers and users of our nutritional and beauty products and services!

This is why we sleep well at night and why we know we build a longterm and solid future!

2. WellStar is very successfull and has a night & longterm future!

We are growing in Volume 3 years in a row up to 100% per year (!) since introduction of the unique and exclusive BYAS products which are loved by hundreds of thousands owners & customers of our BYAS lifters!

We are already Today the world market leader in the biggest market of the future!

2015 will be another fantastic record year with 15 great countries with fantastic & honest & longterm working leaders!

3. We have a Proven fantastic working customer and business building system = WMS!

All countries that already use our Wellstar Momentum System (WMS) experience fantastic Growth!

Customer Pay their asp monthly to more than 90% which will Secure the Future of all honest working Leaders!

Companies with no customers naturally die after 1-2 years.

People See the longterm Strategy with Real customers and Trained Partners by sharing product & business in bhp (business home presentation).

And start partner gently and successfully with SUS (start up seminar).

WE have Great countries that out perform Karis Volume by far, not because the Nordic countries are not good but because no leadership development training has been taking place there in 12 month.

I have been there last week and all top leaders confirmed me that no leadership training has Been taking place there.

I believe strongly in Finland , Sweden and Estonia To Go back Strongly to the top , you have first class honest leaders with a big heart!

That is why i Personally will take Care of The Nordics to lead you to success!

My track record as World Nr.1 Networker in a huge company with Millions of Customers as well as the Mentor and Coach of several current Nr.1 earners in Europe especially in Scandinavia (!) of Multi million / billion euro companies is a highly respected fact and as you know I love to share that knowledge in first class trainings with you!

All accusation I made about his New " company ' are backed by the experts.

Just read the facts from the link I send you.

My only information is to make sure nobody of our WELLSTAR Family gets harmed and tricked into a scam that will ruin his future and reputation once and forever.

The nearby future for that scam is clear, learn from the past:

In the Past same Companies like penny stocks , golden eagle and unaico have Be taking down all incomes have been frozen and their leaders where followed heavily by legal authorities.

Make a good decision, stay with Wellstar, the respected company with prooven exclusive huge market, unique products and 12 years history of successfull and honest work and secure your future by working active and honest & longterm yourselve!

Only here you get a real business and real local support to build a Properous future!

Wellstar is the home for every longtern and good working partner, it is your home!

We will build our Future together, honestly and longterm!

See you on the Tour!

Your Wellstar CEO
Christian Wiesner
WellStar – a company that doesn't pay affiliates, or a "respected company with prooven exclusive huge market, unique products and 12 years history of success"?