Kari Wahlroos launches conspiracy theory Twitter clone

Following a string of failed schemes, Kari Wahlroos is back with his own social media platform.
On the backend it's the usual cryptocurrency shenanigans.
In a video uploaded to FaceBook on December 4th, Wahlroos had a sook over the COVID-19 pandemic "limiting your life".
[1:05] That's why I am here today and I want to speak about it.
Before getting into his new venture, Wahlroos addresses the elephant in the room; the string of failed scams he's been involved with over the past few years.
[1:08] So after so many disappointments with um … working with the wrong people, bad people … this goes down many, many years that I wanted to come to this industry and talking about crypto.

[1:35] I've travelled the world y'know. Most of you know that I did some insane trips, past of the sequel [sic] four, five years. Very intensively about two and a half years.

Creating these opportunities and believing in the vision that was created.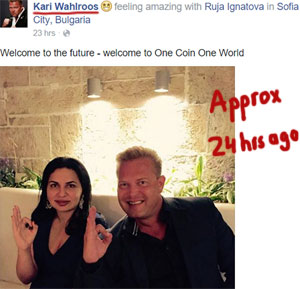 The "vision" Wahlroos is referring to is OneCoin, the notorious $4 billion dollar Ponzi scheme (note the image to the right is from 2015).
Wahlroos, as OneCoin's marketing Ambassador until December 2017, is believed to have made millions through the scam.
[1:53] I still believe that whatever happened then back, was OK. Was correct and I wanted to follow that and I was wanting to find a company and the people to work with (but) they seemed to go wrong all the time.

The last attempt was a terrible, unfortunate, unlucky event.

The idea again was still correct but (it was) done by the bad people.

So since then, for a year, I've been thinking about planning about and preparing something that I need to make now.

(It's) very, very clear and solid that I cannot have anyone else running the business except me.

So now I've delivered something that is totally controlled by me. And I will be responsible.
Wahlroos' new company is Hub News, which he runs through "Freedom Republic".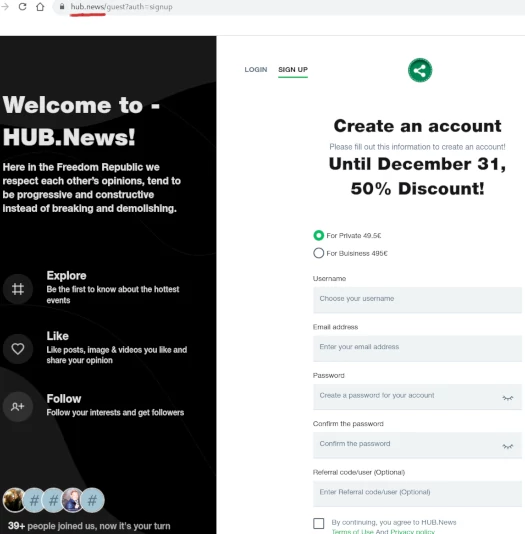 News Hub is powered by a ColibriSM, a social media script written in PHP that currently costs $30.
ColibriSM is a modern platform for sharing media content, an analogue of social networks such as twitter, instagram.

ColibriSM is one of the best options for creating your own social platform.
Wahlroos' marketing pitch for News Hub is fear mongering medley of various conspiracy theories.
[3:07] They gonna block you everywhere. Like they gonna limit what you can do, where you gonna go, how you can use your money, what you can do.

They gonna put restrictions for you everywhere.

And uh very soon mostly they gonna close your bank accounts and if you're not vaccinated, you cannot enter your bank account.
Riiiiiiiiiiiiiiigh………….t.
Wahlroos appears to be another product of the "boomers falling down social media algorithms rabbit hole" phenomenon.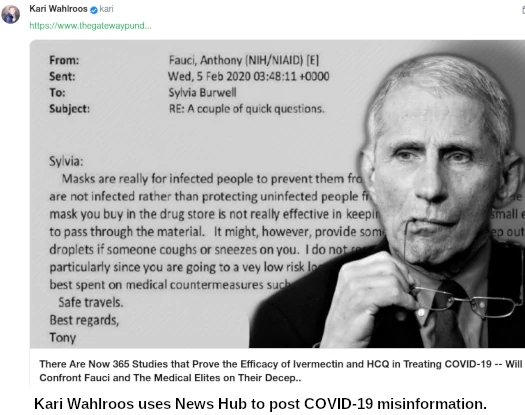 Likely after spending one to many nights in FaceBook jail, Wahlroos is now raging against the system.
Which is kind of ironic seeing as Wahlroos is using News Hub to promote, well FaceBook.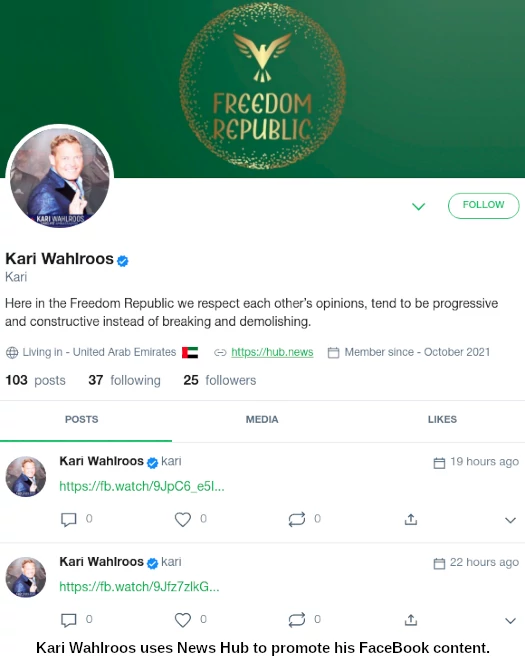 Access to News Hub initially cost €9.99 EUR for private accounts and €99 for businesses.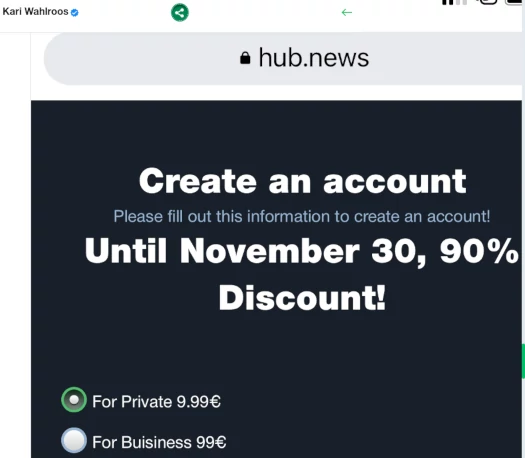 Wahlroos has since jacked access pricing to €49.50 and €499 EUR respectively. After December 31st those prices double.
A 50% referral commission is paid on new recruits. Up to 20% is paid on annual renewals.
As far as I can tell there's no MLM component to News Hub.
The trojan horse behind News Hub is "freedom tokens", a new cryptocurrency Wahlroos created and owns.

All News Hub commissions are paid in Wahlroos' freedom token.
If News Hub users publish free speech that uh, Kari Wahlroos disagrees with, they risk forfeiture of earned freedom tokens.
If rules set in these Terms of Service will be broken, you will be terminated and no fees will be returned.

In such case, earned tokens can be kept, but if also attending to our reward system – those privileges will be lost.
As to what Wahlroos deems acceptable free speech, in his video he provides some guidelines;
[15:00] Don't be an a-hole in (the) platform. So uh only positive things and I will shut you down if you talk something stupid over there.
Freeeeeeeeeeeeeedom!
As to the specifics of freedom token sales, Wahlroos is awfully secretive.

No word on whether commissions are paid on token investment, or whether Wahlroos just pockets that money himself.
Ditto freedom token technical details.
At some point it sounds like an ecommerce platform will be attached, allowing users to spend their freedom tokens.
[5:05] There are many, many merchants already practicing this in my previous life.

That they are accepting the crypto and they understand it.
Wahlroos is referring to OneCoin's failed DealShaker platform. At its height (as a marketing tool), DealShaker was populated with Chinese goods dropshippers and scammers pretending to sell luxury goods.
Wahlroos might also flog his upcoming book on News Hub. The untitled work is apparently 360+ pages long.
[8:13] And for you guys who think that y'know I've done something, so um there's gonna be a book about it.

I've never defended myself publicly and I never will. But there's gonna be a book about it; what actually happened in the previous companies and what I've done.
Wahlroos' announcement follows fellow OneCoin alumni, Vesalina Valkova, also announcing a book last month.
Since launch around forty News Hub accounts have been created. Wahlroos claims membership is "exploding".
[9:42] I believe that we gonna be massive, or y'know rival on any of those social media platforms before the summer.

I believe that we can be bigger than Facebook. And I believe that we can be bigger than bitcoin.
Wahlroos reveals Facebook has already banned New Hub signup links, because apparently they see the former OneCoin scammer as competition.
[5:45] I created this platform and you asked me more directly, because already FaceBook banned me… since the (NewsHub) signup link, because it's against the policy.

Of course because they don't like the competition.
I believe the FaceBook policy Wahlroos is referring to is probably related to spam.
Originally from Finland, after OneCoin collapsed Wahlroos joined the Dubai scam community. Since then he's relocated to Latvia.