CTX Line Review: Global Dynamic reboots after less than a month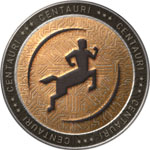 CTX Line was initially launched as Global Dynamic last month. Built around CTX Ponzi points, Global Dynamic promised affiliates a daily ROI.
Purportedly the ROI was derived from cryptocurrency trading, however to date the company failed to provide any proof this was the case.
A visit to the Global Dynamic website today reveals the following message:
THANK YOU!

Global Dynamic and its entire team would like to thank you for your cooperation and trust. We appreciate having done business with you.

Kind regards, Global Dynamic
There is no explanation as to why the company relaunched as CTX Line or even so much as a mention of Global Dynamic on the CTX Line website.
Who is running the company is still kept secret, however an address in Chile for Alpha Centauri Inc. does appear on the website.
The CTX Line website domain ("ctx-line.com") was registered on February 10th, 2017. Alpha Centauri Inc. is listed as the owner, with a bogus address in Austria also provided (it's the same Chile address on the website, with a different country).
As with Global Dynamic, Austria and Germany are the largest sources of traffic to the CTX Line website. It follows that the Chile address is probably a ruse, with whoever is running CTX Line likely based out of Austria or Germany.
As always, if an MLM company is not openly upfront about who is running or owns it, think long and hard about joining and/or handing over any money.
CTX Line Products
CTX Line has no retailable products or services, with affiliates only able to market CTX Line affiliate membership itself.
The CTX Line Compensation Plan
CTX Line affiliates invest funds on the promise of an advertised daily ROI of up to 0.5%.
CTX Line affiliates invest money and decide whether they wish to invest for 100 days or at least 200 days.
According to the CTX Line compensation plan, a ROI of up to 1.1% a day is also possible.
There is also the possibility that a USER will be paid 1.1% of the daily performance.

However, in this case, the program terminates after 100 days. Thus, the participant is paid 0.1% per day, thus 10% in 100 days and its performance is refunded.
How or why a CTX Line affiliate is paid the 1.1% ROI rate over 0.5% is not disclosed.
Residual Commissions
CTX Line's residual commissions focus on investing in CTX coins and recruiting others who do the same.
invest in at least 100 CTX and recruit at least one other affiliate who has done the same and earn approximately 1 CTX a day
invest in at least 500 CTX and recruit at least three affiliates who have done the same and earn approximately 3.5 CTX a day
invest in at least 1000 CTX and recruit at least four affiliates who have done the same and earn approximately 7.5 CTX a day
invest in at least 2000 CTX and recruit at least ten affiliates who have done the same and receive approximately 7.5 CTX a day (not a typo)
invest in at least 5000 CTX and recruit at least fifteen affiliates who have done the same and receive approximately 25 CTX a day
invest in at least 10,000 CTX and recruit at least twenty affiliates who have done the same and receive approximately 50 CTX a day
There are two other residual commission levels, paying out 50 to 200 CTX and 200 to 500 CTX a day.
The CTX Line compensation plan mentions the levels but doesn't go into qualification requirements.
Also the reason approximations are given on daily commission amounts is explained as follows:
This value is only an estimate without warranty and may change.

The exact amount depends on your position in the global PERFORMANCE the entire qualifiers and the total sum of all user performances.
Matching Bonus
A percentage matching bonus of CTX earnings by personally recruited affiliates is based on personal recruitment of affiliates who have each invested in at least 100 CTX.
recruit one to four affiliates and receive a 0.05% daily match
recruit five to nine affiliates and receive a 0.1% daily match
recruit ten to nineteen affiliates and receive a 0.2% daily match
recruit twenty or more affiliates and receive a 0.3% daily match
CXT Leader Bonus
Upon becoming a CTX Leader, an affiliate can earn an Organisation and Leader bonus, worth about 35 to 100 CTX a day.
The CTX Line compensation plan doesn't provide any further specifics.
Joining CTX Line
CTX Line joining costs are not provided on the company website.
Global Dynamic affiliate membership required a minimum $100 investment in CTX coin, so affiliate costs for CTX Line are probably similar.
Conclusion
The CTX Line website promises affiliates an
AMAZING TEAM. NO HIDDEN COSTS. HIGH RETURNS.
The reality is that CTX Line is set up to extract real money from gullible investors, in exchange for worthless Ponzi points.
Centauri Coin is not publicly tradeable, exists only inside CTX Line and is wholly manipulable by the company's owners.
The payment of real money as commissions has been abolished in CTX Line, in favor of dumping even more CTX coins onto "earning" affiliates.
CTX coin costs CTX-Line's owners nothing to produce, with the points generated via a script.
CTX are mined exclusive through Pool Mining by Alpha Centauri Inc.
CTX Line affiliates are given a representation of their point's value in their backoffice, however that value is pegged to nothing more than the whims of CTX Line's owner(s).
Other than hoard them, the only thing CTX coin holders can do is trade them on an internal exchange ("ctx.global") or "Krypto Market" website.
The current "value" of a CTX coin is not publicly disclosed.
Owing to CTX Line's Austrian and/or German roots, the default language of the Krypto Market is German. The site itself is populated with offers from other CTX Line affiliates collecting CTX coin.
In any event CTX doesn't function as a legitimate cryptocurrency.
Legitimate third-party merchants aren't going want to go anywhere near Ponzi points. Affiliates cashing CTX coins out via the internal exchange will work only so long as new and existing affiliates buy into "the next bitcoin" marketing pitch.
Don't just take my word for it though, here it is straight from the CTX Line official terms and conditions:
The Centauri Coin (CTX) is the only currency Alpha Centauri Inc. accepts.

ike no other virtual currency the CTX is not backed or value guaranteed by any financial institution; when purchasing CTX from any source the user assumes all risk the CTX may become worthless in value.

Users should research and consider the risks before purchasing any CTX. The company makes absolutely no guarantee about the future value of the CTX purchased.
Once affiliate recruitment dies down, CTX coin collapses and the true value of the altcoin will be realized.
Update 15th May 2017 – An email tipoff has revealed Michael Sander is involved in CTX Line.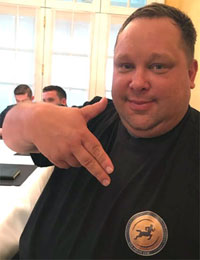 Sander (right) is from Germany but currently living in Dubai.
His exact role in the business is unclear, but recent Facebook posts all but suggest he's running the show.
12 hrs ago (auto-translate) –

Hey CTX Nation,

I was long on "sleep" and especially on the monitor, planning and creating new ideas.

I got the last week with about 30 tucek willingly gives chatted and talked. Sleep was more negative.

Also with the company (Alpha Centauri) I have had many conversations. There are a lot of news. There's finally new and especially clear objectives that have been redefined.

In Clear focus all efforts, it is the ctx to official stock exchanges and negotiable to 25,000 online and offline use points of acceptance.

Massive changes are necessary. This has been discussed with the company and with many tucek discussed in advance.

Today I get a green light, so that it now comes in giant strides. I'm looking forward to it.
Sander first popped up on BehindMLM's radar back in 2015, when he was outed for assisting the operators of the ViziNova Ponzi scheme.
Sander is the owner of Obtainer Online, a since abandoned MLM news orientated website. Through Obtainer Online, Sander insisted BehindMLM's conclusion Vizinova was a Ponzi scheme was based on a lack of research.
Earlier this year the SEC filed a complaint alleging Vizinova was a Ponzi scheme. The lawsuit was settled for $5 million dollars.
A month after he denied Vizinova was a Ponzi scheme, Sander went into bat for the Bonofa Ponzi scheme.
Bonofa's owners were arrested and charged with violations of the Banking Act, large-scale organized crime and operation of a fraudulent pyramid scheme in mid 2016.
A month later the Bonofa affiliate-base was sold off to the OneCoin Ponzi scheme.
Having backed two failed Ponzi horses, seems CTX Line is Sander wanting a shot at running his own.