ViziNova Review: Renato Rodriguez reboots WCM777

Vizinova launched a few days ago and after some initial speculation, finally uploaded some information about the opportunity to their website.
ViziNova is a High-tech international E-Commerce firm that uses the power of the Personal Relationship Network Marketing model to share with a global community the latest and most exclusive mobile Apps for Telecommunication, Gaming and Personal Growth, plus Online Digital Marketing and Online E-Commerce Retail sales.
Credited as the founder and President of the company on Vizinova website is a one Mr. Alejandro Rodriguez Alvidrez. Alvidrez is credited with having '25 years of successful leadership in Advertising and Network Marketing' experience and being 'one (of) Latin Americas's most influential marketing leaders'.
Exactly what network marketing Alivdrez has is unclear, with his LinkedIn profile only crediting him with being the CEO and Founder of Alquimia, which appears to be a marketing and advertising agency.
Things get interesting when you consider that Alvidrez lists himself as being based out of Mexico, but Vizinova state on their website that they 'are located in Dubai, USA'.
Assuming that the above is a typo and Vizinova aren't asserting that there's a Dubai in the US, it begs the question as to why Alvidrez would found a company based in two countries he's not living in. And Dubai? That's not even a stone's throw away from the US.
The Vizinova website domain ("vizinova.com") was registered on the 17th of January 2014, however the domain registration is set to private.
That's odd. Vizinova provide ownership information about their company, so why would they bother to set their domain registration to private?
The Vizinova website domain has its own name-servers, with one eagle-eyed BehindMLM reader observing that the domains "vizinova.org", "vizinova.biz" and "vizinova.net" also use these same name-servers, indicating they belong to the same owner (note that whilst the domains are registered, none of them are currently in use).
Whereas the Vizinova primary domain registration is set to private though, these secondary domains are not . Vizinova.net for example is registered to "ViziNova Incorporation", with a supplied address in Dubai.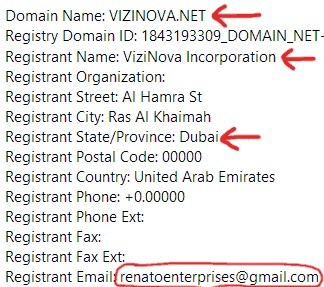 Dubai? Now we're getting somewhere.
If one punches the email address used to register the vizinova.net domain into Google, this is what comes up:
WCM777? But that's the Phil Ming Xu Ponzi scheme that is currently being investigated by the SEC…
Some Vizinova affiliates were claiming Phil Ming Xu owned Vizinova, but that has since been denied by a BehindMLM reader who claims to "work with corporate people".
So who owns "renatoenterprises@gmail.com" then?
That'd be one Renato Rodriguez: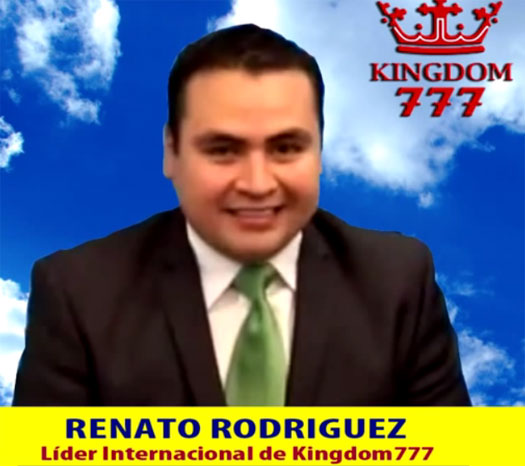 The above screenshot is from a YouTube video by Rodriguez, in which he's presented as an "international leader" of Kingdom777. Kingdom777 of course being the failed second incarnation of Ming Xu's WCM777 Ponzi scheme.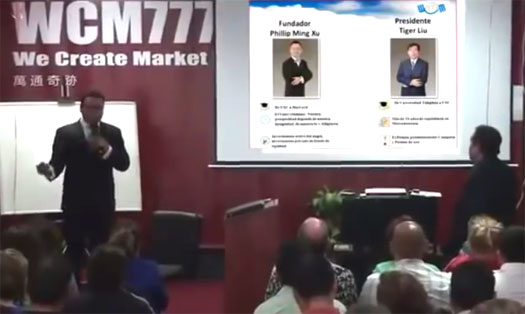 That's Rodriguez above, pimping WCM777 to prospective affiliate investors in Spanish. Most of the information on Rodriguez online is in Spanish, as this is the demographic Rodriguez targets. All of it is related to Ming Xu's WCM777, Kindgom777 and later Global-Unity Ponzi scheme empire.
I don't know what the connection is between Alejandro Rodriguez Alvidrez and Renato Rodriguez is, but it's clear through domain-ownership records that Rodriguez is pulling the strings behind Vizinova.
Still not convinced?
Here's Rodriguez's Facebook profile: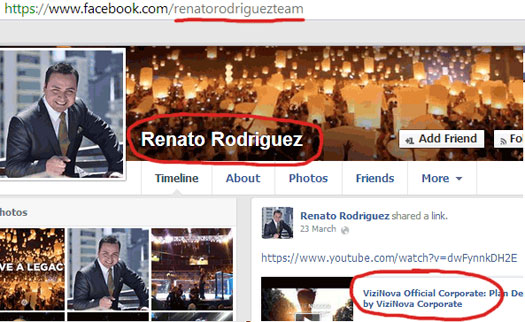 Read on for a full review of the ViziNova MLM business opportunity.
The ViziNova Product Line
On their website ViziNova claim to have "perfect products". These include "ViziNova apps", "high-tech digital advertising and marketing" and "ViziNova online retail store".
Each "product" category is accompanied by a lengthy and generic marketing spiel, however no further specifics on any of the products are provided.
The ViziNova Compensation Plan
Described as "your opportunity of a lifetime", the ViziNova compensation plan revolves around affiliates converting real money into ViziCoins, and then purchasing one of three packages.
ViziCoins Virtual Currency
ViziNova accept real money but pay out all commissions using an inhouse virtual currency called "ViziCoins". 1 ViziCoin is equal to $1.
Commissions are paid out to a ViziCoins virtual currency ewallet, with affiliates being able to withdraw 80% of all commissions paid (excluding the Begginer's Bonus Pool, which is paid out 100%).
19% of commissions paid out are sent to the Beginners Bonus Pool and the remaining 1% is paid out to 'specific, company-approved non-profits world-wide'.
Recruitment Commissions
When a ViziNova affiliate signs up and pays their membership fees, the affiliate who recruited them earns a commission.
How much of a commission is paid out depends on how much the recruiting affiliate paid in membership fees when they joined ViziNova:
Silver and Gold affiliates – 20% of the BV generated
Diamond affiliates – 30% of the BV generated
This equates to recruitment commissions being paid out as follows:
Silver (800 BV) – $160 (20%) or $240 (30%)
Gold (1900 BV) – $380 (20%) or $570 (30%)
Diamond (2800 BV) – $560 (20%) or $840 (30%)
Referral Commissions
Referral commissions are available on all affiliate deposits, paid out down six levels of recruitment. How much of a referral commission is paid out depends on how much a ViziNova affiliate paid in membership fees:
Silver – 2%
Gold – 3%
Diamond – 4%
Binary Commissions
Residual commissions in ViziNova are paid via a binary compensation structure.
A binary compensation structure places an affiliate at the top of a binary team with two positions directly under them: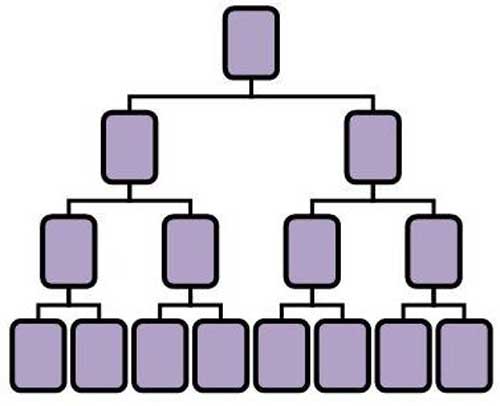 These two positions branch out into another two positions each and so on and so forth down a theoretically infinite number of levels. Positions are filled when recruited affiliates (directly or indirectly recruited) purchase one of ViziNova's packages.
ViziNova affiliates are paid $3 a month for each position filled in their binary.
Binary Matching Bonus
When a purchased position matches with another purchased position on either side of an affiliate's binary team, it generates a binary matching bonus.
How much of a bonus is paid out depends on the value of the positions being matched. ViziNova state that the matching bonus paid out is "up to $125" (Diamond), but do not provide the amounts paid out on the cheaper package positions.
Revenue-Sharing
ViziNova take 19% (24% for National Director or higher ranked affiliates) of every commission paid out to affiliates, and put it into the Beginner's Pool Bonus.
Affiliates then receive a $150 weekly commission until each individual position owned generates a 150-166% ROI.
Silver – $1500 (150% ROI)
Gold – $3000 (150% ROI)
Diamond – $5000 (166% ROI)
Additional advertising qualification criteria applies, requiring affiliates to spam 'blogs, websites, videos, and social media outlets' on behalf of ViziNova.
Package Sale Bonuses
As ViziNova affiliates recruit new affiliates and these affiliates purchase either Gold or Diamond package positions, the company rewards affiliates once specific package sale milestones are achieved:
Junior Director (50 packages) – Tablet
Senior Director (500 packages) – Caribbean vacation for four
Regional Director (1000 packages) – Rolex watch
National Director (5000 packages) – Luxury car
International Director (15,000 packages) – Exotic car
Presidential Council (50,000 packages) – House
Note that Silver package positions do not qualify towards the above required totals.
Joining ViziNova
Affiliate membership to ViziNova is available via the purchase of one of three packages:
Silver – $1000
Gold – $2000
Diamond – $3000
How much an affiliate pays in membership fees directly affects their commission payouts via the ViziNova compensation plan (see above).
A monthly fee is also applicable, with how much is charged directly correlating to how much an affiliate deposits with ViziNova:
Silver – $25
Gold – $50
Diamond – $75
Note that I've seen a $200 fee mentioned in Spanish-language ViziNova presentations, however this fee is not mentioned anywhere on the ViziNova website or in the company's official English-language compensation plan material.
Conclusion
Despite the mention of merchants and apps on the ViziNova website, the merchant side of the business makes little sense.
Distributors advertise the local Merchant's goods and services through different blogs, websites, videos, and social media outlets, which will generate a 20% off Coupon from the Merchant for which the company earns 10% of the business volume created through the marketing efforts and the Customer earns 10% off the Merchant's goods and services.
Merchants are going to offer a 20% discount just to advertise through ViziNova's Ponzi players network?
Riiiiiiiiiiight.
Even if nominal revenue is generated via  handful of businesses (likely to be owned by ViziNova affiliates solely to provide the illusion of interest outside of the affiliate investment opportunity), it's quite obviously going to be dwarfed by generated affiliate revenue via position purchases.
Renato Rodriguez was a top affiliate investor in WCM777 and Kingdom777 and it certainly shows in the ViziNova compensation plan.
Breaking down the mechanics, affiliate buy in for between $1000 to $3000, with ViziNova using this money to pay out referral commissions and fund the Beginners Bonus Pool revenue-sharing scheme.
Despite the name, anyone who purchases a position in ViziNova and agrees to spam the internet collects their $150 a week, until a 150 to 160% ROI has been paid out. I believe this is irrespective of any other commissions paid out but the ViziNova compensation plan does not clarify this point.
Either way, all that's happening here is new affiliate money is being recycled and paid out to affiliates who have already invested in positions. Throw in some referral commissions, an app and hopelessly unattractive merchant advertising hogwash and that pretty much sums up ViziNova.
If you're wondering why Rodriguez is starting his own company, it's because Phil Ming Xu's WCM777 empire came crashing down after the SEC launched an investigation into the scheme. Xu later tweeted that following the SEC investigation, his partner in crime Zhi "Tiger" Liu ran off with $30 million of WCM777 affiliate investor funds.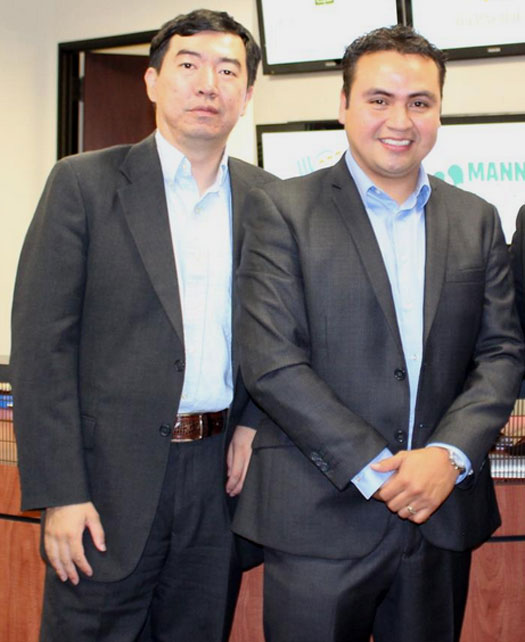 In that photo above, you're looking at none other than Liu and Rodriguez, albeit in happier times.
No doubt some of the money Liu ran off with "belonged" to Rodriguez… and as such here we are with WCM777 v4.0, which will be closely competing with sister spinoff Global-Unity (purportedly run by a different group of WCM777 top affiliates).
As with all Ponzi schemes, one new affiliates stop purchase package positions, ViziNova will run out of funds to pay out existing investors with. Nowhere is this clearer than the 19-24% e-wallet "tax" ViziNova charges affiliates. Affiliates only earn commissions when new positions are bought, so no new positions means no funds for the Beginner Bonus Pool.
What happens then?

Kaboom!