Dynamic Impact Review: One24 cloned, no retail

Dynamic Impact was founded in mid 2012 and appears to be based in the US. The company does not provide a corporate address nor disclose where they are operating out of and additionally, Dynamic Impact's website domain registration is set to private.
Marketing material from Dynamic Impact does include a corporate address, however this is just a virtual office address provided by "Quest Workspaces":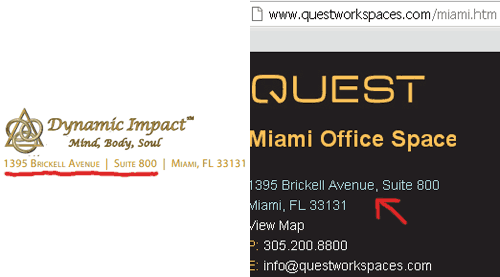 Despite ambiguity as to where Dynamic Impact are headquartered, the company is upfront on the management side of things with Vincent Cataldi named as company CEO and founder.
I'm not sure whether this is supposed to be some sort of joke or not, but for reasons known only unto themselves, Dynamic Impact have (badly) photoshopped Cataldi's head onto a suit to use as an official corporate photo of Cataldi: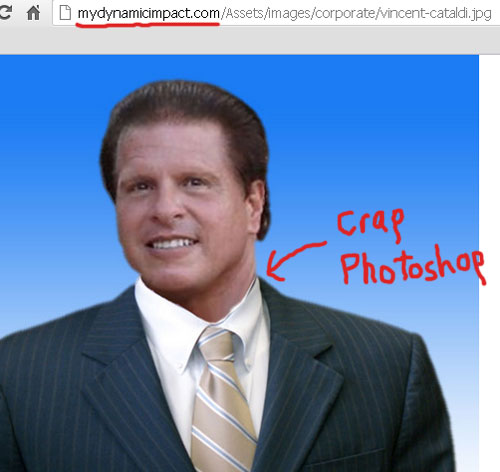 For starters, unless I'm mistaken that suit is obviously computer generated.  A near identical suit appears in a supposed photo of "Ravishankar Raghavan" from Mumbai based Indian legal firm, "Majmudar and Co.":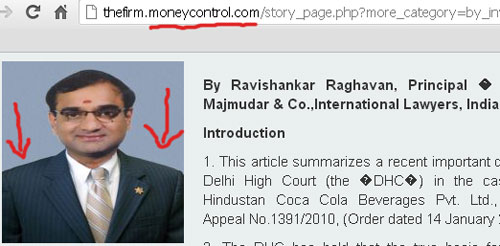 Noticeable the Dynamic Impact image is of a much higher resolution, prompting me to believe we might be looking at a stock "suit" photo both Dynamic Impact and CNBC's Money Control have used.
Meanwhile Cataldi's head might actually belong to an actual Vince Cataldi, however I was unable to locate a verifiable source. The closest I got was tracking it down to having been ripped from a "Sonico" social network profile (photo right).
Despite Dynamic Impact claiming that Cataldi 'has now been continually active in (network marketing) for over 20 years', I wasn't able to find much. Infact, MLM wise Cataldi's name only popped up in conjunction with the company One24 (a heavily recruitment orientated opportunity).
Speaking at One24's "Summer Bash", Cataldi was named as a "consultant of One24" on the event's marketing material: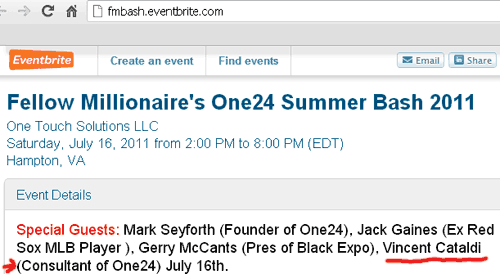 Given this, Cataldi does seem to be a real person however why Dynamic Impact are using photoshopped images to represent him on their website isn't clear.
As for the rest of the executive staff, Phillip Georgeson (Communications Director) and Conrad Loreto (Medical Director) both also come from One24. I'm not sure whether John Rines (Media Director) or Karilyn Zapata (Customer Care Director) have a history in MLM but if they do, I was unable to find any specifics.
Read on for a full review of the Dynamic Impact MLM business opportunity.
The Dynamic Impact Product Line
Dynamic Impact have one flagship product, that being a "meal replacement" shake mix called Dynamic Fuel.
Dynamic Impact claim Dynamic Fuel
is a key group of nutrients designed to ACCELERATE the nutritional benefit of everything in the formula.

Dynamic Fuel includes Blue Green Algae, Chlorophyll, along with polysaccharides from aloe vera and noni (morinda citrifolia). These are special nutrients that can help your body work better through increased bioavailability.
I couldn't find a quoted price for a bottle of Dynamic Fuel. That said the Dynamic Fuel compensation plan does mention an initial order cost of $82.99, with a monthly ongoing order cost of $62.99. What specifically order-wise the company is referring to however is unclear.
The Dynamic Impact Compensation Plan
The Dynamic Impact compensation plan makes no differentiation between retail and affiliate sales, offering company affiliates upfront and residual commissions on the sale of both. Two monthly bonuses are also made available to affiliates, with specific qualification criteria for both.
Fast Start Bonus
Dynamic Impact pay out $10 per new Dynamic Fuel order placed with them (both affiliate orders and retail).
Additionally $2 is also paid out to an affiliate's upline, going up 5 levels (the affiliate who recruited the affiliate making the sale, the affiliate that recruited that affiliate and so on and so forth).
Residual Income
Residual Income in Dynamic Impact is paid out using a unilevel compensation structure. A unilevel compensation structure places an affiliate at the top of a unilevel team, with each recruited affiliate placed directly under them (level 1).
Any new affiliates recruited by level 1 affiliates become level 2 affiliates and so on and so forth down an infinite number of levels, with each leg working independently from the other unilevel legs.
Using this compensation structure, Dynamic Impact pay out 2% on all earnings of affiliates placed within the first 9 levels of an affiliate's unilevel structure (a minimum of two personally recruited affiliates must exist for payouts on levels 5-9).
This payout can be extended under the following conditions:
level 10 (7%) – have personally recruited at least 3 affiliates and generate $5000 monthly in your unilevel team
level 11 (2%) – have personally recruited at least 3 affiliates and generate $10,000 monthly in your unilevel team
level 12 (2%) – have personally recruited at least 3 affiliates and generate $15,000 monthly in your unilevel team
level 13 (2%) – have personally recruited at least 3 affiliates and generate $20,000 monthly in your unilevel team
level 14 (2%) – have personally recruited at least 3 affiliates and generate $30,000 monthly in your unilevel team
level 15 (2%) – have personally recruited at least 3 affiliates and generate $40,000 monthly in your unilevel team
level 16 (2%) – have personally recruited at least 3 affiliates and generate $50,000 monthly in your unilevel team
Note that for levels 10 and above, only 75% of the qualifying monthly sales volume can be generated by any one individual unilevel leg.
Builder's Pool
The Dynamic Impact Builder's Pool is made up of 3% of global company sales, with shares allocated to affiliate's based on their qualification in the pool.
To qualify for a share in the Builder's Pool, Dynamic Impact affiliates must personally recruit three new affiliates, who personally recruit 3 new affiliates each, who also recruit three new affiliates each.
As long as this recruitment structure is maintained within an affiliate's unilevel team, an affiliate qualifies for a share in the Builder's Pool.
Partnership Pools
Dynamic Impact's Partnership Pools are made up of 10% of the company's global sales and are split into 10 separate pools (each pool consists of 1%).
Affiliates qualify for a share in the pools by achieving specific global sales quotas within their unilevel team (including personal sales):
Pool 1 – $1000
Pool 2 – $2500
Pool 3 – $5000
Pool 4 – $10,000
Pool 5 – $25,000
Pool 6 – $50,000
Pool 7 – $100,000
Pool 8 – $250,000
Pool 9 – $500,000
Pool 10 – $1,000,000
Note that only 75% of qualifying sales volume can come from any one individual unilevel leg.
Joining Dynamic Health
Membership costs to Dynamic Health are not explicitly clarified on the company website. Marketing material for Dynamic Health however suggests that company membership is $82.99 for the first month and then $62.99 thereafter.
Included with company membership appears to be a bottle of the company's flagship product Dynamic Fuel.
Conclusion
Although not surprising given the histories of three of Dynamic Impact's five named executives, quite obviously the time spent at One24 by Vincent Cataldi, Conrad Loreto and Phillip Georgeson has heavily influenced the forming of Dynamic Impact.
For starters, there's a noticeable similarity between Dynamic Impact's Dynamic Fuel and One24's Natraburst:
Both are dietary replacement shakes, share similar packaging, are similarly priced ($62.99 and $69.95) and contain mostly the same ingredients (although in subtlety differing amounts).
Compensation plan wise however there is a noticeable difference between the two companies, with Dynamic Health making no mention of retail sales in their compensation plan material.
Infact looking at the Dynamic Impact compensation plan, it appears the only sales being generated by the company are internal consumption sales, with the company making no distinction between retail and affiliate orders.
As per the compensation plan, if you want to buy Dynamic Fuel you pay the company $82.99 for your first order and then $62.99 each month thereafter.
Both the fact that there is no true retail in Dynamic Health and the fact that affiliates are paid on the acquisition of new affiliates recruited into the company are separate red flags.
Additionally the Builder's Pool is an out and out recruitment bonus, and due to the lack of retail, so too are the Partnership Pools.
In saying that, I noted that with a $9.95 retail order commission cap paid out (regardless of the size of the order), One24's retail commissions appeared to be nothing more than a token offering, with the real focus being on recruitment of new affiliates.
In doing away entirely with a retail offering, it appears a group of ex-One24 affiliates are now trying to cement the focus on recruitment of new affiliates via Dynamic Health.
Similar dietary shake product, same recruitment orientated focus, different company name…