Michael Sander now defending Bonofa Ponzi scheme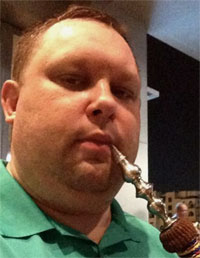 Less than a month after Michael Sander (right) was busted using his Obtainer Online magazine to defend the ViziNova Ponzi scheme, the disgraced publisher is at it again.
Now Michael Sander is defending Bonofa.
Obtainer Online, who Sander bills as "The world's most trusted source for direct selling news", wrote a fluff piece on ViziNova on the 16th of April.
ViziNova, a WCM777 reload Ponzi scheme, was launched by two of WCM777's top investors in March.
ViziNova's business model sees the company accept $1000 to $3000 investments from affiliates on the promise of a 150-166% ROI. The company it was modeled on, WCM777, was shut down by the SEC in the same month ViziNova launched.
In his paid advertisement for ViziNova, Sander had the gall to claim
The fact that Renato Rodriguez and Gutemberg dos Santos were among the top leaders at WCM777 isn't in dispute.

Nor is the fact that both of them earned millions. But the allegation that ViziNova is a new edition of WCM777 is quite simply false.
Not surprisingly, Sander was also a consultant for WCM777. It is believed he assisted founder Phil Ming Xu set up money laundering routes through the UAE, to disperse Ponzi funds through shell corporations.
On Obtainer Online, Sander recently described himself as someone who
lives and works in a tax haven, has set up more than 2,000 offshore companies for clients and still administers some of them and, on top of that, deals with investment strategies and investment opportunities.
In addition to the obvious links between ViziNova's owners and WCM777, which Sander appears to be at the center of (administratively), it has also been revealed that the company is essentially resurrecting WCM777's failed payment processor model.
So intertwined are the two businesses that ViziNova at first didn't even bother to change the name of WCM777's Kingdom Trade platform.
Unconfirmed reports also suggest ViziNova and its affiliates are willing to honor KingdomCoin Ponzi points accumulated in WCM777.
After his role as an advisor to ViziNova was exposed, an adamant Sander declared the following on Facebook:
To answer the question whether I was a consultant for WCM and Kingdom777 or some leaders who worked there: Yes, but that was never a secret.

Am I looking (after) Vizinova -. Well yes Just as I was there for many companies and am and will be in the future. It's my job.
And that brings us to Bonofa.
Bonofa went into prelaunch in early 2013 and promised affiliates a revenue-sharing compensation plan, built around the monetization of the Cube7 social network.
A year later however, and Cube7 still hasn't launched. That of course hasn't stopped Bonofa from soliciting $299 to $2490.90 EUR investments from their affiliates, on the promise of an advertised ROI once Cube7 launches.
According to Gino Raidy, a blogger in Lebanon (which is a major recruiting ground for Bonofa), earlier this month one of the company's affiliate managers, Garbis Zambakjian, was arrested as he entered Lebanon.
One of the ring leaders (GZ) was arrested at the airport upon his arrival to Beirut and has been let out for now, awaiting trial.
Citing legal reasons, Raidy states he unable to publish court documents related to the case, but does provide case numbers that correlate to legal action launched against Bonofa and Zambakijan.
I got the case number which you can ask any registered lawyer in Lebanon to verify for you.

Case number of "7a2 3am" against Bonofa and GZ 2207/2014

General Prosecutor's indictment number: 31073/2014 to Judge Elie Helou dated 08/05/2014.
The cases were purportedly filed following an investigation by the Cybercrimes Bureau, which resulted in over 3000 pages of evidence being collected and submitted against the company.
Appearing to have independently verified Raidy's claims is Goldman Morgenstern & Partners Financial Intelligence Services (GoMoPa), who in a May 14th article stated;
GoMoPa (has) learned from different, autonomous (independent) informers, (that) Bonofa manager Garbis Zambakjian (was) arrested, (trying to enter) Beirut airport on 5th of May 2014.
GoMoPa go on to claim they attempted to contact Bonofa management and spokespersons regarding the cases, but their requests went "unanswered".
Update 9th January 2020 – Garbis Zambakjian has been in touch to dispute his arrest.
As per an email from Zambakjian;
In May 2014 I was going to watch a workshop of MR Eric Worre when the airport informed me that my name was put to not be able to leave the country.

They took me to the bureau of cyber crime bureau and i gave my testimony and I left.
Zambakjian acknowledges he was detained but disputes he was ever arrested.
Due to the time that has passed since these events I'm unable to verify what actually happened either way. /end update
In a May 14th Obtainer Online article titled "BONOFA Still on Path to Success" however, Michael Sander attempts to paint a completely different picture:
The Liechtenstein-based e-commerce company, which was awarded with one of the OBTAINER Worldwide Direct Selling Awards last year, is continuing to expand and is developing excellently according to the company.

The reason for the specific inquiry at BONOFA by our editorial team was some messages that were published on a more or less questionable web page.

The lurid headline read: "BONOFA was closed down by the government in Lebanon." The Lebanese blogger Gino Raidy from Beirut was named as the source.
Sander goes on to discredit Raidy with via ad hominem criticism (some of which is also directed at BehindMLM), before pulling out the tried and true "regulatory investigations are perfectly normal" explanation:
"Yes, there is an audit by the Lebanese government," confirmed Andy Weickinger from BONOFA in response to our inquiry.

However, this is completely normal and is nothing unusual in Arab countries. Calling the audit by the Lebanese government an investigation, however, can only be a bad translation, because an investigation suggests to the reader a present violation of applicable law.

In the case of BONOFA in Lebanon, however, it is only a matter of reviewing the business model with respect to the applicable regulations – this is a completely normal process that all companies in Arab countries must subject to once they have reached a certain size.
Similar explanations have been used previously by the Ponzi schemes Zeek Rewards ($800M) and TelexFree (over $1 billion), both of which were subsequently shut down following respective "normal process" investigations.
Perhaps most eye-opening of all however, is Obtainer's declaration that
it is untrue that there was an arrest in connection with BONOFA in Lebanon.

This was confirmed to OBTAINER in a request to the competent authorities in Beirut.
Sander then re-emphasizes his believed importance of the award Obtainer bestowed upon Bonofa last year, citing MLM attorney Kevin Thompson and "general secretary of the Indian Direct Selling Association, Chavi Hemanth", as "members of the jury" who voted on the award.
I've reached out to Kevin Thompson for comment on this, and will update when I receive a reply.
Update 17th May 2014 – Here's Kevin Thompson's response,
I do not recall voting for BONOFA. To this day, I have no idea what they're selling (if anything). They've reached out to me for counsel, but we have not connected.

One thing I've learned after following your site: if you say it's a ponzi scheme, you're usually proven right.
/end update
Meanwhile it appears Bonofa themselves, despite Michael Sander's claims, have acknowledged the Zambakjian arrest and regulatory investigation and lawsuits against the company.
Citing a letter issued by Bonofa themselves sometime over the last few days, Gino Raidy writes
You might have seen the letter Bonofa published yesterday. I found it brilliant, because it actually proved everything I revealed was true.

Bonofa finally admitted the indictment and charges against them are true, after over a week of denial.

In the letter, they named the judges and case numbers I gave you, which many people have verified themselves.

The charges have been split into two, one with Judge Ali Ibrahim, which handles tax evasion, illegal money transactions abroad and improper paperwork filed.

The second, is the "i7tiyel wa istila2″ on Lebanese people's money, and that part of the charges is being handled by judge Elie Helou.

If you are a victim of Bonofa, file your own lawsuits to judge Elie Helou, this will make sure that the perpetual camping of the Bonofa lawyer in front of of the judge's office every day from 8AM till 2PM won't become an earworm that distracts the judges from the reality on the ground.

Don't be afraid of them, have some faith in the judiciary system that has so far exhibited extreme levels of unbiased professionalism and transparency.
I myself haven't been able to track down a copy of Bonofa's letter, which I can only assume was issued to the company's affiliates (it does not appear publicly on the company's website or Facebook page).
If anyone can send in a copy in it'd be much appreciated.
In addition to hiring Sander to disparage Raidy in Obtainer, Bonofa has previously tried to silence Raidy with a cease and desist.
That backfired when Raidy was simply ordered to sign a commitment that "guaranteed (his) right to express (his) opinion freely" but "without using slander and libel terms".
Based on the argument he has never done anything but, to date everything Raidy has published on Bonofa remains online. No doubt Raidy's latest coverage of Bonofa's confession letter is likely to draw further ire from the company.
At the time of publication, Sander and Obtainer Online have not publicly responded to Bonofa's confirmations. Nor have they issued an apology to Gino Raidy, or any of the other bloggers Sander named in his article.
I can confirm that the information about BehindMLM and myself in Sander's article is false, casting doubt over the accuracy of the rest of Sander's research. Least of all the fact that he has again been caught out lying for Ponzi schemes in exchange for payment.
Sander doesn't disclose whether or not he is a paid consultant for Bonofa, however there's an obvious probability that he's taken them on as a client.
Additionally, Bonofa advertising is prominently displayed on the Obtainer Online website: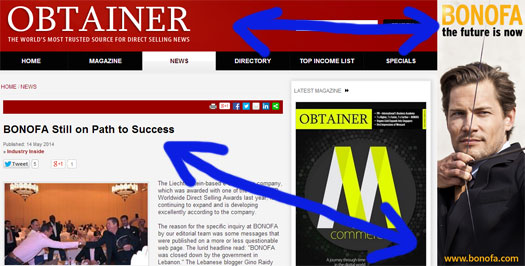 How much Bonofa are paying Sander and Obtainer Online for their services has not been publicly disclosed.
What has been disclosed however is that, while Bonofa appear to have the cash to pay Sander to write deceptive fluff-pieces for them, the same courtesy is not being extended to their affiliate investors.
In a report filed earlier this month, Andrew Penman from the Mirror writes,
Here's Martin Bohm – the one lying, so to speak – whose online company Bonofa promised that "the world will change for ever" on September 22.

But its supposed revolutionary networking site Cube 7 still has not been launched, to the fury of investors.

One of them is Venus Apovo of London, who paid more than £2,000 after being assured that she'd turn a tidy profit when Cube 7 becomes a global phenomenon and Bonofa floats on the stock market. She's been refused a refund, leaving her feeling "stupid and cheated".

I contacted German-based Bonofa on her behalf and received a reply from spokeswoman Sandra Labouess.

She conceded that all has not gone well, saying: "We must admit that the platform was not online with all the expected features."

The practical result is that Cube 7 has repeatedly missed launch dates it set itself.

Far from taking the world by storm, the website consists largely of white space and carries the unhelpful message: "We deployed some bug fixes regarding the activities."

Sandra said: "Venus Apovo got in contact with our support and legal team and wanted to know if she could get a refund for her package and for her team but she never told us why."

Isn't it obvious Sandra? She wants a refund because she's paid for something that does not exist in any meaningful way.

But that's just tough because Bonofa, says Sandra, "does not have a refund policy".

But that's just tough because Bonofa, says Sandra, "does not have a refund policy". She also insisted that Cube 7 was sold as a networking tool, not an investment.

Efforts to recruit investors have focused on the $15 billion the company will supposedly be worth when it floats.

Its own website carries the following: "To put it in the words of Warren Buffet, one of the most successful investors of our time: 'The investment in a network marketing company was the best investment I've ever made'."

Meanwhile the firm is continuing recruiting.

Every "partner" who persuades someone to join on the VIP package that costs more than £2,000 is rewarded with 500,000 dotcom points.

In other words, it gets real money, you get magic beans.
One can bet that while Bonofa affiliates are being paid in "magic beans", Sander himself has commanded no less than actual cash for his services.
Here at BehindMLM we'll continue to track Michael Sander's disgraceful descent into Ponzi consultant madness.
And in closing today, leave you with a quote from the Obtainer Online Bonofa fluff-piece:
There is only the hope that so-called journalists and self-proclaimed spotters, who often abuse their websites to recruit for their own MLM business, either limit themselves to copying the press releases of companies and adding in some advertising for their own businesses or inform themselves extensively and do not rehash all of the trash that is published on known MLM hate pages.

Sure, if you operate such a site with the specific goal of involving the readers in questionable businesses such as Empower Network, Talk Fusion or ZeekRewards, any attack on a successful business is a welcome opportunity.

But you, as readers of OBTAINER, continue to receive (against all prophecies of doom) uncensored information that does not serve its own interests, but rather primarily your interests. As always: Stay strong!
Whether Sander would appreciate the hypocrisy of his statements is up for debate, but I'd be inclined to suggest the negative.