OneCoin acquires Bonofa pyramid scheme

Bonofa launched in mid 2013 an MLM opportunity attached to the Cube7 social network.
Cube7 failed to take off, with Bonofa by and large functioning as a chain-recruitment pyramid scheme.
Bonofa affiliates paid up to 2490.90 EUR to join the company and were paid to recruit others who did the same.
Regulatory troubles for Bonofa began in 2013, following the arrest of an executive in Lebanon.
Last month, the owners of Bonofa were apprehended in Germany. German authorities have so far recovered €1.1 million EUR, with around 60,000 affiliates estimated to have lost over €100 million EUR.
No doubt seeing the collapse of Bonofa as easy pickings, earlier this month OneCoin purchased the Bonofa affiliate-base and effectively bought the company.
A video uploaded to to a Youtube channel bearing the name "Chris Bouillet" on June 16th, features Christian Goebel (a top Bonofa affiliate), Ruja Ignatova, Sebastian Greenwood and Juha Parhiala.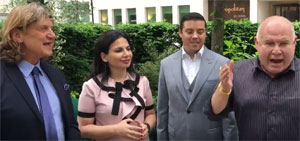 In the video, purportedly shot in London, Goebel announces OneCoin's acquisition of Bonofa.
[0:13] The biggest part of Bonofa is joining now this amazing company, OneLife and OneCoin.
Goebel attended OneCoin's recent CoinRush event, also held in London.
Addressing Bonofa affiliates, Ignatova capitalizes on its collapse and affiliate losses.
[1:12] Hello, I'm very pleased to see you all and to invite you all to join the OneCoin network.

I know that you are currently facing not an easy time, and to support you to join us we have agreed for 30 days to give you an extra incentive to join us.

So if you send to customer support of OneCoin a screenshot of your (Bonofa) customer account, we will give you your cash account balance and also we'll give you a status in the OneCoin system so you can earn bonuses immediately.

This offer is only valid until the end of July.

[2:12] I'm very, very happy that the leadership of Bonofa has so much trust and is so interested in our company, which is why we invited you to join us any time.
After a translation into French by Goebel, Greenwood reveals he is familiar with the Bonofa pyramid scheme.
[3:31] I know Bonofa from before … now when you join OneLife, you join this opportunity … on the development of this company and we're gunna take it four million, six million distributors.
Juha Parhiala closes out the video by "welcoming the Bonofa family" to OneCoin.
Goebel and Parhiala have a history in MLM together, with Parhiala claiming the pair
[4:48] We have done this one time before in a former company. We break the company record so much that nobody could ever, ever do that again.
Prior to joining Bonofa, Christian Goebel was an affiliate with SiteTalk. SiteTalk was also recently acquired by OneCoin.
How much OneCoin paid Bonofa's owners for the company is not disclosed. Ditto whether or not Christian Goebel was cut a backroom deal as a former top Bonofa affiliate.