OneCoin top investors paid millions to join?

Disclosure is something often overlooked in the promotion of MLM opportunities.
In an industry where you're actively promoting a business opportunity on the premise that anyone can be successful, disclosure of anything that might skew that representation is important.
Failure to do so is not only dishonest but also a prime target for regulatory investigation.
About two weeks ago, Angelina Lazar began commenting on one of BehindMLM's OneCoin articles.
Oz, I owe you an apology . . .

I will read through all this new information on the switching up of banks you have provided here. – But it appears YOU are RIGHT and I was WRONG, Ozzie-Oz….
I didn't recall having any communication with Lazar prior to her apology, so I was left a little confused.
Turns out Lazar was a fairly prominent OneCoin investor, who'd built a downline under the Team Charisma moniker.
Puportedly Lazar was conducting a OneCoin recruitment event in Dubai, when she was approached by a Dubai International Finance Center (DIFC) agent.
The other day, I STARTED to do a presentation on OneCoin as a Cryptocurrency at a Russian Business Club at Gloria Hotel. There was an agent from DIFC there here in Dubai.

I thought he was rude as can be and way off base. And yes, he was and is rude as can be, but was not as far off base, as I thought.

Only partially… It seems he actually KNEW more than me about the whole structure of OneCoin.
That, among other things, triggered open dissent against OneCoin from Lazar.
It is extremely important to me that the business opportunity is rock solid, the management team and board of directors integritous with serious expertise, the comp plan sustainable, and everything transparent and legal-proper.

I was hurt before in the past when all that wasn't in place, so have an eye for this sort of thing.

So, what to my wondering eyes did appear, but some loop holes. Loop holes that I need to see plugged up, and corrections made.
This naturally hasn't gone too well with Lazar's OneCoin upline or other OneCoin investors.
Please, Guys,

Feel most free to DELETE ME & BLOCK ME if you care not for the truth and don't want to be enlightened!

I MUST do BUSINESS ONLY RIGHTEOUSLY & HONESTLY!

If something is amiss, of course, I must warn people, and share the correct information to protect others with. YES… on Facebook! And YES…. on MY OWN TEAM PAGE where NO… I don't need to CONSULT WITH YOU before doing so.

All the experts SEE THROUGH the OneCoin scam CLEARLY!

Ruja is a FRONT and part and parcel of a criminal organization.

They are SERIOUS SERIAL FRAUDSTERS!

Please forgive me for even promoting it.
I was just believing my upline & the Company but they are SCATHING liars!
They do not even SEEK to do ANYTHING legally!

The ONLY people that can REMAIN in this Company
are those who are UNINTELLECTUAL, BLIND, IN DENIAL & GULLIBLE, at best,

and at worst, those who are HEARTLESS, UNSCRUPULOUS, SEETHING LIARS & 100% UNCONSCIONABLE!

There is NO INBETWEEN.
We here at BehindMLM have been monitoring the situation, with posts on Lazar's Team Charisma Facebook page made in the last 24 hours catching our attention.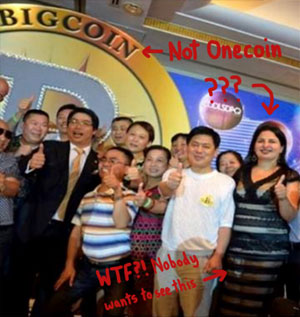 14 hours ago, a post appeared on the Team Charisma Facebook page with information about Ruja Ignatova's MLM history.
Ruja Ignatova, the Independent Representative of BIGCOIN, who copied their business model along with SEBASTIAN GREENDWOOD & NIGEL ALLEN to form:

ONECOIN / NOCOIN!

She is NO expert, HAS NOT WRITTEN ANY BOOK about CRYPTOCURRENCY, but PLAGIARIZED ONE, is NOT LEGIT, and is NOT SPEAKING THE TRUTH AT ALL ABOUT ANYTHING!

She said she NEVER DID A NETWORK MARKETING COMPANY BEFORE… but here she is PROMOTING BIGCOIN which she was a MEMBER OF RIGHT BEFORE COPYING their business model to create the OneCoin SCAM!
Next Lazar opened fire on Juha Parhiala, purportedly the top-earner in OneCoin.
PARTNERS IN CRIME . . . Partners in Business. . . Liar with Liar . . . SHAM IMAGE with SHAM IMAGE embrace each other:

A PERFECT MATCH, I say!

Voila! Here he is: Juha Parhiala: Ruja's Business Partner!

As the story line goes….

that Juha is … my, my, my…. earning a whopping $4M per month as an Independent Networker, so COME ON IN, folks!
It's the BEST THING SINCE SLICED BREAD… and YOU, TOO, can EARN!

But this is NOT TRUE at all!

Juha is part OWNER of OneCoin! And this is ALL JUST A FACADE to fool you!  I mean… AND THIS is yet ANOTHER facade!
To the best of my knowledge, Parhiala has never publicly disclosed an ownership stake in OneCoin.
This is just a PLOY to interest the masses into coming in OneCoin, making it SEEM like OneCoin earners have MORE POTENTIAL than an Amway, which didn't have this kind of success record and which is 60 years old, or any other network marketing company, for that matter!

ONE BIG FAT-FAT Lie!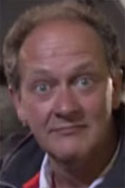 Next up on the OneCoin chopping block? Ted Nuyten (right) and Daniel Grenon.
Citing a fluff piece published in Nuyten's Business For Home blog, Lazar quips:
This Ted Nuyten must have been PAID SO MUCH for publishing ALL THESE FLAGRANT LIES, STORY after STORY…. without even bothering to do ANY WHICH DUE DILIGENCE!

The title should read (if I wrote it):

ANTI-LEADER & ORGANO TRAITOR PAID $1M TO DEFECT & JOIN SCAM COMPANY ONECOIN
The last post on the Team Charisma page, made 13 hours ago, again takes aim at Nuyten and BusinessForHome. This time Igor Alberts is outed as a paid shill:
Here's ANOTHER BOGUS 'LEADER' guys!

IGOR ALBERTS, ALSO, was paid $1M to join SCAM OPERATION ONECOIN!

So….. NO… he did NOT LEGITIMATELY HIT $95K per month!

He had one leg built too, and $1M in his pocket to catapult him here! So don't mind what Ted says . . .

TED… TED.. IS SICK IN THE HEAD! . . . .
First and foremost, let me be clear: The notion that an MLM company paying someone to join is not the issue here. Rather it's the lack of disclosure regarding the compensation that's the problem.
The OneCoin investors Lazar has outed regularly appear on BusinessForHome as quantifiable OneCoin success stories. Invariable the articles Ted Nuyten writes for OneCoin are shared on social media and used to further promote the scheme.
The problem is, if these investors were paid and OneCoin is subsidizing their alleged "success", a lack of disclosure means the public aren't being given an accurate representation of OneCoin's top investors.
By withholding the full story behind these OneCoin leader's dealings with the company, OneCoin, through Nuyten's BusinessForHome, are misrepresenting what investors can expect if they sign up.
Not providing full disclosure is illegal in the US, a country OneCoin fled amidst concerns it was operating a Ponzi scheme.
As for Ted Nuyten, BehindMLM has previously uncovered BusinessForHome's "pay for content" scheme. How much OneCoin has paid for coverage in BusinessForHome has, not surprisingly, also never been disclosed.
On the flip-side, Lazar hasn't provided a source for any of her claims thus far. In early April, Lazar appears to have attached Team Charisma to the FutureNet Ponzi scheme:
Whether or not Team Charisma are still promoting FutureNet is unclear.
Lazar has signed off the most recent Team Charisma Facebook post with:
You think I'm done?
– O no… not I! . . .
Stay tuned…