Abundance Network Review: Phone-based gifting scheme

Abundance Network provides no information about who owns or runs the business on their website.
In fact as I write this, Abundance Network's website is nothing more than an affiliate login form.
Further research reveals Abundance Network's Terms and Conditions (not linked from their website).
Abundance Network's Terms and Conditions makes multiple references to "Autom8tion LLC";
This Terms of Use and the license granted may not be assigned or sublet by You without Autom8tion, LLC. and Abundance Network's written consent in advance.

Autom8tion LLC is a Utah company owned by Jeffrey Alan Long, better known in the MLM industry as Jeff Long.
Jeff Long first appeared on BehindMLM's radar as the founder of AutoXTen, a recruitment scheme launched in 2011.
AutoXTen collapsed a few months after launch, with Long going to launch SMS Dailies. It too didn't last long.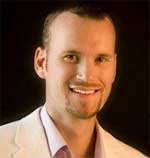 Long (right) resurfaced in late 2015 with Get Paid Social, a Facebook spam pyramid scheme.
Get Paid Social went into decline throughout 2016, prompting Long to launch 1 Online Business in mid 2017.
1 Online Business combined a cycler Ponzi business model with social media spam. Alexa traffic estimates for the 1 Online Business show a brief hype period followed by a collapse leading into 2018.
Long launched and began promoting Luvv, a pyramid scheme, around April, 2018.
Luvv is believed to have collapsed a few months after its launch.
Earlier this year Long resurfaced with NewU Financial, a shady MLM gifting scheme promising investors a 200% ROI.
Here's how that played out:
NewU Financial flopping appears to have prompted Long to launch Abundance Network.
Read on for a full review of the Abundance Network MLM opportunity.
Abundance Network's Products
Abundance Network has no retailable products or services, with affiliates only able to market Abundance Network affiliate membership itself.
Abundance Network's Compensation Plan
New Abundance Network affiliates gift $100 to existing Abundance Network affiliates.
The specific compensation plan used by Abundance Network is a 2-up model, tracked through a unilevel team.
A unilevel compensation structure places an affiliate at the top of a unilevel team, with every personally recruited affiliate placed directly under them (level 1):

If any level 1 affiliates recruit new affiliates, they are placed on level 2 of the original affiliate's unilevel team.
If any level 2 affiliates recruit new affiliates, they are placed on level 3 and so on and so forth down a theoretical infinite number of levels.
A new Abundance Network affiliate is recruited and gifts $100 to an existing affiliate.
They then start spamming a supplied phone number, with the aim of recruiting people under them.
Here's how gifting payments within Abundance Network play out:
affiliates keep $100 gifted by the first affiliate they recruit
$100 gifted by the second affiliate they recruit is passed upline (to the affiliate who recruited them)
affiliates keep $100 gifted by the third affiliate they recruit
$100 gifted by the fourth affiliate they recruit is passed upline (to the affiliate who recruited them)
affiliates keep $100 gifted by their fifth and onward personally recruited affiliates
The unilevel team comes into play by nature of recruited affiliates also having to pass-up gifting payments from their second and fourth recruited affiliates.
Affiliates recruited by those affiliates also have to pass up their second and fourth gifting payments, and so on and so forth.
Depending on how deep an Abundance Network's unilevel team grows, passed up gifting payments can theoretically be sourced from an infinite number of levels.
Joining Abundance Network
Abundance Network affiliate membership is tied to a $100 gifting payment.
Conclusion
I vaguely remember Jeff Long professing he was done with scams as part of his NewU Life marketing efforts.
With Abundance Network I guess that sentiment has gone out the window.
Abundance Network is a simple phone-based gifting scheme. Totally illegal in Long's native Utah and everywhere else in the US.
Instead of a website, Abundance Network affiliates are given a phone number to run around spamming unsuspecting victims with.
If you call the number, you're presented with a marketing voice message from Jeff Long.
Hi there.

Well thanks for calling to learn how you can realistically be earning anywhere from $100 to $500 or more per day, working from home by simply sharing a phone number with others.

…

You join us for a small one-time fee, we give you a phone number, you share that phone number with others, and when they call in … you have the potential to being paid $100 – which goes directly to you via Venmo, Cash App, PayPal, Stripe, bitcoin, or any other payment method you choose.
The fact that math guarantees the majority of gifting participants lose money, means Jeff Long's Abundance Network marketing efforts are clearly in violation of the FTC Act.
As per the FTC Act, it is illegal to make false or unsubstantiated income claims to market an MLM opportunity.
One need only look as far as MOBE or Digital Altitude for recent enforcement actions related to FTC Act violations.
Gifting schemes like Abundance Network operate as pyramid schemes.
Nothing is marketed or sold to retail customers, with 100% of commissions paid out sourced from new recruits.
What differentiates a gifting pyramid scheme from a regular pyramid scheme is payment being made directly between participants.
The end result of both models however is the same.
Jeff Long and top recruiters will receive the lion's share of funds gifted into Abundance Network.
In order for Long and his top recruiters to make that money, the rest of the Abundance Network affiliate-base has to lose it.
Update 8th July 2019 – Citing pyramid scheme concerns, service providers have terminated their contracts with Abundance Network.
Update 6th August 2019 – Jeff Long has revealed Abundance Network will relaunch with a new compensation plan.