We Share Abundance Review: 50% monthly ROI Ponzi

According to its website, We Share Abundance is
owned by Graham Frame & Rosa Frame who are the legal owners and also trade as Success Lifestyles.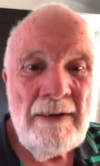 On Facebook Graham Frame (right) goes by "Graham Ernest Frame". His profile location in Tattershall, a village in Lincolnshire, UK.
Prior to launching We Share Abundance earlier this year, Frame was marketing the All In One Profits gifting scheme.
Success Lifestyles is a scam feeder operated by Frame.
Currently the website funnels potential victims into Westland Storage, Crypto 300 and Tiki Profit. All three are Ponzi schemes.
Frame first appeared on BehindMLM's radar in 2013, through his Empower Network feeder SimpleFastCash.
In 2016 Frame resurfaced with Classifieds That Pay, a $5 a pop pyramid scheme.
Read on for a full review of We Share Abundance's MLM opportunity.
We Share Abundance's Products
We Share Abundance has no retailable products or services, with affiliates only able to market We Share Abundance affiliate membership itself.
We Share Abundance's Compensation Plan
We Share Abundance affiliates invest funds on the promise of advertised daily returns.
Pool 1 – invest $2.50 and receive 10 cents a day
Pool 2 – invest $3.75 and receive 25 cents a day
Pool 3 – invest $6.25 and receive 50 cents a day
Pool 4 – invest $12.50 and receive $1 a day
Pool 5 – invest $25 and receive $2 a day
Pool 6 – invest $75 and receive $5 a day
Note that Pools must be invested in sequential order. We Share Abundance also requires affiliates to login daily to receive returns.
There doesn't appear to be any term limits on We Share Abundance investment.
Referral Commissions
We Share Abundance affiliates receive a 10% commission on funds invested by personally recruited affiliates.
Matrix Commissions
Everyone with an investment position in We Share Abundance is placed randomly into a matrix each month.
There are six matrices, corresponding with We Share Abundance's six investment tiers.
An example provided by Graham Frame in a We Share Abundance marketing video suggests the company uses a 5xx matrix structure.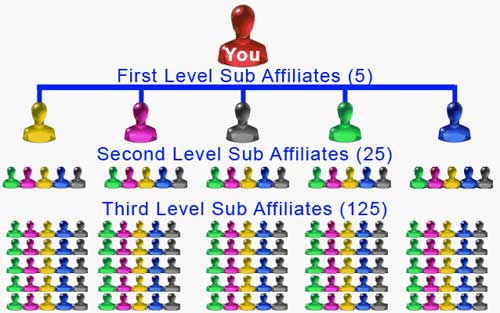 That is an open-ended 5 by X matrix, sized depending on how many positions there are in an investment tier.
Matrix commissions paid out are tied to levels of the matrix. At the end of each month every affiliate with an investment position is placed randomly in a corresponding matrix tier.
E.g. everyone who has invested in Pool 2 will receive a randomized position in the corresponding Pool 2 5xx matrix.
Specific percentages per matrix level aren't provided.
Examples provided by Frame in We Share Abundance marketing suggest a percentage of funds invested for the month are used: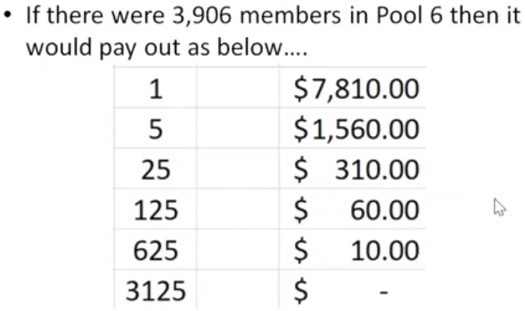 Joining We Share Abundance
Joining We Share Abundance is tied to a minimum $2.50 investment.
Full participation in We Share Abundance costs $125.
We Share Abundance affiliates who invest $125 within 48 hours of signing up receive $25 back in WESA tokens.
Update 29th January 2021 – We Share Abundance has introduced a mandatory $10 monthly fee.
Conclusion
We Share Abundance is a simple Ponzi scheme.
Affiliates invest funds and are paid daily returns with subsequently invested funds.
The matrix side of the compensation plan is a potential ROI bonus each month, also paid out of invested funds.
Internally We Share Abundance tracks investment with WESA tokens, which Graham Frame generates on demand at little to no cost.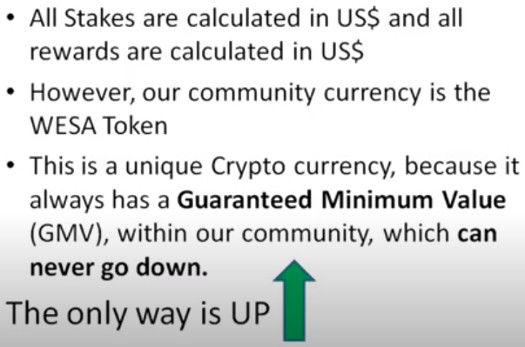 Actual returns are only realized when affiliates put in WESA token withdrawal requests.
We Share Abundance will pay out said requests as long as there's enough new investment to cover withdrawals.
When withdrawals exceed new investment, We Share Abundance will enter the inevitable Ponzi deficit.
From there the deficit will increase until We Share Abundance inevitably collapses.
The math behind Ponzi schemes guarantees that when they collapse, the majority of investors lose money.
For proof of this one need only look at the Ponzi schemes Frame has promoted in the past.
Update 29th October 2020 – We Share Abundance is using KYC to restrict affiliate withdrawal requests.
Victims of the Ponzi scheme are also being funneled into Ash Mufareh's OnPassive pyramid scheme.
Update 15th December 2020 – Graham Frame has announced new WSA affiliate investors are banned from withdrawing for six months.
Update 29th January 2021 – In an ongoing effort to recapture funds lost to withdrawals, WSA has introduced a mandatory $10 monthly fee.
Update 9th April 2021 – As of April 2021 We Share Abundance has abandoned its WESA token Guaranteed Minimum Value.
Update 19th May 2021 – We Share Abundance has collapsed. Graham Frame has announced a Wesa Coin reboot.