Brain Abundance Review: Retail focus lacking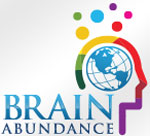 Brain Abundance operate in the dietary supplement MLM niche. No contact information is available on the Brain Abundance website, leaving the question of where the company is based out of unanswered.
The Brain Abundance website domain ("brainabundance.biz") was registered on the 24th of September 2013, however the domain registration is set to private.
Despite the lack of contact information provided, Brain Abundance are forthcoming with their corporate staff. Named as CEO and co-founder of Brain Abundance is Eric J. Caprarese, with Pejman Behrouzi named as fellow co-founder and Chief Science Officer.
In his Brain Abundance corporate bio, Caprarese is credited with being 'a top income earner in multiple companies over his 25 year career in' MLM.
In an interview conducted by MLM attorney Kevin Thompson earlier this year in March, Caprarese reveals his first exposure with MLM was with "the big 'A'" (A.L. Williams & Associates, now Primerica).
According to Caprarese's LinkedIn profile, his most recent MLM venture prior to Brain Abundance was PureNRG FX. PureNRG FX launched earlier this year and marketed a Playboy branded energy drink.
PureNRG FX is still running and operational today, however interest in the company has been in decline since mid June or so.
It's worth noting that PureNRG FX itself was a relaunch the failed Blue Bird Bids MLM penny auction business. Blue Bird Bids was launched in late 2012 and sought to capitalize on the shutdown of the $600M Zeek Rewards MLM penny auction Ponzi.
In early 2013 Blue Bird Bids was scrapped and replaced by PureNRG FX (using a completely different business model and compensation plan).
Eric Caprarese doesn't mention any involvement in Blue Bird Bids in his LinkedIn profile, however a Google search reveals a webpage dedicated to him on the Blue Bird Bids website domain (now defunct):

Unforunately the page that listing refers to has since been pulled from the internet, so in what capacity Caprarese was associated with Blue Bird Bids is unclear.
In addition to his involvement in Blue Bird Bids and PureNRG FX, Caprarese also lists himself as "President & CEO" of several non-MLM companies.
Read on for a full review of the Brain Abundance MLM business opportunity.
The Brain Abundance Product Line
Brain Abundance's flagship product is "Brain Fuel Plus", which the company claims is 'the ultimate in brain nutrition'.
Designed to help maintain healthy brain function, Brain Fuel PLUS is the FIRST and ONLY product available ANYWHERE that combines THIRTEEN of most powerful ingredients to help feed, support, and maximize healthy brain performance.

In fact, thanks to our Co-founder Dr. Pejman Behrouzi, along with our team of top experts in the fields of neuroscience, nutrition, medical science, and product formulation Brain Fuel PLUS is the most complete supplement for your brain ever created!
On his Facebook profile, Caprarese provides further insight into formulation of Brain Fuel Plus:
After being asked over and over again about starting my own company, I finally have decided to take a two year old product I was quietly having expertly formulated in our FDA approved Labs that no one else has, or can duplicate, AND combine it with the first and only "ACCELERATED BINARY" with coding bonus pay plan AND THEN add the hottest programed (sic) back office that is presently responsible for bringing in OVER 30,000 new PAID dealers PER MONTH in another company and START MY OWN COMPANY.
The "FDA approved labs" Caprarese refers to above appears to be "5 Star Labs" ("5starlabs.us"), of which Caprarese is the owner.
5 Star Labs is a premier contract manufacturer providing manufacturing and private labelling of natural vitamins, dietary and nutritional supplements, skin and hair care products, nutraceuticals and other health products.

At 5 Star Labs, we take pride in our partners manufactured and specialized products that sit on the shelves of Wal-Mart, Walgreens, Costco, The Vitamin Shoppe, GNC, 7-11, and to over 100 network marketing companies around the world.

Our partners have produced more than 1,000 individual formulas and over 20,000,000 bottles of product.

We presently ship to over 50 countries while the factory we represent has produced over $1 billion in sales.  All of our products are formulated, blended and manufactured in the USA.
No retail pricing for Brain Fuel Plus is provided on the Brain Abundance website.
The Brain Abundance Compensation Plan
The Brain Abundance compensation plan makes no distinction between retail and affiliate product purchases, combining the volume and generated commissions via a straight-line queue and residual binary compensation structure.
Brain Abundance Affiliate Membership Ranks
There are seven affiliate membership ranks within the Brain Abundance compensation plan. Along with their respective qualification criteria, they are as follows:
Affiliate – sign up as a Brain Abundance affiliate
Star – either personally recruit 3 affiliates or have 3 customers who have purchased at least 50 PV in product
Double Star – personally recruit at least 3 Star ranked affiliates and have a downline generating at least 500 GV a month
Triple Star – personally recruit at least 3 Double Star ranked affiliates and have a downline generating at least 2500 GV a month
Gold – personally recruit at least 3 Triple Star ranked affiliates and have a downline generating at least 10,000 GV a month
Platinum – personally recruit at least 3 Gold ranked affiliates and have a downline generating at least 50,000 GV a month
Diamond – personally recruit at least 3 Platinum ranked affiliates and have a downline generating at least 250,000 GV a month
Rank Achievement Bonus
Upon qualifying as a Gold or higher affiliate, Brain Abundance pay out a Rank Achievement Bonus as follows:
Gold – $1000
Platinum – $5000
Diamond – $25,000
If an affiliate has two personally recruited Diamond affiliates under them, they are paid an additional $100,000 bonus.
Note that these bonuses are all one-time payments, with affiliates only able to qualify for them once respectively.
Recruitment Commissions
Brain Abundance's Powerline Bonus is based on a single-line queue system. When an affiliate joins the company they are placed in a single-line queue and, once three people have joined after them, are paid a commission on their sales volume.
1st affiliate – $5
2nd affiliate – $3
3rd affiliate – $2
As long as the three affiliates maintain at least 50 PV in sales volume (either via self-purchase or retail), the Powerline Bonus as above is paid out weekly.
Fast Start Commissions
The Fast Start Commission pays out on a recruited Brain Abundance affiliate's first product order. These commissions appear to be paid out using a unilevel style compensation structure, payable down a total of six levels of recruitment.
How many levels a Brain Abundance affiliate is paid on depends on their affiliate membership rank:
All affiliates – 50% on personally recruited affiliate's first orders
Triple Star – 50% on personal recruits and a 2% override on levels 1 to 3
Gold – 50% on personal recruits and a 2% override on levels 1 to 4
Platinum – 50% on personal recruits a 2% override on levels 1 to 5
Diamond – 50% on personal recruits, a 2% override on levels 1 to 5 and a 1% override on level 6
I believe the overrides work on a first ranked affiliate found basis. All initial orders generate a commission payable on up to six levels, with the first found ranked affiliates in the upline paid at their respective level.
Any outstanding commissions continue to roll up the upline until all six levels have been paid out (ie. a Diamond ranked affiliated is found).
Binary Commissions
Residual commissions in Brain Abundance are paid out using a binary compensation structure, counting sales volume from an affiliate's second month onwards with the company.
A binary compensation structure places an affiliate at the top of two binary teams, left and right.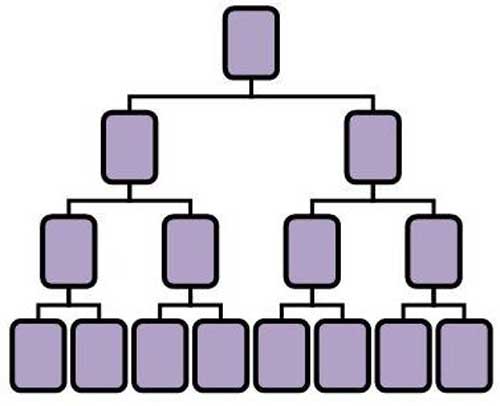 These binary teams theoretically extend to infinity, with each position representing a personally recruited affiliate or the recruiting efforts of an affiliate's up and downlines.
Commissions via the binary are paid out using a paired ratio system, counting sales and affiliate purchases on a 1:1 ratio between the left and right binary teams.
For each 50 BV paired between both the left and right binary teams, a $20 commission is generated. How much of a commission an affiliate can make via their binary team depends on their affiliate membership rank:
Affiliate – $500
Star – $2500
Double Star – $10,000
Triple Star – $50,000
Gold – $100,000
Platinum – $500,000
Diamond – $1,000,000
Note that in order to qualify for binary commissions, all Brain Abundance affiliates must personally recruit at least two new affiliates. Binary commissions are paid monthly, with any unpaired volume carried over to the next month.
Joining Brain Abundance
Affiliate membership to Brain Abundance is free.
Conclusion
Brain Abundance has a retailable product and offers its affiliates commissions on retail sales of Brain Fuel Plus to non-affiliates. Full points for that.
Red flags however arise upon deeper inspection of Brain Abundance's compensation plan layout.
For all intents and purposes, Brain Abundance's compensation plan focuses on the recruitment of new affiliates and effective minimum monthly purchase order of at least 50 PV (which I'm assuming covers a monthly recurring supply of Brain Fuel Plus).
There's no differentiation between retail commissions and recruited affiliate volume, leaving affiliate recruitment the more attractive option due to residual commissions.
Retail does have a residual component via ongoing repurchase by retail customers, however there's no multi-level sales volume possible via recruitment.
This focus on affiliate recruitment is reflected in Brain Abundance's affiliate rank qualification criteria, which requires ongoing affiliate recruitment and then recruitment taking place within a downline.
Nowhere in the Brain Abundance compensation plan is there any retail sales volume or retail sales customer (by number) requirements.
Affiliates do have the option of focusing on retail, however it's far more likely that they'll focus on affiliate recruitment and self-purchasing that monthly 50 PV commission qualification order (which then makes it function as an autoship).
In addition to a predicted lack of retail activity, this also then raises the question of motive behind affiliate's purchase of the Brain Fuel Plus product.
Brain Abundance's own CEO Eric Caprarese refers to the opportunity as costing '$59.95 to start and $59.95 a month…EASY!'
I'm certainly not questioning the marketability or effectiveness of Brain Fuel Plus, but when you slap on a compensation plan that focuses on recruitment and affiliates spending 50 PV a month, the question of why affiliates are buying the product is raised.
Finally coming off the back of Blue Bird Bids and PureNRG FX, I also can't help but question the longevity of Brain Abundance. Once the initial recruitment hype dries up, what then?
After making millions for unscrupulous owners, I felt it was time to finally interlock arms with YOU the distributors to bring you the NEW Brain Abundance!

CHEERS!

Eric J. Caprarese
The above is taken from Caprarese's Facebook page and certainly indicates that he's tired of making money for company owners as an affiliate. Perhaps now he feels it's time for affiliates to start making money for him.