Abundance Network to relaunch with pyramid scheme model

Following the collapse of its original gifting model, Abundance Network is set to relaunch as a pyramid scheme.
In an update recently sent out to Abundance Network affiliates, owner Jeff Long revealed a new compensation plan.
Signing up as an Abundance Network will now cost $200,
$100 of which is paid to the recruiting affiliate;
$50 of which is paid to the first upline Master Reseller and
$50 of which is kept by Long.
Master Reseller qualification costs $697, of which $500 is paid to the recruiting affiliate and the remaining $197 is kept by Long.
Residual commissions are earned through Master Reseller commissions paid on regular $200 affiliate recruitment.
The $50 Master Reseller commission is paid to the first Master Reseller affiliate above the recruiting affiliate.
In this manner upline affiliates are able to collect $50 pass-ups from affiliates recruited across multiple levels below them.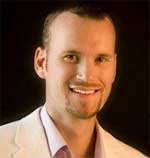 Despite this, Jeff Long (right) maintains "THERE ARE NO MORE PASS-UPS", and that Abundance Network is "NO LONGER STRUCTURED AS A "MLM" TYPE COMPANY IN ANYWAY!"
Although the gifting model might be gone, Abundance Network's new model still hinges on pyramid recruitment.
Retail doesn't exist within the opportunity, meaning 100% of commissions paid out are tied to recruitment.
Ironically it was "pyramid scheme" concerns that saw merchants cut access to Abundance Network last month, prompting its collapse.
Abundance Network is currently soliciting $200 affiliate membership ($150 till August 8th).
Long advises the Master Reseller option is scheduled to launch at a later date.