3 to 5 Years Review: T. LeMont Silver returns with forex fraud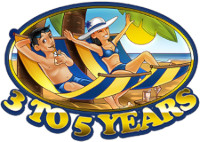 3 To 5 Years provides no information on their website about who owns or runs the business.
Visitors to 3 To 5 Years website without a referral link are shown an affiliate login form.
Visitors through a referral link are pitched marketing videos and invited to sign up.
Said marketing videos are narrated by T. LeMont Silver.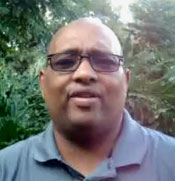 Silver (right) gained notoriety as one of Zeek Rewards' top promoters. After the $850 million Ponzi scheme was shut down, Silver fled to South America and continued to defend the scam.
As part of clawback efforts against Zeek Rewards' top net-winners, in 2016 final judgment was entered against Silver and his wife Karen for $3.1 million dollars.
Along the way Silver also managed to scam his lawyers out of thousands of dollars.
After Zeek Rewards Silver had a short stint at the GoFunRewards Ponzi scheme.
When GoFunRewards didn't pan out Silver began promoting JubiRev, a clone of Zeek Rewards' Ponzi points model.
In a recorded May 2013 webinar Silver was adamant JubiRev was not a Ponzi scheme.
A month and a half later JubiRev collapsed.
In 2014 Silver reemerged as one of the BitClub Network Ponzi scheme's original leaders.
A month after we revealed Silver's involvement in BitClub Network, we also found him promoting cash gifting through Gold Crowdfunding.
In the aftermath of scam after scam Silver promoted being shut down or collapsing, he dropped his name and started going by "Doc".
Over the past few years things had been relatively hush hush in the Silver camp, with nothing he's recently promoted taking off.
3 To 5 Years appears to be Silver's latest attempt to get an investment business off the ground.
Read on for a full review of 3 To 5 Years' MLM opportunity.
3 To 5 Years' Products
3 To 5 Years has no retailable products or services, with affiliates only able to promote 3 To 5 Years affiliate membership itself.
3 To 5 Years affiliate membership provides access to a passive forex trading investment opportunity.
The minimum investment amount is $350.
3 To 5 Years' Compensation Plan
3 To 5 Years affiliates gain access to a passive forex trading investment opportunity through the company.
When recruited affiliates opt to invest funds with 3 To 5 Years' partnered broker, a referral commission is paid out.
3 To 5 Years pays referral commissions via a unilevel compensation structure.
A unilevel compensation structure places an affiliate at the top of a unilevel team, with every personally recruited affiliate placed directly under them (level 1):

If any level 1 affiliates recruit new affiliates, they are placed on level 2 of the original affiliate's unilevel team.
If any level 2 affiliates recruit new affiliates, they are placed on level 3 and so on and so forth down a theoretical infinite number of levels.
3 To 5 Years caps payable unilevel team levels at four.
Trade commissions are paid out across these four levels as follows:
5% to 10% on level 1 (personally recruited affiliates)
1.05% to 2.1% on level 2
0.525% to 1.05% on levels 3 and 4
Note that I also saw mention of trade commissions, paid as a percentage of collected trade fees.
Specifics weren't provided and I'm not clear whether trade commissions are single-level or four levels deep.
Joining 3 To 5 Years
Affiliate membership costs are not disclosed on 3 To 5 Years website.
Ditto any associated costs with setting up trading accounts.
Conclusion
3 To 5 Years pitches a passive investment opportunity, through which monthly returns of 20% to 30% are touted.
One official 3 To 5 Years presentation makes the claim that the company's trading accounts have made a 95.26% ROI since August, 2019: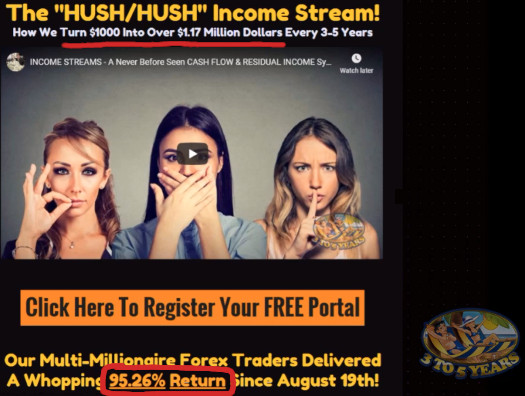 As for how returns are made, T. LeMont Silver credits "Uniglobe";
One of the reasons why Uniglobe is our preferred broker, is we approached them, as we did with a few other brokers, and we said,

"Here's what we're looking to do. We want to bring the forex to our peeps.

We've been in marketing, network marketing, MLM since 1994. We've also been in investing.

And we wanted to work with a broker that would allow us to offer a multi-tiered approach to this powerful IB compensation.

So one of the reasons that Uniglobe is our preferred broker, is because they customized a payout structure for us.
Uniglobe I believe refers to Uniglobe Markets, a financial services company that operates through Uniglobe Markets Limited.
Uniglobe Markets Limited is a shell company incorporated in the Marshall Islands tax haven.
To sum up 3 To 5 Years' business opportunity, we have forex trading and referral commissions.
Forex trading isn't illegal. And referral commissions aren't illegal.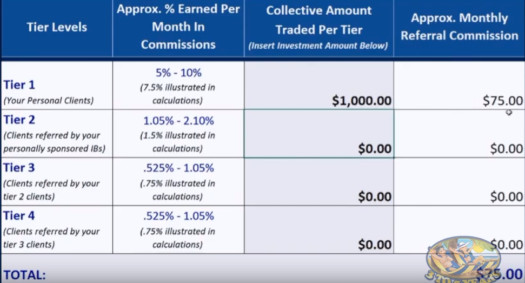 When you package them up as a passive investment opportunity though, you create a securities offering.
Offering securities to investors requires a license in practically every country on the planet.
Neither 3 To 5 Years or T. LeMont Silver are registered to offer securities in any jurisdiction.
Silver is intimately familiar with what a security is by now. He just doesn't care. Uniglobe Markets also appear not to care.
As a potential 3 To 5 Years investor though, you should care.
Offering and/or promoting securities without regulatory registration constitutes securities fraud. It's illegal.
Whether regulators shut down 3 To 5 Years or it collapses due to a lack of interest (more likely), the math behind 3 To 5 Years isn't in your favor.
Even if we discard the securities fraud nature of the business (and you most definitely shouldn't), 3 To 5 Years also operates as a pyramid scheme.
As everyone who joins 3 To 5 Years is an affiliate, nothing is marketed to or sold to retail customers.
An MLM company with no retail customers is a defacto pyramid scheme.
Bottom line?
If you want to get into forex trading do it legitimately.
Chasing passive investment returns through illegally set up opportunities, presented by serial scammers no less, is just going to see you lose money.