1 Click Trading Review: Crypto trading signals pyramid

1 Click Trading operates in the cryptocurrency MLM niche.
The company appears to be headed up by co-founders Doyle Shuler and Richard Hornshaw.

Doyle Shuler (right) is based out of South Carolina in the US.
Circa 2010-2011, Doyle was promoting gold themed opportunities; ISN Coins and Preservation of Wealth.
ISN Coins lent itself to affiliate autoship recruitment. Preservation of Wealth was a flat out pyramid scheme.
From around 2016 onward, Shuler stopped promoting gold themed MLM opportunities. He appears to have jumped on the cryptocurrency bandwagon in or around 2018.
This culminated with Shuler promoting several cryptocurrency MLM Ponzi schemes from late 2019.
Since October 2019 Shuler has promoted Sports Trading BTC, My Passive Trades and Kangot.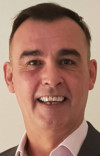 Richard Hornshaw (right) is based out of the UK. In 2017 he was promoting World Global Network.
In 2018 Hornshaw ditched World Global Network to promote MLM cryptocurrency scams.
The earliest example I was able to find was World Cryptocurrency 101 in August 2018.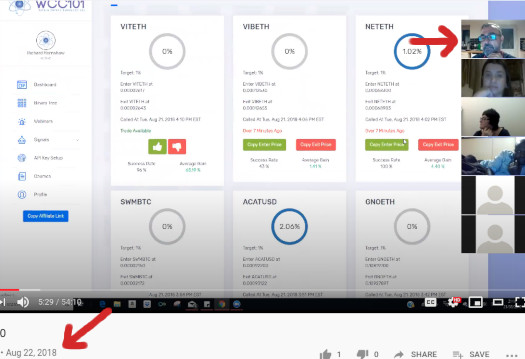 By October 2018 Hornshaw had jumped ship for Karatbars International, who by then had also jumped on the cryptocurrency fraud bandwagon.
In January 2019 Hornshaw was promoting HGFX Online, a collapsed forex trading scheme, and the GoFounders pyramid scheme.
That appears to be it up until 1 Click Trading's launch.
Read on for a full review of 1 Click Trading's MLM opportunity.
1 Click Trading System's Products
1 Click Trading System has no retailable products or services, with affiliates only able to market 1 Click Trading System affiliate membership itself.
1 Click Trading System affiliate membership provides access to a cryptocurrency trading signals service.
Other than stating it's "artificial intelligence software", 1 Click Trading System provides no specific information about this service on their website.
1 Click Trading System's Compensation Plan
1 Click Trading System affiliates sign up for the signal service at $99 a month.
Commissions are paid when they recruit others who do the same.
1 Click Trading System pays recruitment commissions via a unilevel compensation structure.
A unilevel compensation structure places an affiliate at the top of a unilevel team, with every personally recruited affiliate placed directly under them (level 1):

If any level 1 affiliates recruit new affiliates, they are placed on level 2 of the original affiliate's unilevel team.
If any level 2 affiliates recruit new affiliates, they are placed on level 3 and so on and so forth down a theoretical infinite number of levels.
1 Click Trading System pays $7 per affiliate recruited, down a maximum seven levels of recruitment.
An additional $7 per recruit signed up is paid to the first upline "Super Affiliate".
To qualify as a Super Affiliate, a 1 Click Trading System affiliate must recruit and maintain five subscription active affiliates.
Note that commissions in 1 Click Trading System are tied to ongoing monthly fee payments. Commissions are paid for as long as affiliates continue to pay commissions.
Joining 1 Click Trading System
1 Click Trading System affiliate membership is $99 a month, paid in bitcoin.
Conclusion
Neither Doyle Shumer or Richard Hornshaw have a background in cryptocurrency trading. This begs the question where did they find whatever third-party signals service 1 Click Trading System uses.
It's a question I shouldn't have to ask, as financial regulatory requirements in the US require 1 Click Trading System to disclose information about their trading service.
Namely details on who provides it and past performance.
1 Click Trading System fails to provide this information on their website. And this is important, because the company claims it uses "proven back-tested algorithms".
Additionally, 1 Click Trading System also operates as a pyramid scheme.
Everyone signs up as an affiliate (the system asks you to create a referral link when you sign up), meaning 100% of commissions 1 Click Trading System pay out are tied to recruitment.
Sitting at the top of the company-wide unilevel team are one or more preloaded admin positions, ensuring Shumer and Hornshaw collect a handsome percentage of paid in fees.
At the end of the day 1 Click Trading System affiliates have to make back $1188 annually just to break even.
And you're putting your trust in signals provided by who knows who, with who knows what background.
Is this risky?

All trading has risk and this is no different. Our system is programmed to find the highest probability for successful trades.

You should always start with smaller amounts and never trade with more than you can afford to lose.
In addition to the recruitment side of the business inevitably slowing down, anonymous signals service MLM schemes tend to perpetually be one month away from a bad trades collapse.
Cue the blame game (e.g. "our anonymous developers screwed us!"), everyone losing money and Shumer and Hornshaw exiting with stashed bitcoin fee payments.