My Passive Trades Review: $5 adpack, two-tier cycler Ponzi

A marketing video on My Passive Trades' website features Darren Bradbury, who claims to be "one of the joint owners of Polaris Universal".
Darren Bradbury first appeared on BehindMLM as co-owner of the Powerhouse Feeder Ponzi scheme.
Other scams Bradbury has promoted over the years include  My 24 Hour Income (collapsed Ponzi scheme), Leased Ad Space (cash gifting), GiftoBit (cash gifting), ZarFund (cash gifting), Stiforp (pyramid scheme) and My Ad Story (Ponzi scheme).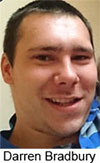 More recently Bradbury has been promoting cryptocurrency scams. oncluding Powerhouse RevShare (Ponzi) and Powerhouse Mining (Ponzi).
Over the past year Bradbury has been trying to get Chatabox off the ground.
We will share 60% of all the profits of chatabox … very simply you just receive ehtereum for on auto pilot.
Chatabox is yet another cryptocurrency token Ponzi scheme.
My Passive Trades website domain uses Chatabox's website domain name-servers.
On Twitter Bradbury goes by "Darren Riviera" and cites his location as the UK.
According to the "company" section of My Passive Trade's website, 'my passive trades is a trading name of Polaris Universal LTD'.
Polaris Universal LTD was incorporated in the UK on January 25th, 2018.
Ahmed Nabil El Amrani, Lidija Ikasovic, Eldon Conceicao and Darren Bradbury are listed as company officers.
UK incorporation is dirt cheap and for the most part unregulated. It is a favorite jurisdiction for scammers looking to incorporate dodgy companies.
Read on for a full review of the My Passive Trades MLM opportunity.
My Passive Trades Products
My Passive Trades has no retailable products or services, with affiliates only able to market My Passive Trades affiliate membership itself.
Once signed up, My Passive Trades affiliates invest funds to participate in the attached MLM opportunity.
Bundled with each investment are advertising credits, which can be used to display advertising on the My Passive Trades website.
Participation in My Passive Trades' matrix cycler provides access to a "trading school".
The My Passive Trades Compensation Plan
My Passive Trades affiliates invest $5 adpacks or more  funds on the promise of a passive daily return of up to 1.25%.
Returns are paid out on invested adpacks until 125% of the initial investment is paid out.
Referral commissions on adpack invested funds are paid out down two levels of recruitment (unilevel):
level 1 (personally recruited affiliates) – 8%
level 2 – 3%
Trading School Matrix
My Passive Trades' Trading School Matrix is a two-tier 3×1 matrix cycler.
A 3×1 matrix has three positions under it to fill, upon which a "cycle" is triggered.
Cycle commissions across My Passive Trades' two cycler tiers are as follows:
$99.99 Mentoring tier – $33 recruitment commission and $33 per matrix position filled, recycles into a new $99.99 Mentoring tier matrix upon completion
$450 VIP tier – $150 recruitment commission and $150 per matrix position filled, recycles into new $450 VIP tier matrix upon completion
Joining My Passive Trades
My Passive Trades affiliate membership is free.
Participation in My Passive Trades' adcredit investment scheme starts at $5.
Full participation in My Passive Trades two-tier cycler costs $549.99.
Conclusion
My Passive Trades is a continuation of Darren Bradbury's participation in fraudulent business opportunities.
In a nutshell, you're looking at simple adcredit and cycler Ponzi schemes.
My Passive Trades' represents that for their adcredit investment scheme, external revenue is generated through "very sustainable and proven trading activities".
No evidence of trading revenue being actually used to pay affiliates is provided.
The cycler component of My Passive Trades is similar.
Affiliates invest $99.99 and/or $450. As new and existing My Passive Trades affiliates invest after them, a return is collected.
Both the adcredit and cycler investment schemes require constant recruitment of new My Passive Trades affiliates to pay out.
On the regulatory front My Passive Trades is clearly offering a passive investment opportunity. This is otherwise known as a securities offering.
Darren Bradbury is based out of the UK. At the time of publication Alexa pegs the US as the largest source of traffic to My Passive Trades' website (16%).
Securities in the UK and US are regulated by the FCA and SEC respectively.
Neither My Passive Trades, Polaris Universal LTD or Darren Bradbury are registered with the FCA or SEC.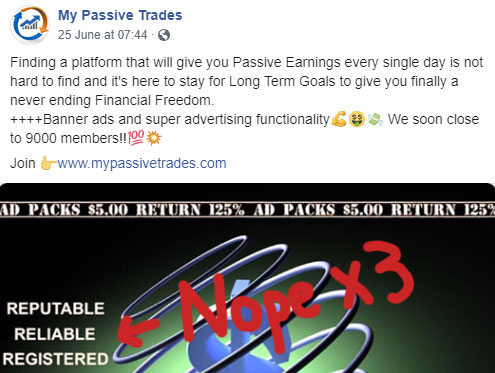 This means that even if My Passive Trades was using external revenue to pay returns (they aren't),  the company is still operating illegally.
Note that a basic UK incorporation is not a substitute for registration with securities regulators.
Nor are social media marketing videos of purported trading activity.
As with all MLM Ponzi schemes, once affiliate recruitment dies down so too will new investment.
This will starve My Passive Trades of return revenue, prompting a collapse.
The math behind Ponzi schemes guarantees that when they collapse, the majority of participants lose money.
If you need further evidence of this, take a look at what happened in any of the many scams Bradbury has promoted over the years.
Update 16th March 2020 – As of March 2020, My Passive Trades has ceased paying returns and honoring withdrawal requests.
Update 7th May 2020 – Following a brief EurekaCoin reboot, My Passive Trades has collapsed again.