ISN Coins Review: Autoship + numismatic coins

International Silver Network (otherwise known as ISN Coins) are the network marketing division of 'ISN Modern Coins'.
ISN Modern Coins claim to be 'one of the largest modern coin dealers in the United States headquartered in Indianapolis, Indiana'.

ISN Coins launched in mid 2010 and is headed up by founder and CEO Matt Barkes (photo right).
Prior to 2010 there isn't all that much of a history on Barkes but he seems to have been involved with the now defunct website 'silver-lining-group.com' and was publishing ads on the internet advertising Silver Lining Group as a business opportunity: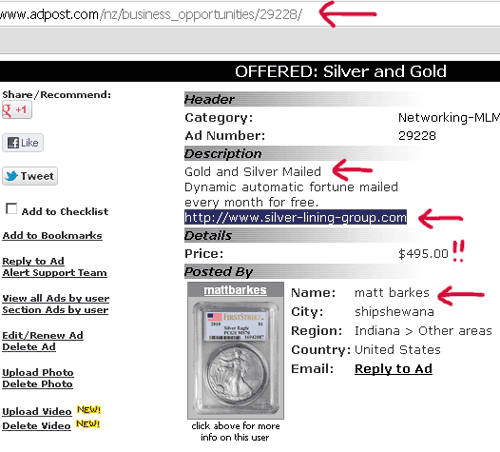 In 2008 Barkes listed himself was the company President of 'Silverline Market Corporation', which also now appears to be defunct.
Prior to that I'm not sure what Barke's MLM history is but on his ISN Coins company profile it's stated that Barkes has
spent over 17 years in the direct sales industry (with) six years was spent as Founder and Chief Executive Officer in the specialized niche of the precious metals direct sales industry.
Barkes co-founding ISN Coins along with Randy Lange (Chief Financial Officer) and Vincent Roy (Chief Marketing Officer) would seem to be the culmination of working within the precious metals and network marketing industry for some years now.
The ISN Coins Product Line
ISN trade in numismatic collectible coins which they claim to ' in large quantities so we can pass the savings on to (their) Business Pro members'.
In a nutshell, numismatic coins are not circulated and graded according to their a 'Mint State' (MS). MS ranges from 60-70, with ISN Coins claiming to primarily trade in MS69 Silver Eagle coins.
ISN Coins claim that the reason they trade in MS79 coins is because
Certified coins are guaranteed authentic and often hold two values (Collectable value & precious metal value).

The Mint State 69 coin is near perfect and closer to the price of bullion.
These MS69 Silver Eagle coins are currently listed on the ISN Coins website at a going rate of $59 USD with an unspecified 'date and label'.
The ISN Coins Compensation Plan
ISN Coins offer their members retail commissions, a fast start bonus, recruitment commissions, bonus pools and a unilevel residual compensation structure.
Retail Commissions
ISN Coins offer all members retail commissions on any numismatic coins that they sell. These retail commissions are broken up into two components, 'spread commissions' and 'designated commissions'.
Spread commissions are the difference between the retail cost and member cost of the product(s) being purchased.
Designated commissions are a value assigned to each coin that ISN Coins' members can sell. This commission value is split between the Bonus Pools (37.5% and unilevel compensation commissions 6.25%, with 25% of the value being paid out to the member that made the retail sale.
ISN Coins do not specify how the designated commissions are calculated or what they are for each product (members most likely have access to this information once they have signed up).
Preferred customers who receive products monthly on autoship also count as retail commissions, however the spread commissions payout is reduced to 50% of what it would normally be on all preferred customer orders.
Fast Start Commissions
Calling it an 'enroller commission', ISN Coins offer new members a $75 fast start bonus for every new member they sign up.
After three new members are recruited, ISN Coins then raise this bonus to $100 per new member enrolled.
After recruiting two new members, the Fast Start Bonus also extends down on the first two members any of the new members you recruit bring into the company. This bonus is paid out at $50 and runs unlimited levels deep.
Note that the Fast Start Bonus (both payments) are a once off commission upon the signing of a new member and are not paid out monthly.
Recruitment Commissions
After recruiting two new members to the company, ISN Coins pay out a recruitment commission of $5 a month on all members personally recruited.
This commission extends down to the first two members recruited by all recruits (and their own recruits) down unlimited levels. Remember that this only kicks in after you've recruited your first two new members (you pass these initial two commissions up to your upline).
Unilevel Commissions
In addition to retail commissions, ISN Coins also offer members team commissions using a unilvel compensation structure.
A unilevel compensation structure places you at the top with each member and preferred customer (on autoship) you enrol placed in a leg underneath you. These members and preferred customers form 'level 1' of your unilevel team.
Any ISN Coins members you recruit can enroll new members and these members then make up your level 2.
This process continues down with ISN Coins paying out unilevel commissions on seven levels.
Traditionally unilevel team commissions are paid out on product sales, but with ISN Coins these team commissions are paid out on the monthly membership fees paid by ISN Coins members.
Level 1 (members you personally recruit) pay out $5 a month, with the other six levels paying out $2 a month.
Bonus Pools
Made up of 37.5% of the 'designated commission' values on all retail sales and $8 from every monthly membership fee, ISN Coins offer five bonus pools for their members to qualify for.
Bonus Pool 1 requires the recruitment of at least two ISN Coins members
Bonus Pool 2 requires the recruitment of at least two ISN Coins members with a total unilevel team of at least 20 members
Bonus Pool 3 requires the recruitment of at least three ISN coins members (two of which need to be 'Gold Business Pro' members or higher), and have a total unilevel team of at least 100 members
Bonus Pool 4 requires the recruitment of at least four ISN Coins members (3 of which need to be 'Platinum Business Pro' members or higher), with a total unilevel team of at least 400 members
Bonus Pool 5 requires the recruitment of at least five ISN Coins members (4 of which need to be 'Platinum Business Pro' members or higher), with a total unilevel team of at least 1000 members)
Note that Gold Business Pro qualification requires the personal recruitment of two Business Pro members and Platinum Business Pro membership requires the recruitment of 20 Business Pros (two of which must be personally enrolled).
Joining ISN Coins
Standard membership to ISN Coins is called 'Business Pro' and comes in at $299. An additional $18.99 ($49.99 if outside the US) shipping charge is also required to be paid.
Thus the grand total to get started as a Business Pro in ISN Coins is $317.99 ($348.99 if outside the US).
This membership level requires a monthly purchase of a MS69 American Eagle Coin and along with your monthly membership fee ($29.99) equates to a monthly fee of $82.99 (shipping is an additional $9.99 inside the US or $11.99 outside).
ISN Coins do offer what they call a 'Direct Sales Membership' at $14.99 a month, however this membership is limited to receiving retail commissions and only level 1 unilevel team commissions ($5 for each member recruited).
Conclusion
One of the more important aspects of offering membership with required autoship is to make sure that the compensation plan isn't geared towards signing up as many members as you can under said autoship as your primary source of income.
Unfortunately with the ISN Coins compensation plan, they seem to have avoided this concern and actually seem to encourage it. The big tell-tale sign of this is the team commissions being structured around the payment of membership fees to the company rather than actual sales (retail or otherwise).
ISN Coins do put a percentage of the autoship sales in the Global Pools, but to qualify again members are looking at recruitment quotas, rather than sales of the product.
ISN Coins seem to believe that beyond the monthly autoship of one MS69 American Eagle coin, their members aren't going to place enough additional non-compulsory orders to justify gearing the residual team commissions around sales.
Rather the residual commissions are instead all geared around recruitment. And it's not just the unilevel commissions either. Apart from the retail commissions, all four other revenue streams in the ISN Coins compensation plan revolve around the recruitment of new Business Pro members and the payment of monthly membership fees to the company.
This I feel might be a symptom of the true usefulness and value of MS69 numismatic coins to the average person and hint at a lack of a viable market.
At the end of the day, these coins can't be spent or consumed. Instead they need to be sold with the hope I guess being that over time they will appreciate in value. While you wait for this to happen you've still got to earn something and that's why the vast majority of ISN Coins' commissions are suitable tied into the recruitment of members.
That said, it is entirely possible to retail these coins and viable or not, numismatic coins are a tangible product that can be bought and sold. If you can find enough collectors willing to buy coins off you, there's no reason you can't build a succesful sales orientated income within the ISN Coins compensation plan.
Of course due to the way it's structured and rewards members it'd be much easier to just recruit new members on autoship… but that's something new ISN Coins members will have to take into consideration and decide upon for themselves. That being how are they themselves going to work the business.
All in all with a relatively steep joining fee and ongoing monthly charges, membership to ISN Coins isn't something to be taken lightly. Product wise the company promises to 'buy-back' any coins sold to members.
For auto-shipped coins the terms are $8 "over spot" (the current going price?) with all other coins having a buy-back rate set by ISN when the coin is sold.
With the bulk of ISN Coins' members purchasing their MS69 American Eagle coins, I'm not too sure how this works out profitability wise in the long-term, but that'd definitely be something for prospective members to investigate. The last thing you want is to find yourself stuck with a bunch of coins you can't turn a profit on.
Of course if you just plan to make your money via the recruitment of others and whacking them on autoship, then this probably doesn't apply to you.
How members work the ISN Coins compensation plan dictates the viability of the opportunity and based on how it's set up and what is actually paid out, sadly it looks like you're probably going to find a company of members on autoship just looking to get more people on board.
I guess one test for new members would be to ask yourself how you were attracted to the company, were you marketed the products or the income opportunity itself.
ISN Coins does have an actual product line so really if you were just marketed the income opportunity (regardless of whether autoship was mentioned or not), you might want to think twice before joining as you're probably going to wind up marketing ISN Coins in the same manner.
Update 11th July 2014 – ISN Coins CEO Matt Barkes has been in touch and writes,
My name is Matt Barkes. I'm one of the founders of ISN. I apprecite (sic) you taking the time to evaluation ISN, however almost everything you have written is out dated. After hiring Kevin Thompson as our MLM attorney we've made many changes to better the company for our members.

This being the case I respectfully request that you either modify the information to to (sic) reflect ISN currently or remove the blog.
I'm putting this update here to reflect that the information in this review is currently pending an update (no ETA).
Update 6th of August 2014 – I have now reviewed ISN's current compensation plan and business model.