Sports Trading BTC Review: James Ward's crypto Ponzi opp

Sports Trading BTC's website provides no information on who owns or runs the company.
According to Sports Trading BTC, their "headquarters are located in BVI ( British Virgin Islands)."
Assuming that's true, which is unlikely, BVI is a scam-friendly jurisdiction with little to no meaningful regulation.
Despite its website domain only having been privately registered in July 2019, Sprots Trading BTC fraudulently claims it 'has been in business since late 2016.'
Further research reveals a video on Sports Trading BTC's official YouTube channel titled "STB Announcement".
In the video James Ward identifies himself as CEO and owner of the company.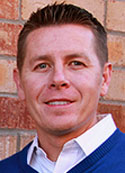 James Ward (right) first popped up on BehindMLM's radar in 2010, as the CEO of LGN Prosperity.
LGN Prosperity marketed travel vouchers, with each voucher generating a position in a matrix 2×2 cycler.
Following months of affiliates not getting paid, in mid 2011 LGN Prosperity morphed into LGN International.
This name-change brought on the addition of commissions paid on travel services booked through LGN.
LGN International eventually collapsed in mid to late 2013, with Ward heading up iBizWave as CEO and co-founder in early 2014.
In 2015 Ward launched 2SL Start Living, which saw him return to the travel MLM niche.
2SL Start Living was short-lived, prompting Ward to launch Pangea in 2016.
Pangea's original business model was a matrix cycler hiding behind travel.
By early 2017 Pangea had collapsed. Ward rebooted Pangea with a new compensation plan.
The only material difference was the cycler expanded to three tiers, so it's not surprising that Pangea 2.0 also didn't last long.
Sports Trading BTC marks Ward's return to the MLM industry. Like everyone else in the MLM underbelly, Ward has transitioned to cryptocurrency.
It's worth noting that Sports Trading BTC leadership calls are hosted by Dwayne Golden, a serial-scammer in his own right.
Read on for a full review of Sports Trading BTC's MLM opportunity.
Sports Trading BTC's Products
Sports Trading BTC has no retailable products or services, with affiliates only able to market Sports Trading BTC affiliate membership itself.
Sports Trading BTC's Compensation Plan
Sports Trading BTC affiliates invest bitcoin on the promise of an advertised 0.25% to 2% daily ROI.
Sports Trading BTC offers affiliates eight investment tiers:
ST1 – 0.01 BTC
ST2 – .025 BTC
ST3 – 0.1 BTC
ST4 – 0.5 BTC
ST5 – 1 BTC
ST6 – 2 BTC
ST7 – 3 BTC
ST8 – 5 BTC
Recruitment Commissions
Sports Trading BTC affiliates who invest at ST5 and higher tiers receive recruitment commissions.
Recruitment commissions are paid on downline investment through three levels of recruitment:
5% on level 1 (personally recruited affiliates)
3% on level 2
2% on level 3
Residual Commissions
To qualify for residual commissions, each Sports Trading BTC affiliate must recruit two investing affiliates.
Sports Trading BTC pays residual commissions via a binary compensation structure.
A binary compensation structure places an affiliate at the top of a binary team, split into two sides (left and right):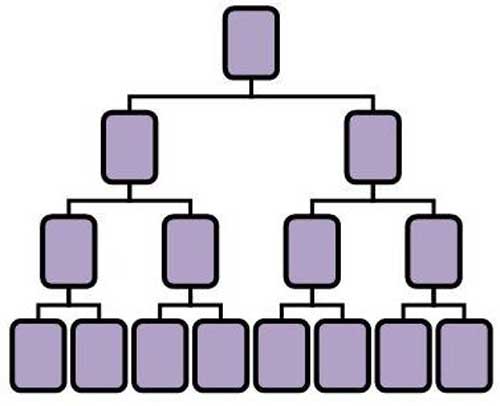 The first level of the binary team houses two positions. The second level of the binary team is generated by splitting these first two positions into another two positions each (4 positions).
Subsequent levels of the binary team are generated as required, with each new level housing twice as many positions as the previous level.
Positions in the binary team are filled via direct and indirect recruitment of affiliates. Note there is no limit to how deep a binary team can grow.
Residual commissions are paid daily on funds invested on the weaker binary team side.
Specific residual commission percentage payouts are determined by how much a Sports Trading BTC affiliate has invested:
ST1 tier affiliates earn a 3% residual commission rate capped at 0.02 BTC a day
ST2 tier affiliates earn a 4% residual commission rate capped at 0.05 BTC a day
ST3 tier affiliates earn a 5% residual commission rate capped at 0.2 BTC a day
ST4 tier affiliates earn an 8% residual commission rate capped at 1 BTC a day
ST5 tier affiliates earn a 9% residual commission rate capped at 2 BTC a day
ST6 tier affiliates earn a 10% residual commission rate capped at 4 BTC a day
ST7 tier affiliates earn an 11% residual commission rate capped at 6 BTC a day
ST8 tier affiliates earn a 12% residual commission rate capped at 10 BTC a day
Joining Sports Trading BTC
Sports Trading BTC affiliate membership is tied to a 0.01 to 5 BTC investment.
ST1 – 0.01 BTC
ST2 – 0.025 BTC
ST3 – 0.1 BTC
ST4 – 0.5 BTC
ST5 – 1 BTC
ST6 – 2 BTC
ST7 – 3 BTC
ST8 – 5 BTC
The more an affiliate invests, the higher their income potential via Sports Trading BTC's compensation plan.
Conclusion
Sports Trading BTC claims to generate external ROI revenue via sports trading.
We have partnered with some of the top Sports Traders in the world to give us the winning picks.
There is no evidence of trading or any other source of external revenue being used to pay affiliates.
At the time of publication Alexa pegs the US as the top source of traffic to Sports Trading BTC's website (25%).
Additionally, both James Ward and Dwayne Golden are believed to reside in the US.
Quite clearly, Sports Trading BTC is offering a passive investment opportunity.
Sports Trading BTC has designed a Trading Bonus that is paid directly to your wallet daily once you purchase one of our packages.

All that is required by you is to decide which package works best for your budget.

Once you purchase a package you will begin to automatically accumulate earnings between .25% and 2% daily.
The "trading bonus" as Sports Trading BTC calls it constitutes a securities offering.
In order to operate legally in the US all securities offerings must be registered with the SEC.
Perusal of the SEC's Edgar database however reveals that neither Sports Trading BTC, James Ward or Dwayne Johnson are registered to offer securities.
This means that even with an external ROI revenue source, Sports Trading BTC is operating illegally (securities fraud).
Further evidence of Sports Trading BTC relying on nothing more than new investment to pay returns is evident in their compensation plan.
How much an affiliate invests directly impacts income potential. Also, higher tier returns are only possible if an affiliate generates investment equal to what they've invested:
To qualify for the Maximum Trading Bonus you are required to have personal volume equal to or greater than the package you currently own.
As with all MLM Ponzi schemes, once affiliate recruitment dries up so too will new investment.
This will starve Sports Trading BTC of ROI revenue, eventually prompting a collapse.
The math behind Ponzi schemes guarantees that when they collapse, the majority of participants lose money.
Update 3rd December 2019 – Sports Trading BTC collapsed in late November.
James Ward has rebooted the company as a penny auction opportunity called Global Credits Network.