Zoe Broker securities fraud warning from Spain (Generation Zoe)

Zoe Broker has received a securities fraud warning from Spain.
What's interesting about the fraud notice is the Spanish regulator identifies the company as Generation Zoe.
Other corporate entities associated with Zoe Broker include Universidad del Trading S.A., Generacion Zoe S.A. and Kurzena Limited.
As per the CNMV's March 21st warning, none of these entities are "authorised to provide the investment services" in Spain.
This is the equivalent of a securities fraud warning in other jurisdictions.
Zoe Broker operates from the website domain "zoebroker.com". The domain was registered by Kurzena Limited on March 3rd, 2021.
Kurzena Limited appears to be a shell company incorporated in Saint Vincent and the Grenadines.
Other than having "Zoe" in the name, there appears to be a conscious effort not to associate Zoe Broker with Generation Zoe. There is no mention of Generation Zoe anywhere on Zoe Broker's website.
If you head over to Zoe Broker's social media profiles though, the association becomes evident.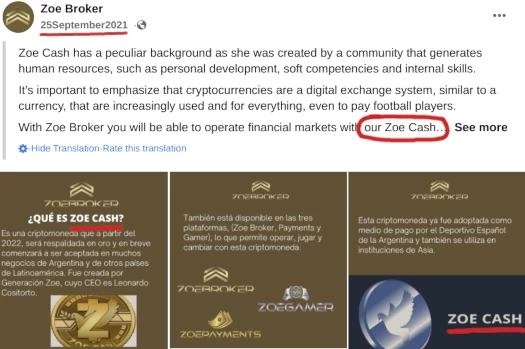 Zoe Cash is the cryptocurrency Generation Zoe used in its smart-contract Ponzi scheme.
Zoe Broker appears to be part of wider efforts to launder cryptocurrency stolen through Generation Zoe.
Leonardo Cositorto and his partner "Max" Batista … set up an evangelical church in Haedo, a trust and a series of seven firms and corporations such as Zoe Burger.

Their goal: to take cash and cryptocurrencies with the promises of generating magical income.

Many of those firms were a shell. Zoe Burger, with a store in Olivos, "didn't even have a bank account."
Federal authorities in Argentina are investigating Generation Zoe's money laundering, with the aim of filing additional charges against founder Leonardo Cositorto.
The CNMV's warning follows the arrest of Generation Zoe executives in Spain earlier this month.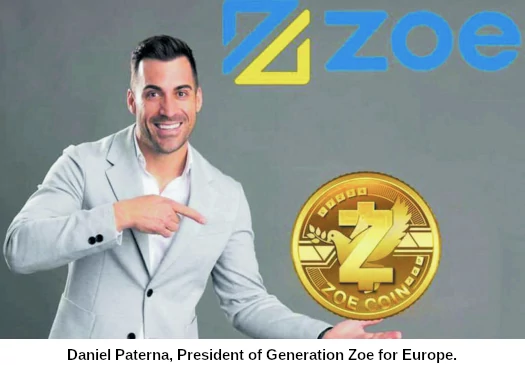 Generation Zoe founder Leonardo Cositorto is wanted by Argentinian authorities. Despite having an international arrest warrant out on him through Interpol, Cositorto remains at large in Colombia.