WSA withdrawal problems, victims funneled into OnPassive

We Share Abundance is using KYC to withhold affiliate withdrawal requests.
Victims of the Ponzi scheme are also being funneled into Ash Mufareh's OnPassive pyramid scheme.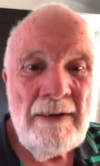 We Share Abundance is a Ponzi scheme run by Graham Frame (right). WSA affiliates invest on the promise of an advertised 50% monthly ROI.
WSA returns are paid out in WESA tokens. WESA tokens are generated on demand and have no value outside of WSA itself.
A look at Alexa traffic estimates for WSA's website reveals a flatline beginning a few weeks back.
For an MLM Ponzi scheme, recruitment of new investors flatlining is a one-way street to collapse.
To fend off an inevitable collapse, WSA introduced KYC withdrawal requirements.
As per an email update sent out by Graham Frame on October 22nd, here's how that's going;
I know that many members are getting frustrated because we are so far behind in getting them KYC verified and so able to make withdrawals.

Count the fact that you are unable to withdraw at present as a blessing in disguise because your WESA Tokens are increasing in value as you can see in your member area dashboard.
Frame arbitrarily sets the internal WESA token value as he sees fit. Affiliates are only able to cash out through an internal exchange.
In addition to hiding behind KYC to slow down withdrawals, WSA daily ROI payments have also gone missing.
We are aware of other bugs in the system including the reduction of days in suspended accounts.

We have however rectified the code eliminating the bug. As always we will make good any losses.
At the time of publication Alexa ranks the US as the largest source of traffic to We Share Abundance's website (29%).
Neither WSA or Graham Frame are registered with the SEC, meaning with or without KYC pseudo-compliance, the company operates illegally in the US.
In what is likely an attempt to source alternative revenue, Frame has begun funneling WSA affiliate investors into OnPassive.
Frame claims that OnPassive and owner Ash Mufareh are "in line with (WSA's) own mission and goals".
Being a Ponzi scheme, WSA's only mission and goal is to steal as much money from as many people as possible.
Frame is pitching OnPassive to WSA affiliate investors as a $97 Founder Membership scheme.
Once signed up under Frame, WSA affiliates are able to claim their $97 OnPassive affiliate fee back.
Once you have used the link provided to you and paid the fee upload your proof of payment here and we will credit your WSA US$ Wallet with nthe [sic] exact amount you paid.
Frame can't generate USD out of thin air to cover OnPassive affiliate membership fee payments. That brings us back to the convenience of chosen WSA affiliates being able to withdraw.

OnPassive is a matrix script pyramid scheme Ash Mufareh (right) started in 2018.
Under the guise of developing an AI marketing system…
OnPassive is a futuristic compliation [sic] of products and servces [sic] that will provide everything you need online, be it for business or personal use.
…Mufareh collects $97 OnPassive Founder Membership fee payments.
Once signed up, OnPassive affiliates are paid to recruit new affiliates.
BehindMLM published our OnPassive review in January 2019. Going on roughly two and a half years post-launch, OnPassive still has no retailable products or services.
Prior to WSA and OnPassive, Both Graham Frame and Ash Mufareh have a long history of involvement in scams.
Update 13th November 2020 – It seems even with KYC restrictions, people are still trying to withdraw funds WSA represents exist in their backoffice.
This has made Graham Frame big mad, as evidenced by an admin email sent out on November 10th;
Note that no further withdrawal requests will be accepted dated after today until all existing tokens are cleared from the exchange.

This action has been necessitated by members breaking guidelines in frustration, selling at very low prices.
The only way to clear tokens from the exchange is to recruit new victims who buy them.
If that was happening Frame wouldn't be restricting withdrawals. Rather than the inevitable race to the bottom, Frame has just stopped the race altogether.
Update 18th November 2020 – Graham Frame has tightened the withdrawal screws even further, signalling he only intends to pay out recruiters.
Update 19th May 2021 – We Share Abundance has collapsed. Graham Frame has announced a Wesa Coin reboot.