YEM Foundation securities fraud warning from Austria

YEM and the YEM Foundation have received a securities fraud warning from Austria.
As per the Financial Market Authority's 13th May warning;
The FMA warns investors against concluding transactions with: YEM / YEM Foundation

This provider is not authorised to carry out banking transactions in Austria that require a licence.
This is the equivalent of a securities fraud warning in other jurisdictions.
For those not familiar with YEM, it stands for Your Everyday Money. Beyond that, YEM is an ERC-20 shitcoin and there's not much else to it.
YEM ties into MLM through the failed MLM company Wazzub.
Wazzub launched in 2011 as a "we're gonna be the next Google and pay you!" MLM company. That flopped and after various failed follow up schemes, circa 2019 what was left of Wazzub was funneled into the Unicorn Network.
That didn't go anywhere and in 2021, the last time BehindMLM revisited Wazzub, serial scammer Anthony Norman was feeding Wazzub investors into his own stable of scams.
Norman's scamming had run its course by late 2021. His post-YEM Ponzi schemes didn't go anywhere.
As of April 2023, here are the scammers behind and running what's left of YEM: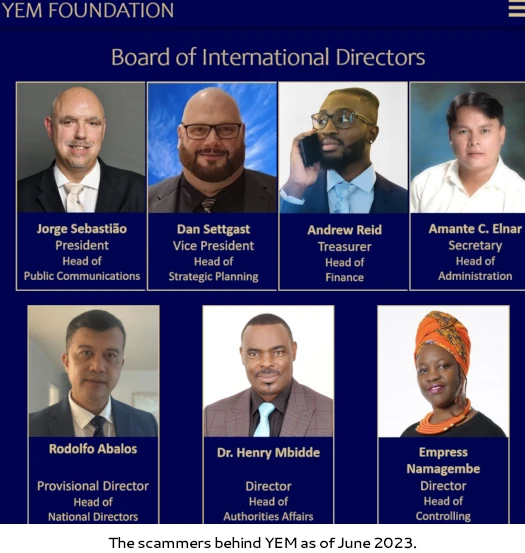 Jorge Sebastiao – President
Dan Settgast – Vice President
Andrew Reid – Treasurer
Amante C. Elnar – Secretary
Rodolfo Abalos – Provisional Director
Henry Mbidde – Director
Empress Namagembe – Director
Sebastiao and Settgast are in charge. Both appear to be hiding in Dubai, making YEM yet another Dubai-based scam.
On its website, YEM Foundation provides shell company details for a nonprofit registered in Nevada. YEM of course has no actual physical or business ties to the US.
Other shell companies and/or websites attached to YEM include:
YEMChain
Yem Exchange
Digital Wallet Center
Digital Exchange Center
Digital Assets Consulting
Paid with YEM
DigiRank Online
Bank Bene Merenti and
YEM Supporters Club
Traffic to YEM's various websites is negligible such that SimilarWeb doesn't provide geo information.
Evidently YEM is still being marketed in Austria though, prompting the FMA to take notice and issue a warning.