Malaysian police contacted about uFun Club on April 16th?!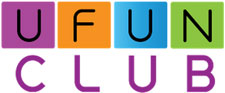 Despite being put on the Central Bank of Malaysia's blacklist last June, uFun Club has continued to flourish in Malaysia.
Local regulators and authorities have yet to take any action against the company, with officials as late as last Friday claiming they were yet to receive information from their Thai counterparts.
Police are still waiting for their Thai counterparts to contact them on investigations into a Malaysian businessman over alleged cheating cases involving more than 100,000 victims worldwide.

Bukit Aman Commercial Crime Investigations Department deputy director (intelligence and operations) Senior Asst Comm Datuk Jalil Hassan said Thai police had yet to contact his department for assistance in the case.
Now a leaked email has emerged, suggesting that Malaysian authorities were infact first contacted back on April 16th.
The email in question was published on the Facebook group 原来是这样, who go by the name "Justice Always Late" in English (not a literal translation), on the 21st of April.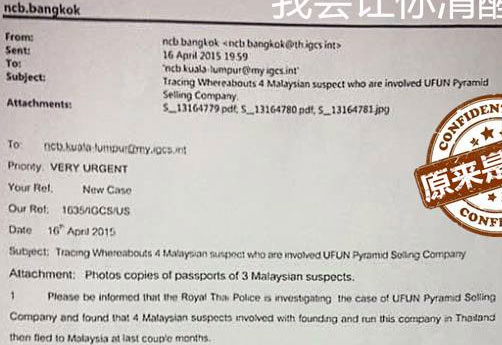 How Justice Always Late obtained a copy of the communication is unclear.
In any event, the email is headed "VERY URGENT" and appears to be a communication between NCB_Bangkok and NCB_KualaLumpur. These are the respective Interpol National Center Bureaus of Thailand and Malaysia respectively.
As per the Interpol website;
At the heart of every INTERPOL member country is a National Central Bureau (NCB), linking national police with our global network. It is typically a division of the national police agency or investigation service and serves as the contact point for all INTERPOL activities in the field.

Staffed by highly trained police officers, NCBs are the lifeblood of INTERPOL, contributing to our criminal databases and cooperating together on cross-border investigations, operations and arrests.
The email purportedly sent by NCB Thailand to NCB Malaysia on April 16th reads:
Subject: Tracing whereabouts 4 Malaysian suspect who are involved uFun Pyramid Selling Company

1. Please be informed that the Royal Thai Police is investigating the case of UFUN Pyramid Scheme Selling Company and found that 4 Malaysian suspects involved with founding and run this company in Thailand then fled to Malaysia at last couple months. (sic)

2. According to Thai laws … (the) accused 4 suspects committed by fraud with expressing a false statement and/or deception to the public for their own advantages which maximum imprison more than 3 years with the prescription (maximum?) of 15 years.

The investigation team found that 1 of the 4 suspects imposter Thai citizen by using Thai name and identity as Mr. Arthit Pankaew.

(We are) still investigating (his) true Malaysian identity.

3. We seek your kind assistance to trace whereabouts 3 suspects detail as follows:

Mr. Tay Kim Leng, Passport Number: (removed)
Mr. Lee Kuan Ming, Passport Number: (removed)
Mr. Wan Sing Hua, Passport Number: (removed)

4. All information that you provide will be the initiative investigation which will not be brought to the court.

In any further MLAT and diplomatic channel will contact directly through Office of the Attorney General.

5. Thank you for your kind attention. Your prompt reply will be greatly appreciated and please acknowledge receipt of this message.

Our best cooperation will be succeeded as cracking down Yun Shu Moa Ltd (YSLM) in Thailand.
Ten days after the above email was allegedly sent, Malaysian authorities are still playing dumb.
One possible reason is that the son of Malaysian Prime Minister Mohammad Najib Abdul Razak is directly involved in uFun Club.
Worse still, if Rodney Burton is to be believed, Prime Minster Najib himself might make an appearance at another uFun Club gala scheduled to take place at 4:30pm local Malaysian time.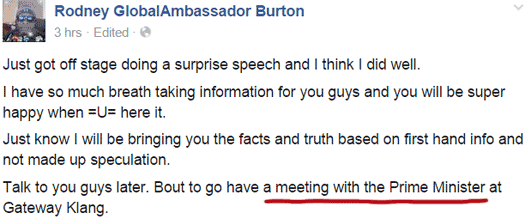 Burton is part of "uFun Club Dominators", the largest group of US-based uFun Club investors.
Needless to say the appearance of Prime Minister Najib at a uFun Club event would raise serious concern.
With unconfirmed reports that Malaysian police officers appear in early uFun Club investment promotions, once has to wonder just how far up the chain of command this $1.17 billion dollar Ponzi scheme goes.
The Malaysian police force, the government… where does it end?
As to the suspects NCB_Bangkok requested cooperation with, they remain at large.
Last night, Daniel Tay (Tay Kim Leung) was heralded as a VIP at a uFun Club Ponzi party in Kuala Lumpur:
Tay spoke on stage and posed for photographs with numerous uFun Club investors. Despite queries running through Interpol and arrest warrants issued, life is apparently pretty good for Ponzi scammers in Malaysia.
Meanwhile whether or not Interpol's NCB_KualaLumpur and Malaysian authorities get around to actually doing their jobs, remains to be seen.
Stay tuned for updates from the uFun Club Gateway Project event taking place tonight…
Update 26th April 2014 – A Thai news report has aired in the last few hours, during which Thai police can be seen holding up the leaked Interpol email.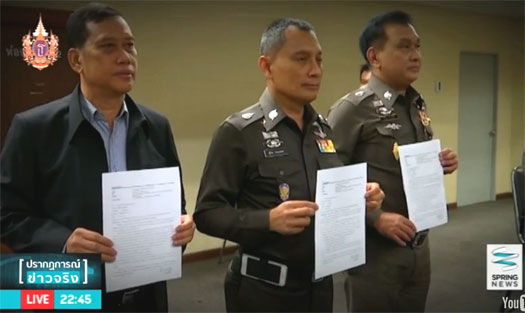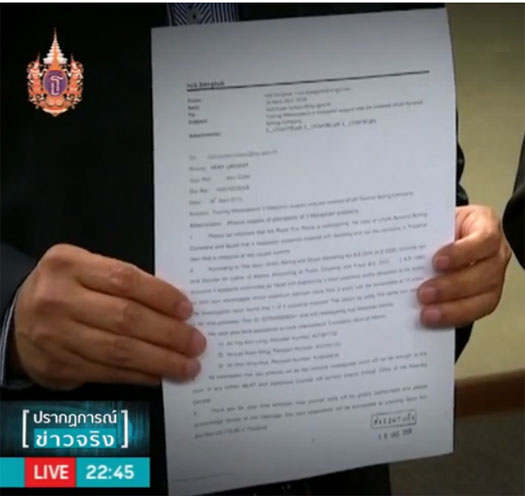 The second image is a closeup of the letter, which when compared to the Justice Always Late email appears to be identical.
I'm now officially treating the leaked Interpol email as legitimate.
Why Malaysian police have been lying about now having been contacted by Thai authorities, along with why they have not even begun to investigate uFun Club remains unanswered.