BC Academy: uFun Club gets another reboot?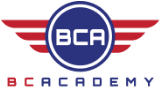 uFun Club was an MLM cryptocurrency scheme launched around 2012.
Under the pretense of offering the uToken cryptocurrency, uFun Club adopted the Ponzi points model pioneered by Zeek Rewards.
In April of 2015 Thai authorities shut the company down and began arresting uFun Club investors.
In an effort to salvage the scheme, uFun Club management fled to Malaysia and rebranded as Unascos.
Starved of new investment, Unascos didn't go anywhere and promptly collapsed.
Now, it appears uFun Club investors are being targeted in a third reincarnation of the scheme.
The BC Academy website oozes the vague familiarity of uFun Club and Unascos before it.
Through our team of qualified experts, BC Academy will source, examine and construct the investments to be presented to our subscribers.

We are constantly looking for precious metal companies that generate extensive economic profit and possess future trends.

Our vision is to become the 'Google' in the precious metal world and the world's biggest information gateways specialized in precious metal, particularly silver and related investment opportunities.
Who can forget the nickel mine nonsense uFun Club served up to its investors?
The BC Academy website domain ("bc.academy") was privately registered on December 12th, 2015. There is also no information about who is running the opportunity provided on the company website.
On the surface there doesn't appear to be any clear link with uFun Club or Unascos. Dig into how BC Academy is being marketed though, and reality becomes all too apparent.
On Facebook BC Academy affiliates are openly promoting the scheme as being "formerly known as Unascos".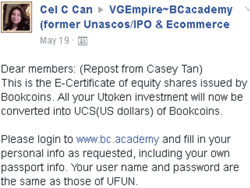 One particular investor, Cel C Can, published the following message on May 19th to the Facebook group "VGEmpire ~ BCAcademy (former Unascos IPO & Ecommerce)":
Dear Members (repost from Casey Tan),

This is the e-certificate of equity shares issued by Bookcoins.

All your uToken investment will now be converted into UCS (US dollars) of Bookcoins.

Please login and fill in your personal info as requested, including your own passport info.

Your username and password are the same as those of uFun.

The equity share certificates issued to you are legally prepared and valid. Each one will come with a private code number.

These certificates are evidence of your ownership in Bookcoins.

When Bookcoins gets listed on the New York Exchange in 2 or 3 years, they will be changed into shares and become tradeable in the secondary market.
Casey Tan was one of the few individuals who made money scamming people in uFun Club and then Unascos.
Bookcoins meanwhile looks like a direct reincarnation of uTokens, complete with a hilarious New York Stock Exchange sales pitch. It also explains the name of the company, B(ook)C(oins) Academy.
I suspect it won't be long before the inevitable comparisons to bitcoin emerge, followed with promises that Bookcoins is going to be the biggest cryptocurrency in the world.
Naturally the BC Academy website is devoid of any information about Bookcoins.
The company states only that
All of the investment opportunities are carefully examined in a stringent manner where their business model, legal and financial outlay will be intensively scrutinized.

We are closely aligned with our investors, and our performance is measured over the mid-long term.
Who is doing the purported examining is not disclosed.
The modus operandi as far as I can see is to preload BC Academy with as many uFun Club / uToken victims as they can, before unleashing it on the unsuspecting public.
This is pretty much how Unascos was supposed to work, but didn't.
Three Ponzi schemes in and you'd have to be a complete and utter idiot to invest, but that doesn't seem to faze the likes of Cel C Can and her VG Empire followers.
We'll keep you posted on any developments…