Rodrigues claims he's broke, then sells off luxury cars

Sann Rodrigues is currently sitting in jail because, among other things, he claims "an inability to pay" $474,503 in improperly transferred assets back to the SEC.
According to the SEC, Rodrigues has likely stashed millions of dollars overseas. Not only that, but over the past six months Rodrigues has continued to liquidate assets – even after the court had ordered him to pay back the SEC.
The regulators latest March 14th filing implicates Rodrigues' attorney, Robert Eckard.
Claim the SEC;
As of the filing of the Commission's motion for contempt, Rodrigues owned two cars, a 2008 Lamborghini Gallardo and a 2012 Fisker Karma.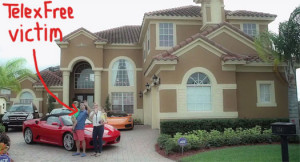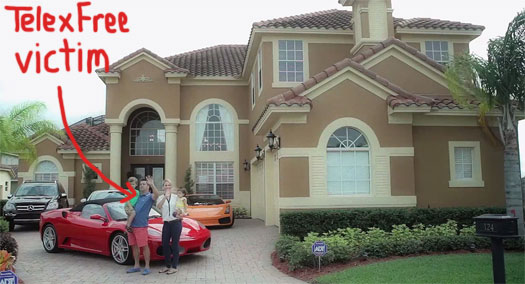 Prior to the SEC shutting it down, Rodrigues shamelessly used the two cars in his TelexFree promotions.
The image on the right is from one such clip, sourced from YouTube in 2014.
On or about August 25, 2015 – two weeks after the Commission filed its motion for Contempt – Rodrigues transferred the 2008 Lamborghini Gallardo to his attorney Robert Eckard.
Kelly Blue Book list a typical asking price for a 2008 Lamborghini Gallardo at $110,189.
The title reflects that the car was transferred for $30,000.
A few months earlier Rodrigues' buddy and fellow Ponzi scammer, Daniel Filho, paid $150,575 for the same car before transferring it to Rodrigues.
As for the 2008 Fisker Karma, Rodrigues transferred it to his attorney Robert Eckard on December 23, 2015 – two days after this Court ordered Rodrigues to pay back over $400,000.
Kelly Blue Book classifieds for a 2012 Fisker Karma peg the value of the car at between $44,977 and $69,900.
Rodrigues sold it off to his lawyer in December 2015 for just $20,000.
In April 2014 a third-party purchased the car for Rodrigues for $60,000.
Luxury cars being liquidated to lawyers for fire sale prices, and Rodrigues claiming he's broke? Yeah… something's going on here.
Rodrigues' transfers of those cars to his attorney may constitute a conflict pursuant to Massachusetts Rules of Professional Conduct 1.7 given that the client has been incarcerated for failure to comply with this Court's order to pay over $400,000 and part of his inability to pay may stem from the transfer of the cars to his attorney.
The SEC raised the issue with Rodrigues' attorney who, not surprisingly, 'indicated that he did not consider it a conflict'.
Rodrigues' motion requesting release from jail is currently before the court, with a hearing scheduled for March 17th.
Stay tuned…
Footnote: Our thanks to Don@ASDUpdates for providing a copy of the SEC's March 14th "Motion to Provide Further Information".
Update 18th March 2016 – Robert Eckard and Sann Rodrigues are apparently not too happy about having their dirty laundry aired.
A March 16th filing requesting the SEC's motion be stricken claims:
The Motion was filed just three (3) days prior to the scheduled hearing on Mr. Rodrigues' Motion for Release. As such, it fails to afford Mr. Rodrigues sufficient time to respond.

The Motion is improper as it is really nothing more than an improper additional response in opposition to the Motion for Release.

The Motion fails to comply with even the utmost basic procedural requirements of Federal Rules of Civil Procedure.

Some or all of the documents attached to the Motion were obtained pursuant to a subpoena duces tecum issued to the Florida Department of Motor Vehicles without prior notice to Mr. Rodrigues.
Regarding the issue of conflict;
Mr. Rodrigues desired to transfer the two (2) vehicles at issue to the undersigned in exchange for legal services.

Likewise, the undersigned's firm desired to provide legal services to Mr. Rodrigues in exchange for the two (2) vehicles since all of his assets are frozen and he has no available resources.

As such, the interests between Mr. Rodrigues and his counsel are closely aligned and certainly not in conflict.
So there you have it folks, absolutely kosher that you tell a court you're unable to pay off contempt proceedings, while selling luxury cars to your lawyer for fire-sale prices.
As an aside, Patrick Pretty got in touch with Eckard and was told:
"I did not pay anything for the vehicle, but was required to put an amount down for tax purposes, since it was not a gift," Eckard advised Gorton about the Lamborghini.

The Fisker Karma was accepted from Rodrigues as payment for legal fees and proved to be a lemon with bad electrical parts and bad tires, Eckard contended.
What, Eckard didn't inspect the cars before he accepted them? Rightio…