SEC think Rodrigues might have stashed millions overseas

A few days ago Sann Rodrigues filed a motion requesting he be released from jail. Late last year Rodrigues was found to be in contempt and is currently being held at Florida's Pinellas County Jail.
Rodrigues motion claims that it is impossible for him to pay the $474,503 he's accused of dissipating.
The SEC argue otherwise, with hints they suspect Rodrigues might have millions squirreled away overseas.
As per the SEC's February 18th filed objection, they claim "present inability to comply with a court order" as an affirmative defense sees the defendant bear the burden of production.
In other words, the defendant (Rodrigues in this case), would need to prove he it is impossible for him to come up with $474,503 given his present circumstances.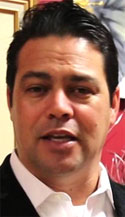 In his motion, Rodrigues (right) relies on his previously filed accounting with the SEC to meet this burden.
The SEC claim this accounting is "insufficient". The accounting is also unsworn, meaning it doesn't carry much legal weight.
Furthermore the SEC appear to suspect that Rodrigues' unsworn accounting is far from complete.
Although (the SEC) had received information regarding Rodrigues' domestic holdings, information had been lacking as to his international activity — activity outside the ambit of the asset freeze.
The SEC were well within their right to request a sworn revised accounting, but state they didn't in the interest of resolving the contempt issue, as directed by the court.
Now that the unsworn accounting has become a focal point for Rodrigues' release from prison, it's a different story.
Regardless of whether the SEC followed up on a sworn accounting statement from Rodrigues, they claim their
decision not to push for a sworn accounting does not relieve Rodrigues' burden to provide to this Court detailed sworn evidence that he has an inability to pay and thereby excuse his failure to purge his contempt.
Should the court agree, the SEC has requested an
evidentiary hearing at which Rodrigues, under oath provide evidence that he has an inability to comply with this Court's order and that he be subject to cross-examination to test the veracity of his claim.
While specifics aren't discussed, the SEC's investigations into Rodrigues continue.
After further investigation, it appears that Rodrigues may have earned more than $5.4 million from his TelexFree conduct, which is far in excess to amounts frozen by this Court's Asset Freeze Order.
A supportive declaration by an SEC Forensic Accountant goes into further detail;
I was asked to review certain documents, including bank statements, bank transaction documents, and bank wire transfer records concerning personal and business accounts under the control of Rodrigues, as well as bank accounts belonging to (TelexFree).

The bank records reflect that, from October 2012 through April 2014, business or personal accounts under the control of Rodrigues likely received more than $1.51 million from TelexFree or its investors.

Based on our communications with Mr. Rodrigues, it is our understanding that he had no other source of income during this time period other than TelexFree-related activity.

There was an additional $3.92 million in cash deposits made into Mr. Rodrigues' personal and business accounts over this time period.

Assuming all of those deposits were related to TelexFree, the total amount of Mr. Rodrigues' earnings from Telexfree could be as
high as $5.44 million.
Rodrigues maintains he only made $1.3 million through TelexFree – and points out in his defense that the court has already frozen more than that amount.
In 2013 Rodrigues publicly claimed to have made over three million dollars in the scheme.
The current status of Rodrigues' millions is unknown. The SEC, for their part, believe a cross-examination under oath might get to the bottom of things.
Failing which, the regulator has asked that, if Rodrigues' 20% payment plan is approved, that the percentage he's required to pay back to purge his contempt be increased to at least 50%.
A decision on the matter now rests with the court. Stay tuned…
Footnote: Our thanks to Don@ASDUpdates for providing a copy of the SEC's Opposition to Sann Rodrigues' "Motion For Release of Custody", filed February 18th, 2016.