Sann Rodrigues wants out of jail, offered truck admin job

Incarcerated for contempt, Sann Rodrigues has spent the past twenty-seven days as an inmate at Pinellas County Jail.
Entirely his own doing, nonetheless Rodrigues appears to be desperate to get out.
How desperate?
The latest filing by Rodrigues suggests the former Ferrari owner is entertaining working at a trucking company.
At the root of Rodrigues' filing is the claim that it's "impossible" for him to pay the SEC $474,503.
The sum was arrived at following Rodrigues repeated failings to satisfy a contempt filing by the SEC last year.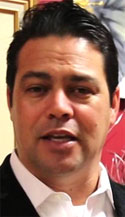 The problem for Rodrigues (right) isn't so much that he doesn't have the money, it's that his assets are frozen as part of the SEC's TelexFree case.
He has also recently been unable to obtain work due to a separate visa fraud case filed against him by the DOJ.
The visa criminal proceedings has seen Rodrigues under home incarceration since July 2015.
Due to the dire financial circumstances of Mr. Rodrigues, he has been relying on the modest gifts and loans from friends and family members since approximately June, 2015 to support himself, his wife, and his two minor children who are both under the age of 6.

Notwithstanding these contributions, many of the household bill are past due.
So where to from here?
In an effort to satisfy his obligations under the Purge Order, Mr. Rodrigues has received a job offer from a trucking company in Tampa, FL that will enable him to begin making monthly payments to the Securities and Exchange Commission conditioned upon his release from incarceration.

In addition, all he has been able to borrow is $5000.00 from a friend to contribute towards the amounts owed pursuant to the Purge Order.
Rodrigues' friend is Norberto Rey, apparently the only person Rodrigues knows who is still willing to loan him money.
Mr. Rodrigues has been avidly working on securing funds to pay the Purge Amount.

He has contacted several family members and friends in an attempt to borrow money from them to use to pay off this debt.

Out of all of the people contacted, he has been able to obtain a loan from Mr. Norberto Rey.

Mr. Rodrigues has not been able to find any other person to loan or give him money to contribute towards the Purge Amount.
Rey was a TelexFree investor, with bankruptcy filings from April 2014 revealing a debtor claim for $374,237. How much Rey made in TelexFree is unclear.
Rey claims that he first approached his bank to secure a $5000 loan against his home but was denied.
As per a supporting declaration to Rodrigues' filing, Rey states:
I had to borrow this money from a business associate of mine and pledged the title to a truck as collateral.
Rey claims to have a "close relationship" with Rodrigues and is also behind the trucking position.
Mr. Rodrigues has been offered a job by an acquaintance of his, Mr. Norberto Rey, to serve as the Supervisor and Dispatch Control for Mr. Rey's trucking company, located in Tampa, FL.

This position would pay Mr. Rodrigues an average of three thousand nine hundred dollars ($3,900.00) per month gross, which is payable weekly at a rate of nine hundred dollars ($900.00).

The United States Assistant United States' Attorney assigned to the Criminal Case, Mr. Cory Flashner, Esq., does not oppose Mr. Rodrigues working outside of his home and traveling to and from work for employment purposes unrelated to the Telexfree litigation.
Not that there's anything wrong with trucking work, but it's a far cry from Rodrigues' heyday of flying around the world to pitch various scams to gullible investors.
Oh and if you're wondering whether Rodrigues working at a trucking supervisor means his plans to be the next Tony Robbins are on hold, think again.
Mr. Rodrigues has written a book and is in the process of creating a business development course which he intends to sell.

Twenty percent (20%) of any proceeds generated from the sale of these materials would also be paid to the SEC towards the Purge Amount.
I thought that idea was already shot down, but Rodrigues apparently still thinks he's a go-to guy for business development.
The interests of justice are best served by releasing Mr. Rodrigues so that he can earn an income to support his family and to satisfy his obligations pursuant to the Purge Order.

Otherwise, should Mr. Rodrigues remain in custody, this employment income will not be available and no legitimate purpose of civil contempt is furthered.

Because Mr. Rodrigues does not have the ability to pay the amount required by the
Purge Order under his current circumstances, the remedial and coercive purposes of incarcerating Mr. Rodrigues are not being furthered.

Therefore, Mr. Rodrigues should be released from custody.
Rodrigues' filing was made yesterday, with the SEC yet to respond.
Stay tuned…
Footnote: Our thanks to Don@ASDUpdates for providing a copy of Rodrigues' February 15th "Motion For Release From Custody" filing.