Dept of Homeland Security raid TelexFree office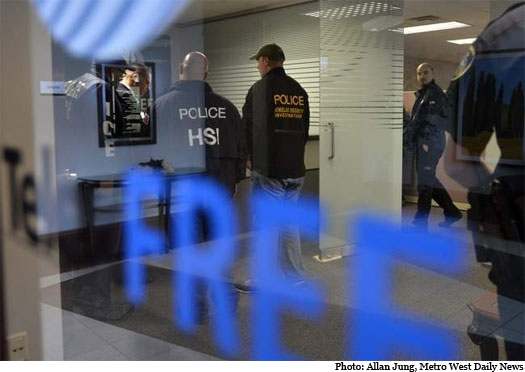 Over the past twenty-four hours I've been seeing a lot of genuine concerns raised by TelexFree affiliates being answered with the proclamation that tommorow April the 17th, the company will be given permission to restart business operations.
Mostly pushed by Portuguese speaking TelexFree affiliates, social media related to TelexFree has been flooded with claims like this:
Santiago D Apostle: the motion for Chapter 11 bankruptcy is approved… and the company is given the chance to reorganize and restructure inspite of the SECs complaint filed against TelexFREE.
The root of the blatant misrepresentation of what was actually granted is an order granting TelexFree a "shortened time" to hear their "first day motions and applications" in the case. The hearing has been scheduled for April 17th at 1:30pm, with the order signed off on by Judge August B. Landis.
The problem?
All signs point to the Massachusetts Securities Division stopping the application dead in its tracks.
Our first indication that the Securities Division were going to intervene was revealed in the Division's complaint against TelexFree, filed on April 15th.
In their complaint, the Securities Division make it clear that they are fully aware of TelexFree's Chapter 11 bankruptcy shenanigans:
Recently on March 9, 2014, TelexFree made several changes to its wildly popular passive income scheme.

Not only is it now more difficult to withdraw money from TelexFree, (but) TelexFree has switched its compensation plan from one that pays participants in dollars to one that operates on TelexFree "credits". These credits appear to be nothing more than IOUs.

To this end, on April 14, 2014, TelexFree filed for Chapter 11 bankruptcy protection in Nevada.
After the Securities Division complaint was filed, it wasn't long before the legal strategy behind TelexFree's Chapter 11 application was also revealed:
The secretary of state's efforts to protect investor assets could be limited by the bankruptcy filing.

"They clearly are responding to the fact that an investigation was underway,'' Galvin said in an interview. "Now the thing is to act promptly and get whatever we can for these people.''
Reading between the lines, Galvin's office were going to do whatever it took to put a stop to TelexFree trying to protect themselves by applying for protections only made available to legitimate companies.
One of the additional concerns is that TelexFree had fluffed the included top 30 creditor list in their bankruptcy application, with "relatives, wives and friends of Telexfree" management.
Jozelia Sangali, the top creditor listed in TelexFree's bankruptcy application, is owed $1.3 million USD. Sangali also just happens to be TelexFree owner Carlos Costa's wife.
Not surprisingly, later that afternoon the Department of Justice busted down TelexFree's doors and conducted a raid. It was around this time that the TelexFree website went offline.
Turns out TelexFree plans to weasel out of their liabilities through bankruptcy protection required earlier than anticipated action had to be taken against the company.
TelexFREE became the subject of Galvin's investigation several months ago, he said, adding, "we've been suspicious from the beginning" that the company was a Ponzi scheme.

During its investigation, the secretary's office became aware of the separate federal investigations of the company. Those agencies requested Galvin not file a complaint, he said, "because they were worried about asset protection."

But when state investigators learned on Monday of the company's filing for Chapter 11 protection in the U.S. Bankruptcy Court for the District of Nevada, Galvin said "any concern about freezing the assets was gone."

"We felt we had to act," he said, to begin securing any assets the company still had and try to stop more customers from signing up with the company.
And there you have it. Homeland Security raided TelexFree's office and the rest is history.
Whether or not the SEC will still lodge their own complaint remains to be seen. Nor is it clear what the role of the Department of Homeland's Security is in all of this.
The Securities and Exchange Commission, following its protocol, on Tuesday would neither confirm nor deny it is investigating the company. A call to the U.S. Attorney's Boston office was not returned before the Daily News' deadline.

Homeland Security Investigations, which is a division of U.S. Immigration and Customs Enforcement, also could not be reached. Agents at TelexFREE's Marlborough offices on Tuesday afternoon would not offer comment.
Meanwhile it would appear TelexFree management have gone into hiding:
(On) Tuesday afternoon, Homeland Security Investigations special agents were searching the company's 225 Cedar Hill St. offices and, according to a Marlborough police officer standing guard at the door, there were no TelexFREE representatives inside.
Yesterday Steve Labriola vowed to appear daily on a TelexFree conference call, in an attempt to keep affiliates up to date. In light of the Department of Homeland Security's raid, whether or not he holds a call this evening remains to be seen.
In light of the raids, TelexFree's bankruptcy hearing tomorrow would appear to be a total waste of time. If it goes ahead, it's pretty much guaranteed that someone from either Homeland Security or the Massachusetts Securities Division will rock up to spoil the party.
Update 17th April 2014 – The Boston Globe are reporting that the FBI were also involved in the Homeland Security raid this morning.
Federal agents from the FBI and Homeland Security have raided the Marlborough headquarters of TelexFree Inc. in the intensifying investigation of an alleged billion-dollar scheme that has the potential to rank among the largest international financial frauds.

Federal agents acting on a search warrant combed the TelexFree office on Tuesday, the Department of Justice said.
As with the other agencies involved, no word on the specifics of the FBI investigation.
Additional food for thought:
TelexFree drew people in by the thousands with the allure of easy profits based on a business that seemed plausible to many: Internet phone service that provided for inexpensive international calls. The company appears to have preyed on a hard-working immigrant culture of saving money and staying in touch with family from their home countries.

Panicked investors e-mailed The Boston Globe this week from Ecuador, Spain, the Netherlands and South Africa, and from all over Massachusetts and several US states. Radio stations that carry Portuguese broadcasts in the Boston area were flooded with calls from listeners who lost their life savings with TelexFree.
TelexFree – Changing lives.