Changes Worldwide Review: $25,000 revenue sharing

There is no information on the Changes Worldwide website indicating who owns or runs the business. On the Changes Worldwide Facebook page a corporate address in the US state of Florida is provided, indicating this is where the company is based.
The Changes Worldwide website domain ("changesworldwide.net") was registered on the 12th of September 2013 and lists a "Timothy Baggett" as the owner. On his LinkedIn profile, Baggett credits himself as the CEO of Changes Worldwide:

On his blog called "The Turn-Key System", Baggett provides a brief history of his MLM experience: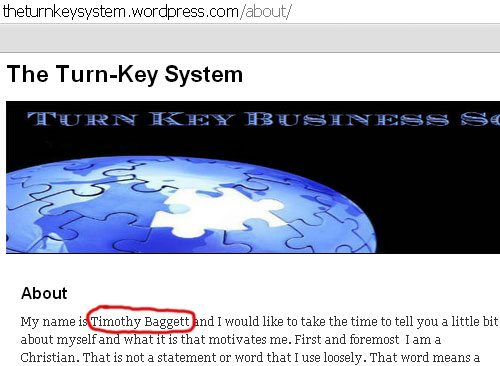 My name is Tim and I am A MLM junkie. It seems like I have tried every MLM program from this planet (and some beyond) every time absolutely sure that I was on to something big.

I would join. jump in with both feet and try to get everybody and their grandma to join the "NEXT BIG THING."

Yea, I was that guy that everyone ran from at family reunions (weddings, banquets, sporting events, funerals….ect) and what was so bad is my enthusiasm attracted people to my business opportunity the first 3 or 4 times but after the 17th, well you get the picture.
Circa 2010 Baggett was an affiliate with Lightyear Wireless, regularly appearing in the company's top ten "sales performers" lists.
When Baggett left Lightyear Wireless is unclear, but he published an article on IBOSocial back in March of this year titled "10 Reasons I Joined Bids That Give".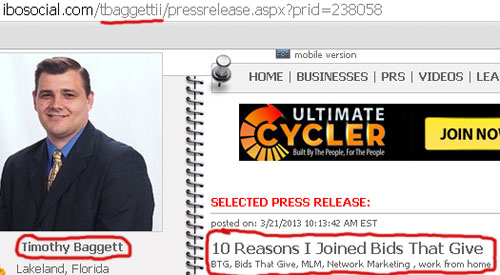 Bids That Give (now BTG180) is modelled on the Zeek Rewards Ponzi points compensation plan. In addition to the standard affiliate-funded revenue sharing and penny auction platform combination, Bids That Give added a charity element to the business model.
In his article Baggett writes
With BTG there are no selling or recruiting requirements, we are not a pyramid.
Of additional note is the involvement of Wayne Caraway, who credits himself as Changes Worldwide's Chief Operating Officer on his Facebook profile: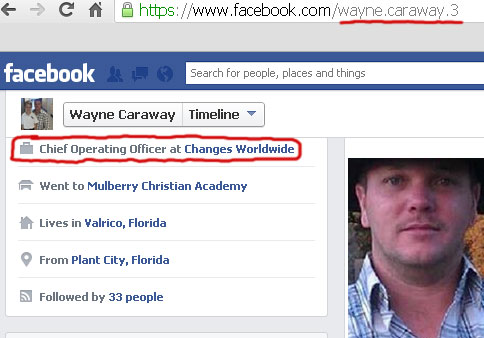 Caraway was also previously involved in Bids That Give, and in a blog post titled "Bids that give review (why I chose BTG)" shares his experience with the company:

It came as a shock to a lot of people when I decided to give up traditional network marketing and join a new business.

I'm not bragging but many different reps from many different companies had been trying to recruit me for a long time with no success, the one thing that seemed to be common knowledge was, Wayne wouldn't move.

So why did I decide to jump ship?

It's really quite simple……… The Money!

Though I had done well, recruited quite a few reps and was happy with the paycheck, I got introduced to a concept that totally changed my way of thinking.

Private revenue sharing and daily pay!

You get rewarded or paid for recruiting others into the business…I can make money two ways with BTG by recruiting a ton of reps which I think is smart and all affiliates should be doing it. Or I can just recruit two, purchase some wholesale bids and take part in the daily payout,

Some have compared Bids that give to Zeek rewards and have concerns that the FTC will close Bids that give down.

Lets talk about that for a minute. yes Zeek turned out to be an illegal business but…BTG has made the necessary changes to the comp plan to not only make it stronger but to make it legal. Everything has been submitted to the FTC.

The reason I got involved in the home based business arena wasn't for the products or perks, it was for the money. So to reiterate why I chose to join BTG…….ITS THE MONEY!!!!
Whether or not Baggett and Caraway are still actively involved in Bids That Give is unclear.
Read on for a full review of the Changes Worldwide MLM business opportunity.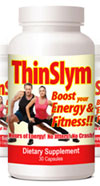 The Changes WorldWide Product Line
Described as "finally a product that works" on the Changes Worldwide website, Thin Slym is a dietary supplement that's advertised to "boost your energy and fitness".
Thin Slym contains vitamin B12, Chromium, Dicaffeine Malate, Coleus Forskohlii Root Extract, Irvingia gabonensis seed extract and raspberry ketones.
Thin Slym comes in capsule supply and is sold at $69.95 for a one month supply.
The Changes WorldWide Compensation Plan
The Changes WorldWide compensation plan primarily revolves around affiliates depositing money into the business on the expectation of a 24 month >100% ROI.
Commissions are also paid on the sale of the Thin Slym product and monthly affiliate membership fees.
Product Commissions
Changes Worldwide offer a flat 15% commission on the sale of their Thin Slym product.
Matrix Commissions
Changes Worldwide pay out commissions on monthly affiliate membership fees using a 3×5 matrix. A 3×5 matrix places an affiliate at the top of the matrix, with three positions directly under them (level 1).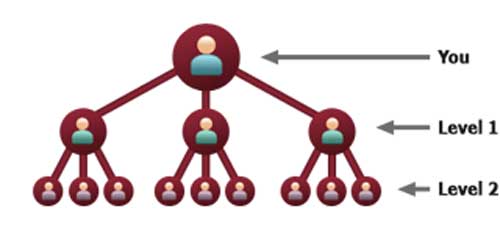 Each of these first three positions branches out into three additional positions each (level 2) and so on and so forth down a total of five levels.
Positions in the matrix represent recruited fee paying affiliates, with recruitment of said affiliates either occurring directly or via the recruiting efforts of an affiliates up and downlines.
Each month when affiliate membership fees are paid, Changes Worldwide pay out a percentage of the fees via matrix commissions. How much of a percentage is paid out is determined by how much an affiliate themselves pays in membership fees.
Bronze Membership ($50) –
levels 1 to 4 – 1%
level 5 – 5%
Silver Membership ($100) –
levels 1 and 2 – 1%
levels 3 and 4 – 2%
level 5 – 5%
Gold Membership ($250) –
levels 1 and 2 – 2%
levels 3 and 4 – 3%
level 5 – 10%
Note that in order to qualify for matrix commissions, a WorldWide Changes affiliate must personally recruit at least two new affiliates.
A 50% matching bonus is also offered on the matrix earnings of all personally recruited affiliates.
Recruiter Pool
5% of the affiliate membership fees paid by WorldWide Changes each month are put into what they call the Recruiter Pool.
Affiliates can earn shares in the Recruiter Pool via the recruitment of Gold fee paying affiliates. For every five new Gold fee paying affiliates recruited in any given month, an affiliate earns a single share in that month's Recruiter Pool.
Note that qualification in the Recruiter Pool is based on an ongoing requirement that resets monthly.
Subscription Volume Pools
Each month WorldWide Changes takes 25% of the membership fees paid by affiliates and puts it in five Subscription Volume Pools (5% each pool).
Shares are allocated in the pools equally amongst qualifying affiliates, subject to the following criteria:
Starter (5%) – $10,000 monthly sales volume from recruited affiliate membership fees
Grand (5%) – $50,000 monthly sales volume from recruited affiliate membership fees
Royal (5%) – $250,000 monthly sales volume from recruited affiliate membership fees
Imperial (5%) – $500,000 monthly sales volume from recruited affiliate membership fees
Pinnacle (5%) – $1,000,000 monthly sales volume from recruited affiliate membership fees
In order to qualify for any payments via the above pools, an affiliate must personally recruit at least three Gold fee paying affiliates. Also note that no more than 50% of the counted sales volume in the above criteria can come from any one individual recruitment line.
A $600 monthly Car Bonus is also offered at the Grand level and above (payable as $300 if an affiliate does not want to put it towards a car).
Finally, Imperial affiliates are also given a "brand new Mercedes".
Promo Pack Revenue Sharing
Changes Worldwide allow affiliates to deposit sums of $250, $1000, $5,000, $10,000 or $25,000 in exchange for points in a revenue-sharing pool. Points are exchanged at a rate of one dollar deposited being equal to one point.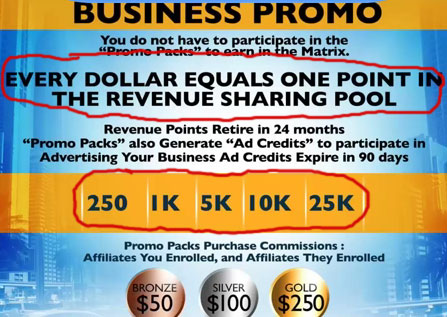 As above, advertising credits are also bundled with each deposit made, which appear to be tied into company-run "phonerooms" that advertise the Changes Worldwide business opportunity.
Purchased revenue sharing points generate a daily ROI (paid monthly), expiring after 24 months.
In addition to requiring revenue sharing points to receive a daily ROI, Changes Worldwide affiliates also need to recruit at least two affiliates to qualify for ROIs via the Promo Pack Revenue Sharing Pool.
Finally a 10% referral commission is paid out on money deposited by personally recruited affiliates (level 1), and a 5% commission on money their recruited affiliates deposit (level 2).
Joining Changes Worldwide
Affiliate membership to Changes Worldwide is available at three price-points:
Bronze – $50
Silver – $100
Gold – $250
Conclusion
We've all heard that "it's all about the product" or "Find a product or cause you can be passionate about and success will be sure to follow". Well I disagree.

The reason I got involved in the home based business arena wasn't for the products or perks, it was for the money.

-Wayne Caraway, Chief Operating Officer of Changes Worldwide
With the above quote in mind and past involvement of both Timothy Baggett and Wayne Caraway in Zeek'esque Ponzi points businesses, it's easy to see where the idea behind Changes Worldwide originated from.
The 15% commission on the sale of Thin Slym capsules is noteworthy, however it's completely undermined by the abundance of red flags present in the rest of Changes Worldwide's compensation plan.
The matrix commissions and recruitment pool are straight up pyramid scheme territory. Affiliates pay a fee and that fee is recycled and paid out to those affiliate's who have the largest recruited downlines.
Furthermore the more an affiliate pays in fees, the more they stand to earn off recruited affiliates, which introduces a "pay to play" aspect to the business.
Meanwhile the revenue-sharing component of Changes Worldwide is the now familiar Ponzi business model, offered under the facade of promised retail activity.
Grand promises of "up to 50%" of the retail revenue from the sale of not-yet-released wireless services, "penny barrel auctions" and sports nutrition products are made, however the reality is that we're looking at yet another affiliate-funded investment scheme.
Here's a detailed breakdown.
Affiliates make $250, $1000, $5000, $10,000 or $25,000 investments in "points", made under the guise of "promo pack" purchases and on the expectation that they'll be paid a >100% ROI over 24 months (the lifetime of said points).
Where does this monthly ROI come from?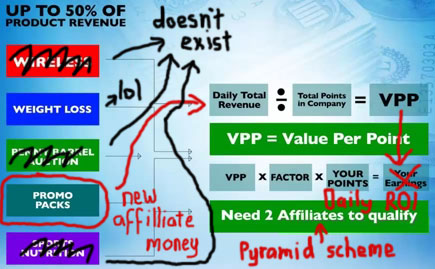 Forget about the promised retail activity, which every revenue-sharing MLM company to date has failed to deliver, it comes from none other than newly invested money (promo pack "purchases").
Naturally Changes Worldwide will claim there's no guaranteed daily ROI yada yada yada but affiliates are clearly dropping thousands of dollars in points on an implied >100% ROI.
Oh and they'll even pay you out a greater percentage each day if you promise to repurchase (reinvest), spend $50 a month or more on Thin Slym or pay an additional $29.99 monthly "marketing system" fee.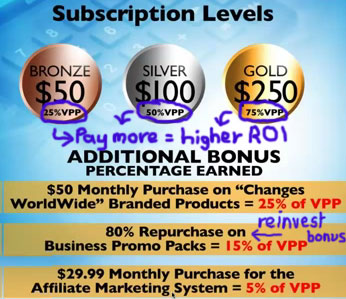 Changes Worldwide's response to what is obviously revealed to be a ressurection of Zeek Rewards' Ponzi points business model?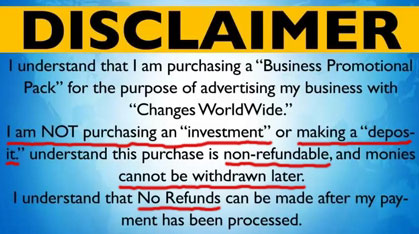 "We are not a Ponzi scheme if we don't mention the word investment".
The real take-away from that disclaimer is the "no refunds" refund policy. The reason Changes Worldwide can't offer refunds is because they use it to pay out existing affiliate investors (as per the revenue flow chart above).
In coming over from Bids That Give and who knows what else before that (perhaps even Zeek Rewards itself), it seems the only thing Baggett and Caraway have learnt is to minimise corporate financial liability (or should I say responsibility) on their end.
Whereas it's typical in Ponzi points schemes to pay out virtual ROIs daily, with Changes Worldwide they are still calculated daily but are instead paid out monthly.
The 24 month point expiration also draws out the ROI process, giving Changes Worldwide plenty of wiggle-room and notice on the back-end if there isn't enough new money coming in to sustain >100% ROIs over a rolling 24 month period.
And then that's even if they wind up lasting 24 months to begin with. Zeek Rewards, the $600M Ponzi points model pioneer company launched in January 2011 and was shutdown by the SEC in August 2012 – marking 19 months of operation.
Not to mention that at the time the SEC shut them down Zeek Rewards was one or two months at best from having to pay out more money each month than was being invested.
If Changes Worldwide relives the Zeek Rewards Ponzi glory, and that' s a pretty big if, the company can front-loading the daily ROI in their first few months to get their early investors over the 100% ROI line. But then that leaves little prospect for the long-term, as inevitably the daily ROI percentage has to drop and screw over later investors and those re-investing.
Reinvestment will only compound the problem (no pun intended), attracting exponentially insane liabilities owed to affiliates well before twenty-four months is up on the original points affiliates invest in.
Long story short, good luck trying to convince the SEC your affiliates are dropping $25,000 a piece on "phoneroom" advertising credits. You're definitely going to need it guys.