Affidavit outs Daniil Shoyfer as serial Ponzi pimp

Following the granting of a new Temporary Restraining Order that included Daniil Shoyfer, Shoyfer filed an objection against the granting of a preliminary injunction.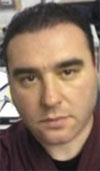 Equating the plaintiffs to "thieves in the night", Shoyfer (right) asserts they
have offered not a single document, not a single affidavit and, indeed, not a single supported allegation which would justify the drastic and extraordinary relief requested.
Leave alone the question that if that were the case, a TRO likely wouldn't have been granted in the first place, Shoyfer's paints the picture of a family man deprived of any means to support his family.
If the Plaintiffs' requested injunction is allowed, Mr. Shoyfer – who is the father of four children who receive support from him (including a one month-old infant) – will be unable to pay his mortgage, feed and clothe his family, or provide for any of the basic necessities of daily life.
Via a previously filed affidavit, Shoyfer has asserted he 'had no knowledge that TelexFree was engaging in any unlawful, unfair or improper practices'.
So, innocent family man who was taken for a ride, or top Ponzi investor who knew exactly what he was doing and scammed those he recruited for hundreds of thousands of dollars?
Subsequently filed affidavits in response to Shoyfer's objection paint a very different picture of his involvement in TelexFree.
Igor Joseph Shikhman was a TelexFree investor in Daniil Shoyfer's TelexFree downline.
Shikhman is a licensed real estate professional and claims to have "extensively researched" Shoyfer's real-estate holdings.
The holdings are a point of contention between the two parties, with Shoyfer insisting his real-estate assets were either purchased prior to his involvement with TelexFree, or with funds unrelated to the $3 billion dollar Ponzi scheme.
According to Shikhman however,
Shoyfer id not own the many properties he now owns prior to his involvement in TelexFree.

I also believe that, since TelexFree's collapse, he has transferred properties he owns into the name of his mother and other family members.

My inquiries continue.
In his own affidavit, Shoyfer contents that the money used to purchase the properties he owns was with
money that I made after working myself up from nothing, including after living in my mother's apartment with my wife and child in order to save money.

None of the money I ever made from TelexFreewas ever used to purchase any of the investment properties I own.
Counters Shikhman;
Before his involvement in TelexFree, Shoyfer was an occupational therapist operating out of a small rental office (in) New York.

I point to the fact he did not hit the lottery or make enough to buy all that he owns operating his occupational therapist practice.

On at least one occasion, Shoyfer boasted that he had "never made so much money" as an occupational therapist, in comparison to his earnings in TelexFree.

With his ill-gotten gains, Shoyfer has purchased properties in New York and Florida, including a large gated estate on Staten Island.
Shoyfer appears to have been a top US TelexFree investor, with management publicly declaring him 'the number one recruiter in New York' in January 2014.
In March 2014, Shoyfer purportedly boasted he'd recruited "900 people in 10 days".
Shoyfer routinely bombarded his downline with TelexFree marketing material, right up until the scheme's collapse in April.
Perhaps the most damning aspect of Shikhman's affidavit however, is the revelation that Shoyfer is also a My Advertising Pays investor.
For those unfamiliar with the opportunity, My Advertising Pays is a Ponzi scheme that advertised $60 ROIs on $49.99 investments.
Amid a suspected US regulatory investigation, last October My Advertising Pays announced they were terminating their US business operations.
According to Simon Stepsys (the top My Advertising Pays investor), Shoyfer began investing in My Advertising Pays in May 2014, barely a month after TelexFree's collapse.
Daniil Shoyfer – From New York I'm just getting to know Daniil, he sent me a message on Facebook announcing that he reached the Magic 1200 DIAMOND level, I never even heard of this guy!

He Got Started in May 2014 with a purchase of 177 Credit Packs & hit the 1200 on December 6th 2014!

It just goes to show there are members working OBSESSIVELY behind the scenes in their pursuit of the magic 1200!

Also he just announced to me that he has now bought his DREAM Car a Brand NEW AMG S550 Mercedes Benz! RESPECT Daniil! MAPS IS WHAT DREAMS ARE MADE FOR! THIS IS JUST THE START!
An initial investment of "177 credit packs" equates to Shoyfer investing approximately $8,848 into the scheme.
Hitting 1200 packs by December 2014 represents an accumulated investment of $59,988.
Daniil Shoyfer's involvement in My Advertising Pays is significant for two reasons.
The first is obvious: My Advertising Pays is a Ponzi scheme.
There is no way known Shoyfer can claim with a straight face he didn't understand TelexFree to be a Ponzi scheme, with his signing up and investing in yet another Ponzi scheme not even a month after TelexFree collapsed.
The SEC filed their pyramid scheme lawsuit against TelexFree on April 18th, in which they painstakingly laid out TelexFree's Ponzi nature.
Shoyfer doesn't have a leg to stand on with his pleading of ignorance.
The second is that is highly probably Shoyfer has laundered a substantial amount of his TelexFree winnings through My Advertising Pays.
Those funds are ultimately going to have to be paid back, which introduces a nightmare of logistical complexity (the repatriation of funds from one scam through another, which likely uses offshore bank accounts).
The overall complexity of the issues at play here saw Judge Hillman take the matter under advisement, following a preliminary injunction hearing on January 26th.
The way I see it Shoyfer is misleading the court by downplaying his role in TelexFree, which lead to the fleecing of thousands of dollars from victims in his downline.
Ultimately through clawback litigation Shoyfer is screwed anyway, but I do think additional sanctions are warranted here due to the absolute rubbish he's trying to pull.
We'll have a followup on the fate of Shoyfer once Judge Hillman makes a ruling on the matter.
Footnote: Our thanks to Don@ASDUpdates for providing a copy of Igor Joseph Shikhman's affidavit, filed on January 26th, 2016.
Update 4th February 2016 – The TRO has been temporarily extended, with Shoyfer's Motion for Reconsideration regarding the granting of the TRO denied.
The TRO has since been amended to exclude all but Daniil Shoyfer and Scott Miller, on the grounds the others are already subject to a preliminary injunction in the SEC case.
Following the hearing on the 25th of January, Plaintiffs were given until February 4th to provide 'argument and authority for the granting of a preliminary injunction'.
The TRO extension expires at 5pm on February 5th, with a decision regarding the injunction expected by then.
Update 6th February 2016 – Plaintiffs have filed a Supplemental Memorandum as directed by the court.
Judge Hillman subsequently issued the following order on February 4th:
The Court needs to review the Plaintiff's filing and take other steps necessary to rendera decision on whether preliminary injunctive relief is warranted.

The Court's ability to timely render that decision may be hindered by the forecast of a potential significant amount of snow in the Worcester County area overnight into mid-afternoon on Friday, February 5th.

For these reasons, the Court finds that good cause exists to extend the TRO, as modified, as to the Individual Defendants until Monday, February 8th, 2016 at 5:00pm.
Pending any further extensions, a decision on the preliminary injunction is now expected on Monday.
Update 14th February 2016 – On February 12th, Judge Hillman granted a preliminary injunction against Daniil Shoyfer and Scott Miller.
Update 20th June 2021 – Daniil Shoyfer has been dismissed from the TelexFree class-action.