Polaris Global co-founder starts up zero cost blog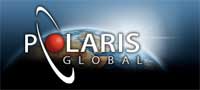 You're the co-founder of a well known company that operates in an industry that allegedly generates nineteen billion dollars annually. Your face is the face of your company and being a co-founder your online web presence is inadvertently linked to that of your company.
In business confidence is everything. If people don't have confidence in you then no matter how good your product is or how well you market it you're just not going to succeed.
A primary indicator of confidence in a business sense is the financial success of a company. Why oh why then as the co-founder of a company would you go and start a blog hosted on a free hosting platform?
Is business really that bad?
Don't get me wrong, I've got nothing against WordPress free hosting, it's a great tool for what it is but it's hardly appropriate to run a blog representing a business off of.
Running a business blog off a free blog hosting platform is the same as having a Yahoo, Gmail or Hotmail email account for business enquiries. It certainly doesn't instill any level of confidence from a consumer or potential distributor perspective.
Inexplicably however this is exactly what Polaris Global co-founder Rachel Oliver has gone and done.
In addition to publishing on the Polaris Global Corporate blog, Oliver started up a free WordPress hosted blog titled 'Rachel Oliver Polaris Global' a few weeks ago.
With two previously started blogs on the free WordPress platform shut down for violating WordPress' terms of service (Rhamnousia's 'Polaris Global Marketing Scam' and then Jen's 'Polaris Global'), I was tempted to call shenanigans when I first saw Rachel Oliver Polaris Global. Having had a quick look at the content though it does appear to be legit. This is pretty much confirmed by the cross linking between the Polaris Global corporate blog and Rachel Oliver Polaris Global.
With a domain and blog hosting costing less then US $10 a month I'm at a loss why Oliver has taken it upon herself to use free hosting to publish under Polaris Global and her own name.
The idea behind this post isn't to rubbish her or her efforts but rather to perhaps to point her in the right direction. Although why I'm giving basic online business advice to someone who at one time was responsible for 80% of Polaris Global's revenue I've got no idea.
Surely avoiding using free hosting platforms to represent your business is something you'd have learnt along the way?
In any event at the time of publication racheloliver.com is gone but racheloliverpolarisglobal.com is still available. With WordPress allowing the exporting and importing of content it's never too late to self host your own blog.
How's about it Rachel?