Brent Payne outsourcing CompanyNameTBA to Tyler Hurst?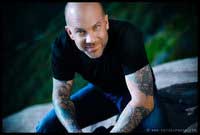 Brent Payne is one of the co-founders of the now defunct Liberty League International. In 2009 Payne abruptly left Liberty League and to date an official reason has never surfaced. Whatever the reason was for Payne's departure from Liberty League, it's probably a safe bet it's buried under a mountain of non-disclosure agreements.
Meanwhile whilst rumours of marital affairs, refusing to join Scientology, pursuing his music career and other reasons for his sudden departure raced around the internet, Brent Payne stayed low and was not heard from up until recently.
About a month ago Payne resurfaced on the internet in a Youtube clip "Brent Payne steps forward".
The clip seemed to indicate that Payne was getting ready to launch a new business opportunity.
The video itself doesn't reveal much else however a new blog, 'Company Name TBA' (companynametba.com) went public in early April. Thus far Company Name TBA has been used to write about topics related to personal development.
The author(s) of Company Name TBA for now appear to be anonymous publishing under the pseudonym 'boss', however the content is written as a collective (the use of 'we' is quite common).
Recently I stumbled across a tidbit of information which seems to shed some light on who exactly 'we' is.
I was playing around with Company Name TBA's RSS feed when I came across the following error message:
Warning: Cannot modify header information – headers already sent by (output started at /home/tdhurst/companynametba.com/wp-includes/feed.php:164) in /home/tdhurst/companynametba.com/wp-content/plugins/wp-sup/wp-sup.php on line 44.
Now for most of you that's not going to make much sense so I'll try to explain what's important about this message as clearly as I can. The '/home/tdhurst/blahblah' snippets of code is what's important here. This signifies that Company Name TBA is being hosted in a folder /tdhurst in the root directory of a web hosting account.
'Tdhurst' isn't all that common of a name string so naturally I punched it into google. This led me to the webpage of a Tyler Hurst at http://tdhurst.com.
On his 'Tyler does' page, Hurst describes himself;
I'm a freelance marketing consultant. I develop, tweak and implement marketing plans, both digital and analog. About half my work is for Amanda Vega Consulting, where I work with high-end retail, real-estate, legal and communication companies.

I speak about how to use social media tools.

I teach small groups how to communicate better.

I present at geeky conferences.

I moderate discussions at design conferences.

I produce and manage tons of written, audio and video content.

I'm for hire.
Hmm… so a 'freelance marketing consultant' who teaches 'how to use social media tools' and has produced 'tons of written, audio and video content' for his clients appears to be hosting Brent Payne's Company Name TBA website.
I could have stopped poking around there but I wanted to be more certain before publishing anything. I mean Company Name TBA being hosted on /tdhurst could be anyone. Just because the top tdhurst on the internet was a marketing consultant didn't mean he was necessarily producing blog content for Brent Payne.
My next connection came via a post on Company Name TBA blog titled 'Make Lemonade'. This post is a plug for some movie titled Lemonade which draws the comparison between the personal development stories of the cast of Lemonade and whatever it is Brent Payne is up to.
That in itself is fine but then I noticed over on Tyler Hurst's website the entry 'Lemonade at Gangplank' which contains the same trailer clip and also plugs the movie Lemonade.
Infact it seems Tyler's been quite busy promoting Lemonade all over the internet.
Now I'm not suggesting for a second that there's anything wrong with any of this but keep in mind Hurst is an internet marketing consultant for hire to market things. He's not running around promoting things by pure co-incidence.
At the very least some cross promoting appears to be going on between Tyler Hurst's interests and some of the content on Company Name TBA.
A second link between Hurst and Company Name TBA also exists in the form of a trackback (Hurst's website directly links to Company Name TBA) on the blog entry 'Personal Development Today'. The trackback entry is viewable as a comment at the bottom of the entry and leads back to Tyler Hurst's website.
No doubt this was done to help Company Name TBA get a bit of SEO help from Hurst's already established site.
After these two findings I'm pretty certain The connection between Tyler Hurst and Brent Payne's Company Name TBA is there.
The question this raises is whether or not Brent Payne himself is actually producing any of the content on Company Name TBA himself. The fact that he's got an internet marketer hosting the Company Name TBA website on their own personal webspace indicates no.
I wouldn't at all be surprised if the sole purpose of the blog Company Name TBA was to create some search engine relevance in the form of backlinks for the keywords personal development. Naturally these backlinks will be directed at the website of Payne's new company website, whenever he decides to launch it.