PGI Global reboots Ponzi, Helen L Graham promoted to CEO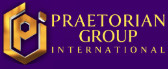 PGI Global Ponzi scheme has announced initiation of its reboot.
On September 1st PGI Global announced former President Helen Louise Graham will head up the Ponzi scheme as CEO.
While that might sound like an executive promotion from within, in reality Graham is a top earner as a promoter of the Ponzi scheme.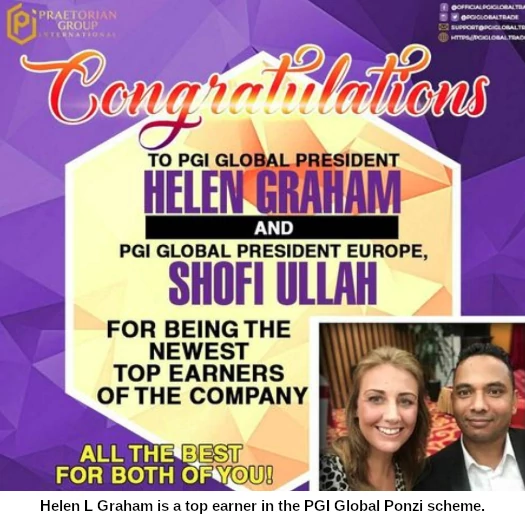 Graham is a UK national heading up "The Diamond Group" within PGI Global.
See if you can spot the difference between Graham and the people she's recruited: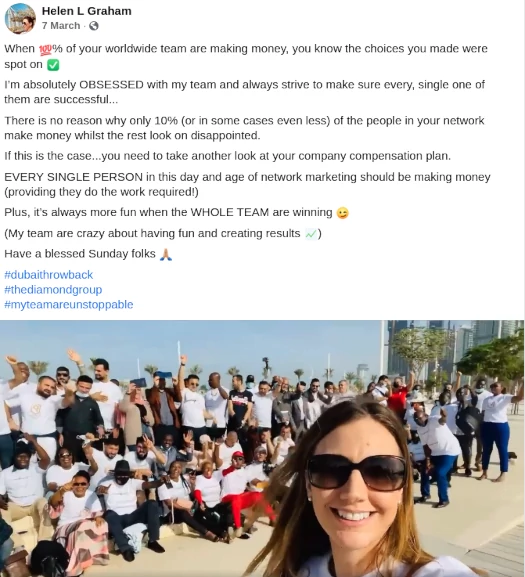 As per Graham's PGI Global corporate bio;
In 2013, her network marketing journey started with a product-based company. Then, she shifted to the cryptocurrency and forex industries.
Graham has deleted her MLM history prior to about 2018. That year she began promoting cryptocurrency scams: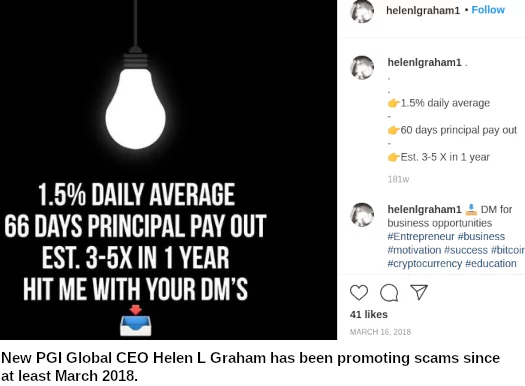 The earliest MLM crypto scam I was able to peg Graham to was Trade Coin Club in early 2018.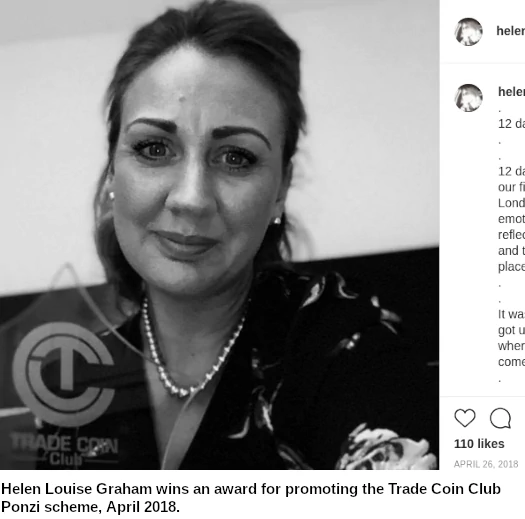 Trade Coin Club launched in 2016, when exactly Graham signed up is unclear.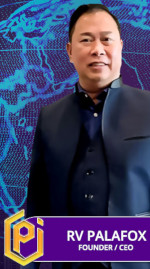 Interestingly enough, PGI Global's owner and former CEO Ramil Ventura Palafox (aka RV Palafox, right), also promoted Trade Coin Club.
This is likely where the pair met, or at least became acquainted.
PGI Global launched last year. The Ponzi scheme promised affiliates a 200% ROI on investments starting at $100.
PGI Global collapsed in March 2021. At the time Helen Graham was still the top earner in the company.
RV Palafox disappeared, joining his partner in crime Mark Davis, an Australian national, who'd already disappeared some months prior.
Last month Palafox, a US national now believed to be on the run, put out a video promising a Ponzi reboot on September 1st.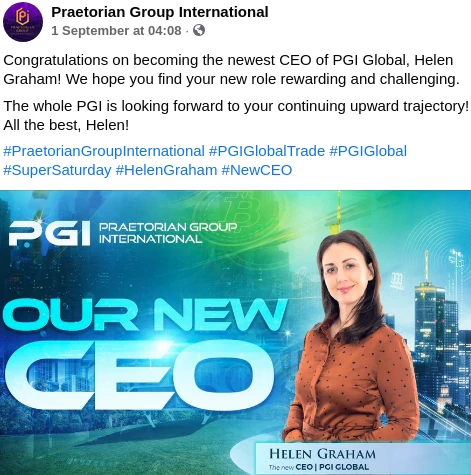 Graham is joined by her own partner in crime, Claire Wilkinson: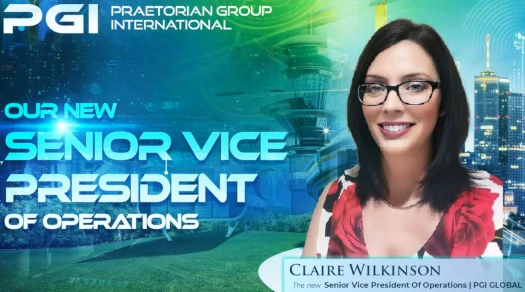 Wilkinson worked as Graham's secretary while she was President of PGI Global.
Looking forward PGI Global has preemptively rolled out KYC as an excuse to limit withdrawals: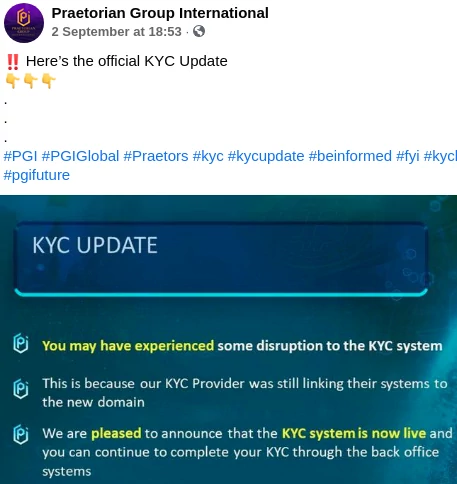 The rebooted Ponzi scheme is also imposing strict withdrawal rules, introducing a month and a half blowout per request: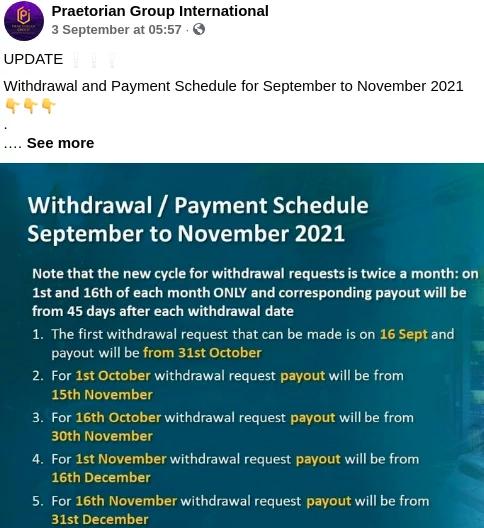 On top of that PGI Global affiliates are only able to withdraw 25% of their backoffice balance.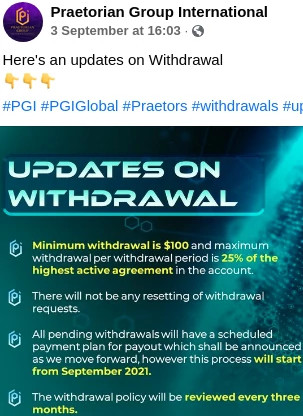 Pending the hoped influx of new victims to pay PGI Global's existing victims, current withdrawal restrictions are in place for at least three months.
As of September 3rd, PGI Global is pitching its Ponzi scheme as paying 1.25% a day: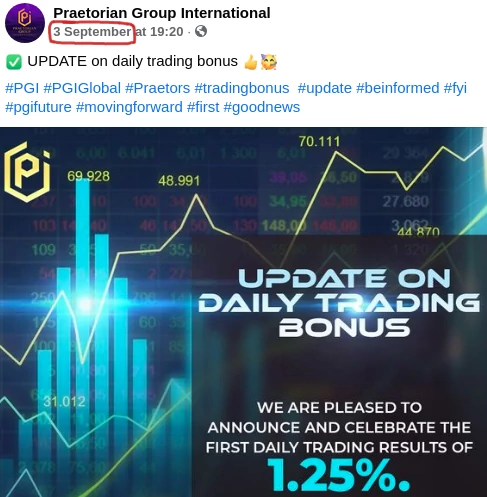 PGI Global uses the common "trading bot" ruse to run its Ponzi scheme.
Pending regulatory action is taken against Palafox, David, Graham, Wilkinson and the rest of the PGI Global scammers, total victim losses remain unknown.
Unfortunately the UK has a horrendous track record for regulation of MLM scams. The company's top financial regulator recently came out and bluntly stated it is not interested in regulating securities fraud.
Thus if a regulator is to take action, it will likely be through RV Palafox's ties to the US and Philippines.
Following a DNS change on June 29th, PGI Global's primary website domain remains offline.
No official reason for the abandoning of the domain has been provided.
The company appears to now appears to be operating from "pgiglobal1.trade", a backup domain privately registered late last year.