PGI Global completes exit-scam, website offline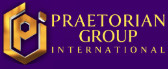 After failing to initiate an exit-scam through Nui's Kala shitcoin, Praetorian Group International has pulled its website offline.
PGI Global's website was pulled roughly 48 hours ago. I held off reporting the collapse in case it was just a technical error.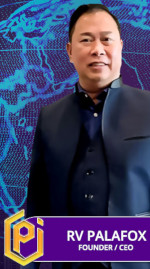 PGI Global's collapse has seen the company censor comments on its official Facebook page.
The company's last post is dated June 27th, detailing a broadcast related to PGI Global's shell company in Estonia.
As per BehindMLM's PGI Global review, the Ponzi scheme is run by Ramil Ventura Palafox (aka RV Palafox).
Originally from the Philippines, Palafox is believed to have obtained US citizenship.
A November 2016 report, covering an immigration bust, details the arrest of "Ramil Palafox" in the Philippines.
The Bureau of Immigration (BI) recently apprehended an American citizen who allegedly acted as a courier of a human trafficking syndicate and tried to smuggle six Filipinas out of the country.

In a statement issued yesterday, Commissioner Jaime Morente said Ramil Palafox and the Filipinas were intercepted at the Ninoy Aquino International Airport (NAIA) Terminal 2 on Nov. 18 just as they were about to board a Philippine Airlines flight to Hong Kong.

During questioning, the six women, whose names the BI did not disclose, told the bureau that their actual destination was Dubai, where they would have worked as domestic helpers.

A report from the BI's travel control and enforcement unit said the passengers claimed that Palafox was in possession of their United Arab Emirates  visas.

He later reportedly took out the visas from his hand-carried bag after initially denying that he had them.
As I understand it Palafox fled to Dubai earlier this year.
Due to its lack of regulation and extradition treaties, over the past two years Dubai has emerged as the MLM scam capital of the world.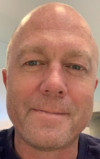 Palafox's partner in crime, Australian based Mark Davis (right), abandoned his social media accounts in October 2020. Davis' personal website has also been pulled offline.
An unverified list doing the round details PGI Global management and country specific net-winners:
PGI FOUNDERS

Ramil Ventura Palafox – PGI founder/CEO

Mark Davis – Vice President, PGI Global and COO

Raquel Paulino – Co founder, Philippines

Rosario Austria, MD – Vice President, Health & Well being

PGI PRESIDENTS – ENABLERS

Helen L Graham- PGI Global President

Shofi Ullah- PGI President Europe

Bako Faysal – PGI President Asia

Benny Akiki Mwesigwa – PGI President Africa

Philip Ndungu – PGI President Latin America

Mingthoy Mendez – PGI President Latin America

Miguel Lopez – PGI President Latin America

Mielli Motsepe – PGI President South Africa

Harrison Omojafo – PGI President UK

Swimm Oma-Pharooq – PGI President UK

Julie Ladycoin – PGI President Nigeria

Shaida Kareem – PGI President Iraq

Dr Rose Okpara – PGI President North America

Claire Wilkinson – Helen Graham's Secretary

Denise Skeels – Ramil Ventura Palafox's PA/Liaison Officer

Pastor Edson – Master Distributor UK

Sarah Louise (PGI recruiter)
The majority of PGI Global victims are believed to be from the US. Alexa currently pegs the US as the largest source of traffic to PGI Global's website at 47.9%.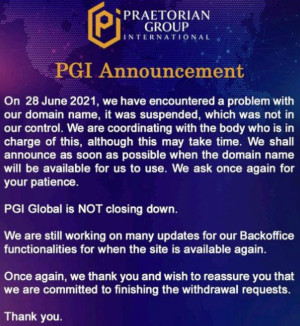 Update 30th June 2021 – Seemingly in response to this article, PGI Global has posted an update on their official Facebook page:
On 28 June 2021, we have encountered a problem with our domain name, it was suspended, which was not in our control.

We are coordinating with the body who is in charge of this, although this may take time.

We shall announce as soon as possible when the domain name will be available for us to use. We ask once again for your patience.

PGI Global is NOT closing down.

We are still working on many updates for our Backoffice functionalities for when the site is available again.

Once again, we thank you and wish to reassure you that we are committed to finishing the withdrawal requests.
PGI Global restricted comments on their official Facebook page earlier today so affiliate's aren't able to publicly respond.
Perusal of PGI Global's website domain record reveals the registration was last updated on June 28th.
The current name-servers set for the domain are "ns1.suspended-domain.com" and ns2.suspended-domain.com".
Those domains belong to The Endurance International Group, who own a large number of domain registration and web hosting companies.
PGI Global's domain was paid up till August 22nd, so we know the suspension isn't billing related.
PGI Global themselves aren't revealing the suspension reason, despite having known about it for almost three days.
We'll keep you posted of any updates.
Update 1st August 2021 – RV Palafox has resurfaced to announce a PGI Global reboot.
Palafox appears to be on the run from US authorities. As such he won't be heading up the PGI Global reboot personally.
Update 5th September 2021 – PGI Global has rebooted with top earner Helen Graham running the company as CEO.