BitCoiin Ponzi Compliance Officer & lawyer sued by SEC

The SEC is going after the BitCoiin Ponzi scheme's Compliance Officer and a purported legal advisor.
After receiving permission from the court (the case is currently stayed), the SEC filed an amended complaint naming Keith Gooselaw and Jeffrey Gold as additional defendants.
BitCoiin was part of Kristijan Krstic's "Start Options" $70 million Ponzi empire.
Krstic and accomplices John DeMarr and Robin Enos were sued by the SEC back in February 2021.
Keith Gooselaw markets himself as a private investigator working out of California.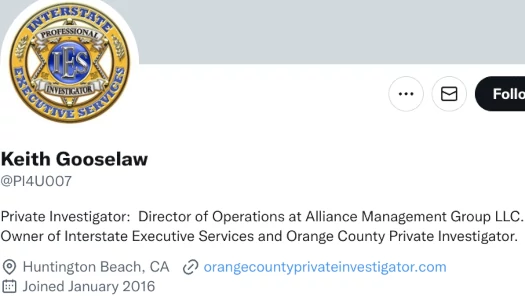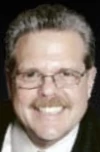 On The Law Offices of Jeffrey D. Gold's social media, Gold (right) claims he's an "experienced litigator since 1994".
At time of publication The Law Offices of Jeffrey D. Gold's website was offline.
As per the SEC's December 12th filing;
Gooselaw knowingly and substantially assisted Krstic's, DeMarr's and Bitcoiin2Gen's fraudulent scheme by falsely representing himself to investors as the "compliance" officer to induce investors to invest in Start Options and Bitcoiin2Gen.

As Gooselaw knew or recklessly disregarded, Gooselaw performed no compliance functions.

Instead, he assisted DeMarr and Krstic in collecting Start Options and Bitcoiin2Gen investor's funds into several bank accounts he controlled, as well as tracking those funds and sending Krstic and DeMarr reports on the receipt of investor funds.

Gold, an attorney licensed in California, knowingly and substantially assisted Krstic's, DeMarr's, and Bitcoiin2Gen's fraudulent scheme by authorizing DeMarr to publish on the internet opinion letters on his law firm's letterhead, in response to the accusation by a state securities regulatory agency that Bitcoiin2Gen was engaging in an unregistered securities offering, while not disclosing material facts about itself to investors, and to an alert issued by another state regulatory agency.

Gold, falsely holding himself and his firm out as having been retained by Bitcoiin2Gen, misleadingly assured the investing public that the Bitcoiin2Gen tokens were legitimate tokens and that they were not being offered and sold as securities in compliance with the registration requirements of the federal securities law.

Gold's letter did not disclose, however, that he had no involvement with or prior knowledge of Bitcoiin2Gen at the time he lent his name and letterhead to this letter, and had not performed any inquiry or research to determine whether the facts he represented in his letter were true, or the opinions expressed based on any valid foundation.

Gold knew or recklessly disregarded that adding his name and purported authorship to the letter would lend unjustified credibility to Bitcoiin2Gen's, DeMarr's and Krstic's fraudulent scheme by making it appear, falsely, as if an attorney had rendered a valid legal opinion based on the due diligence required by his professional responsibilities.
Both Gold and Gooselaw have been charged with violating
As BitCoiin's Compliance Officer, Gooselaw misappropriated $157,000 in stolen Bitcoiin investor funds. Gold was paid $12,000 to rubber-stamp the Ponzi scheme.

In their complaint, the SEC claims Gooselaw (right) is a former law enforcement officer.
DeMarr tasked Gooselaw with incorporating and registering newly-formed entities and helping him to open bank accounts in the names of several companies DeMarr controlled to receive investor funds.

Gooselaw … used a "Compliance IES Global" email address to communicate with investors to arrange for their transfer of funds to invest in Start Options.

For these purposes, Gooselaw, in October 2017, and again in February 2018, opened at least four bank accounts in the name of an entity he helped form, Interstate Executive Services LLC ("IES"), for which he had signing authority.

Through his control over the Bank Accounts, Gooselaw knew or recklessly disregarded during the Relevant Period that DeMarr was
misappropriating investor funds.
As part of his efforts to evade regulators, Gooselaw further instructed investors to mark their Ponzi investments as "consulting services".
That Gooselaw is a former law enforcement officer makes his conduct objectively hilarious.
I think it's great that Jeffrey Gold is being held responsible. If a law firm is willing to rubber-stamp a Ponzi scheme through a legal letter, they cross over from legal advisors to an accomplice.
That said, Gold's involvement in Bitcoiin appears to be a tad shallower than the usual rubber-stamp. The SEC claims;
DeMarr asked Gold, a lawyer who had no prior knowledge of Bitcoiin2Gen or digital assets, to allow this letter to be published on his letterhead and under his name.

Gold agreed to do so, and received a draft letter from Enos, which he signed, without performing any due diligence to confirm the accuracy of the statements in the letter.
We've recently and routinely seen/see far worse from MLM companies committing securities fraud.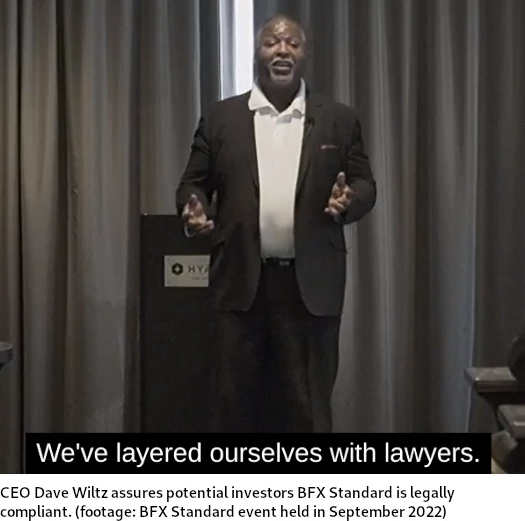 No word on whether parallel criminal charges will be filed against Gooselaw and Gold. I don't think it's likely.
Krstijan Krstic and John DeMarr were indicted in 2020 and 2021 respectively.

Krstic (right) was arrested in Serbia in mid 2020, after which he was set to be extradited to the US.
Under murky circumstances, Krstic was released by Serbian authorities and promptly fled.
Still a wanted fugitive, Krstic is believed to be hiding out with his wife in either Serbia or the Philippines.
John DeMarr pled guilty in August 2021. Following multiple delays (believed to be related to Krstic's fugitive status), DeMarr is currently scheduled to be sentenced on January 31st, 2023.
The SEC's case against the BitCoiin defendants is otherwise stayed, pending the outcome of related criminal proceedings.